Living Infrastructure Plan
The Metro Tunnel will demonstrate world leading excellence to create a living infrastructure legacy for a more liveable Victoria.
This Living Infrastructure Plan has been developed to inform and aid design and construction teams in meeting the objectives of the Metro Tunnel Project with regard to its sustainability targets, in particular the Urban Ecology and Vegetation Targets and the Water Targets.
The Living Infrastructure Plan is a 'whole of project' plan that will be delivered through the Metro Tunnel work packages and partnerships. The Plan will be supported by technical guidance notes and the Metro Tunnel Project environmental performance requirements.
Download the plan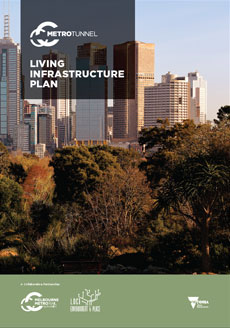 Living Infrastructure Plan PDF, 12.2 MB