Home
By untangling the City Loop, the Metro Tunnel will benefit train lines across the network
By taking our busiest train lines through a new tunnel under the city, the Metro Tunnel will free up space in the City Loop to run more trains in and out of the city.
That means more trains, more often across Victoria, with a less crowded and more reliable train network.
Flinders Street traffic changes
Traffic changes and major construction are underway as we build a Metro Tunnel station entrance at Federation Square.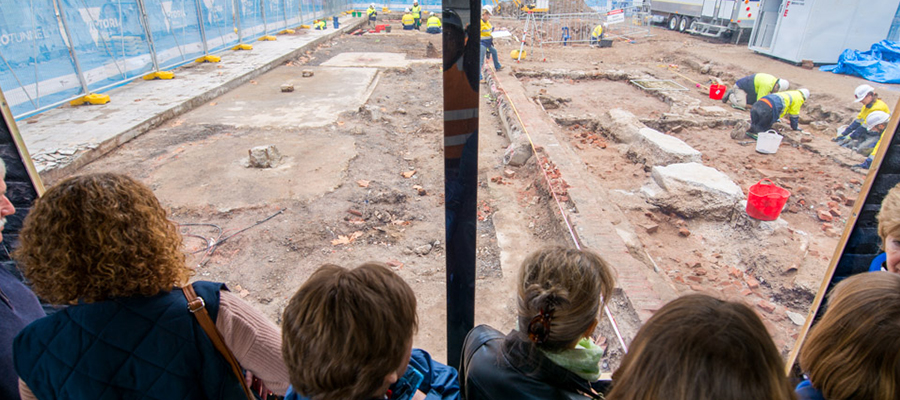 Archaeological digs
The state's biggest ever archaeological investigation is underway in Melbourne's CBD.
Supporting CBD businesses
Works are ramping up around the CBD, but it's business as usual for your favourite shops.
Meet our new digger
A massive road header machine is set to excavate a huge underground cavern for the new State Library Station.
Tunnels and Stations
Twin 9 kilometre tunnels and five new stations are under construction
Rail Systems
High capacity signalling, train and power control systems and operational control systems
Rail infrastructure
Connections to the Sunbury and Cranbourne/Pakenham lines and wider network enhancements
Travel time savings across Victoria
Benefits for:

Select a train line:
Alamein Line
Belgrave / Lilydale Lines
Craigieburn Line
Cranbourne / Pakenham Lines
Frankston Line
Glen Waverley Line
Hurstbridge Line
Sandringham Line
South Morang Line
Sunbury Line
Upfield Line
Werribee / Williamstown Lines
Ballarat Line
Bendigo Line
Geelong / Warrnambool Lines
Gippsland Line
North-East Corridor
Get in touch
Call 1800 105 105
Interpreter Line: 03 9280 0700