Creative Program at Anzac Station
Albert Road Reserve Pop-up Park
December 2020 to present
The Metro Tunnel Creative Program has delivered a temporary pop-up park in Albert Road Reserve. Informed by community engagement, the park features timber decking, generous seating and new plantings to improve the aesthetic and amenity of the reserve.
Drag the sliding tool left and right to see how our pop-up park has transformed the site: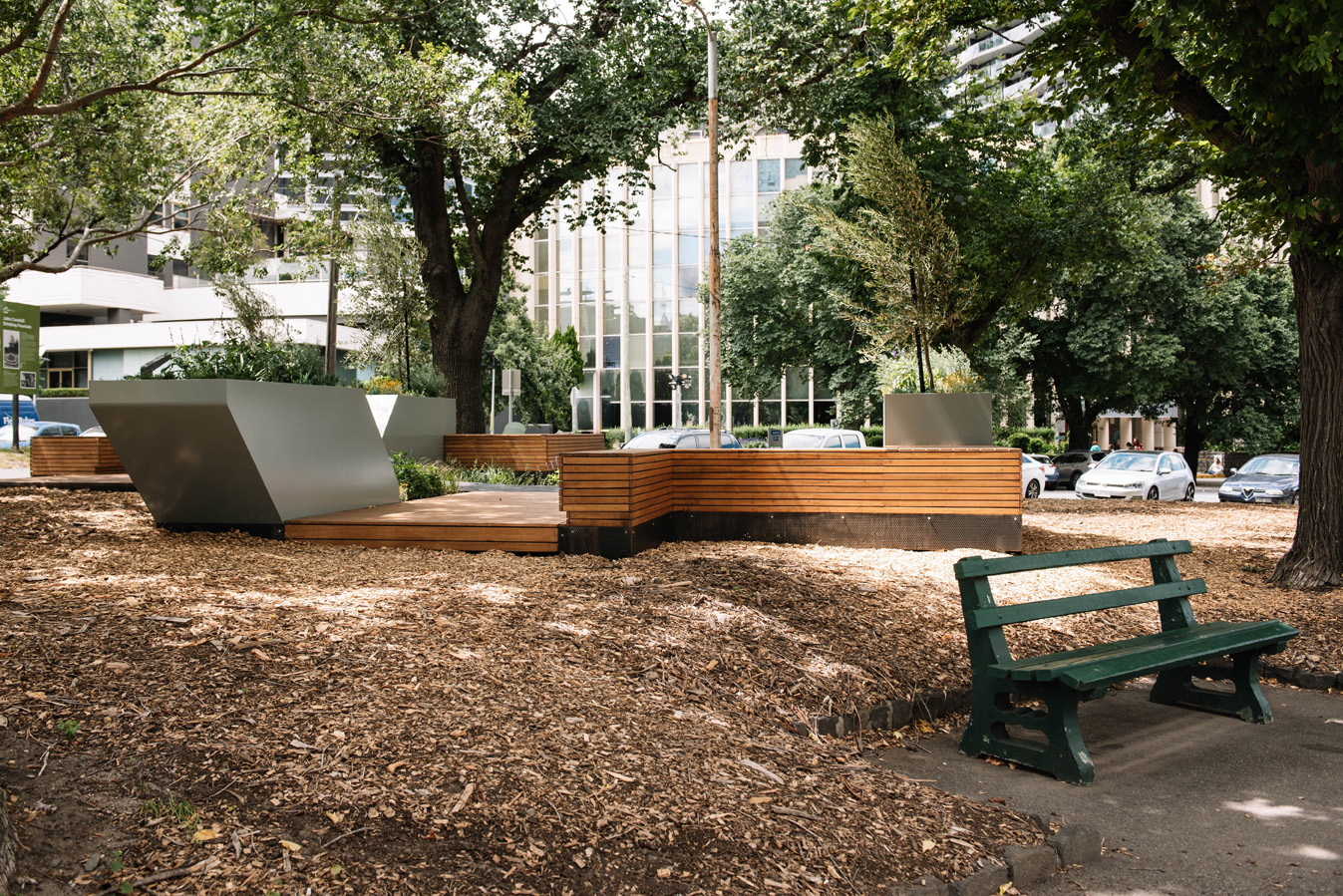 Have your say
The Metro Tunnel Creative Program is committed to ongoing engagement about our program of activities. If you would like to provide feedback on the Albert Road Reserve Pop-up Park, please fill in our online survey.
F.A.Q.
Consultation on the Albert Road Reserve Pop-up Park was held in February 2019. The majority of feedback on the design of the park was positive.
The Albert Road Reserve Pop-up Park has been designed to fit in the existing space in the reserve and does not take over any car spaces.
The Albert Road Reserve Pop-up Park is anticipated to be in place for up to two years.
The Metro Tunnel Creative Program will ensure ongoing care and maintenance of the park while it is active. This includes cleaning surfaces, emptying bins, plant care and any signage required to advise of COVID-19 restrictions in public spaces.
As with any public space it can be difficult to deter these behaviours, however the space has been designed to encourage respite and to enhance liveability.
Please contact us.
Domain

Road Pop-up Park
December 2019 to present
The Domain Road Pop-up Park is designed to enhance the local area and bring residents, businesses and visitors together to eat, relax and enjoy enhanced green spaces.
Informed by a program of community consultation, the temporary design includes wooden decking, more outdoor seating and more plants. The initial design was roughly the size of five car spaces along a number of shopfronts on Domain Road. In October 2020, the park was extended with two more modules.
Access the initial Domain Road Pop-up Park engagement report, June 2019 (PDF, 294.8 KB). Access the follow-up Domain Road Pop-up Park engagement report, May 2020 (PDF, 3.0 MB).
F.A.Q.
The purpose of the park is to enhance Domain Road and support local businesses, residents and visitors.
The design was informed by a program of community and stakeholder consultation and includes more seating and plants.
The park is being delivered by the Metro Tunnel Creative Program.
The Creative Program will ensure ongoing care and maintenance of the park while it is active.
Local businesses that extend their outdoor dining into the park will be responsible for the daily setting up and packing away of any loose furniture in the park.
The pop-up park is currently installed in car spaces outside local businesses on Domain Road.
Parking remains in the following places:
Domain Road (Eastbound)
Domain Road (Westbound before Park Street)
Domain Road (Westbound after 157-159 Domain Road, towards Millswyn Street)
Park Street
Birdwood Avenue.
'Watercolour herbarium' by Caitlin Klooger, 2019
Artist statement
"Inspired by the huge range of botanical specimens at the Herbarium, I started painting watercolours of a variety of the plants as well as others found around the botanic gardens site. True to my love of Australian flora I focused on native plants with a few Australian birds and butterflies added to the mix."
About the artist
Caitlin Klooger is one half of Melbourne textile studio Ink & Spindle.
Inspired by the Australian landscape, Ink & Spindle are passionate about creating textiles that have minimal impact on the earth.
Website: www.inkandspindle.com.au
Instagram: @inkandspindle_
Note: This artwork is also on display at Peppercorn Lawn, next to St Kilda Road opposite Arts Centre Melbourne.
Botanica Apartment Pedestrian Gantries by Alice Lindstrom, 2019
In February 2019, Melbourne based illustrator Alice Lindstrom was commissioned to create two concept designs to be installed in the pedestrian gantries outside 400 St Kilda Road. Residents of the Botanica Apartments selected their preferred design which was installed in March 2019.
Artist statement
"Using the aesthetic of the Botanica Apartments and the character of the location as my starting point, I created an image that provides a sense of fluidity and movement to residents and passers-by. The imagery references the interior architecture of the Botanica Apartments, the Melbourne Botanic Gardens and St Kilda beach. I used an illustrative, mid-century style to allude to the surrounding landscape and native flora as well as depicting stylised snapshots of urban life."
About the artist
Alice Lindstrom is a Melbourne based illustrator who works primarily in collage, using cut and paste techniques to create layered illustrations. Previous clients include Penguin Random House New York, Harper Collins, Soho House London, The Victorian Women's Trust, T2 and ABC Radio National.
Website: alicelindstrom.com
Instagram: @alicemlindstrom
Click on any image to enlarge it and use the arrows or your keyboard to scroll through the gallery.
St Kilda Road Pedestrian Gantries by Esther Stewart, 2018
In August 2018, Melbourne artist Esther Stewart was commissioned to create a bold geometric design for pedestrian gantries located outside 390 St Kilda Road, near the Anzac Station construction site.
The gantries, an essential part of construction works for the new underground station, have been transformed into a vibrant work of art that reflects Stewart's interest in architecture, design and geometry.
About the artist
Stewart's work has been exhibited nationally and internationally at galleries and art fairs, and is held in major collections including the Heide Museum of Modern Art.
In 2014, Stewart collaborated with Italian fashion designer Valentino on his Autumn/Winter 2015-2016 menswear collection, and in 2016, was the winner of the Sir John Sulman Prize at the Art Gallery of NSW in Sydney.