Creative Program at Anzac Station
St Kilda Road Pedestrian Gantries by Esther Stewart
In August 2018, Melbourne artist Esther Stewart was commissioned to create a bold geometric design for pedestrian gantries located outside 390 St Kilda Road, near the Anzac Station construction site.
The gantries, an essential part of construction works for the new underground station, have been transformed into a vibrant work of art that reflects Stewart's interest in architecture, design and geometry.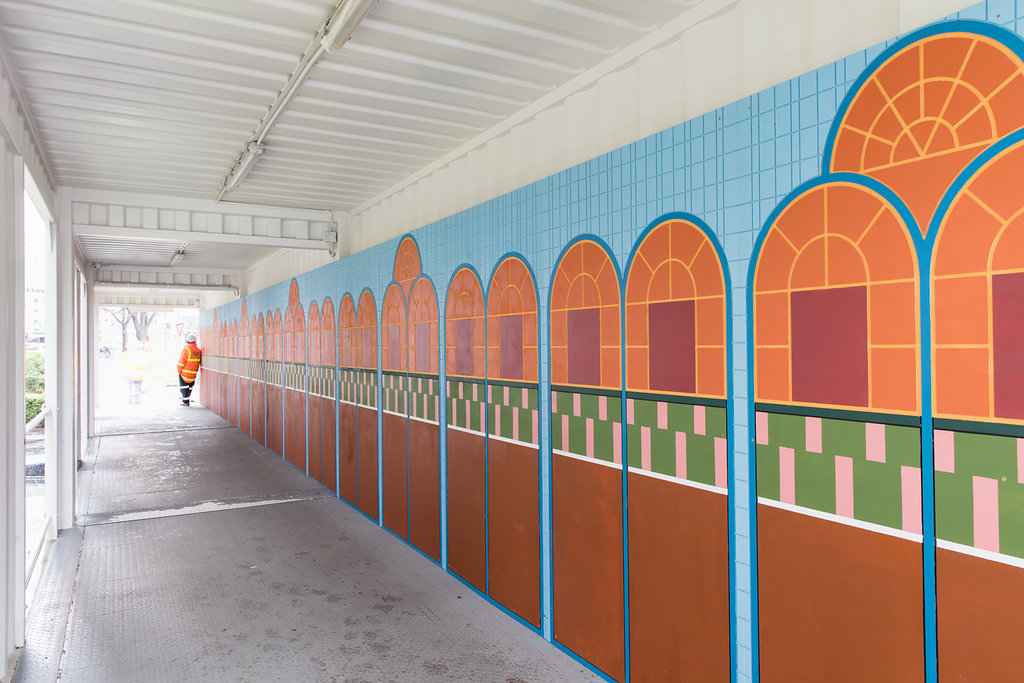 About the artist
Stewart's work has been exhibited nationally and internationally at galleries and art fairs, and is held in major collections including the Heide Museum of Modern Art.
In 2014, Stewart collaborated with Italian fashion designer Valentino on his Autumn/Winter 2015-2016 menswear collection, and in 2016, was the winner of the Sir John Sulman Prize at the Art Gallery of NSW in Sydney.
Read our interview with Esther Stewart.
Domain Road pop-up park
We have investigated trialling a pop-up park to enhance Domain Road and support local residents, businesses and visitors.
During September we engaged with local residents and businesses about whether they'd support a temporary loss of parking in order to have increased green space on their street.
The proposed park would be a linear seating area with greenery the size of roughly nine parking spaces.