Artist Profile: Stewart Russell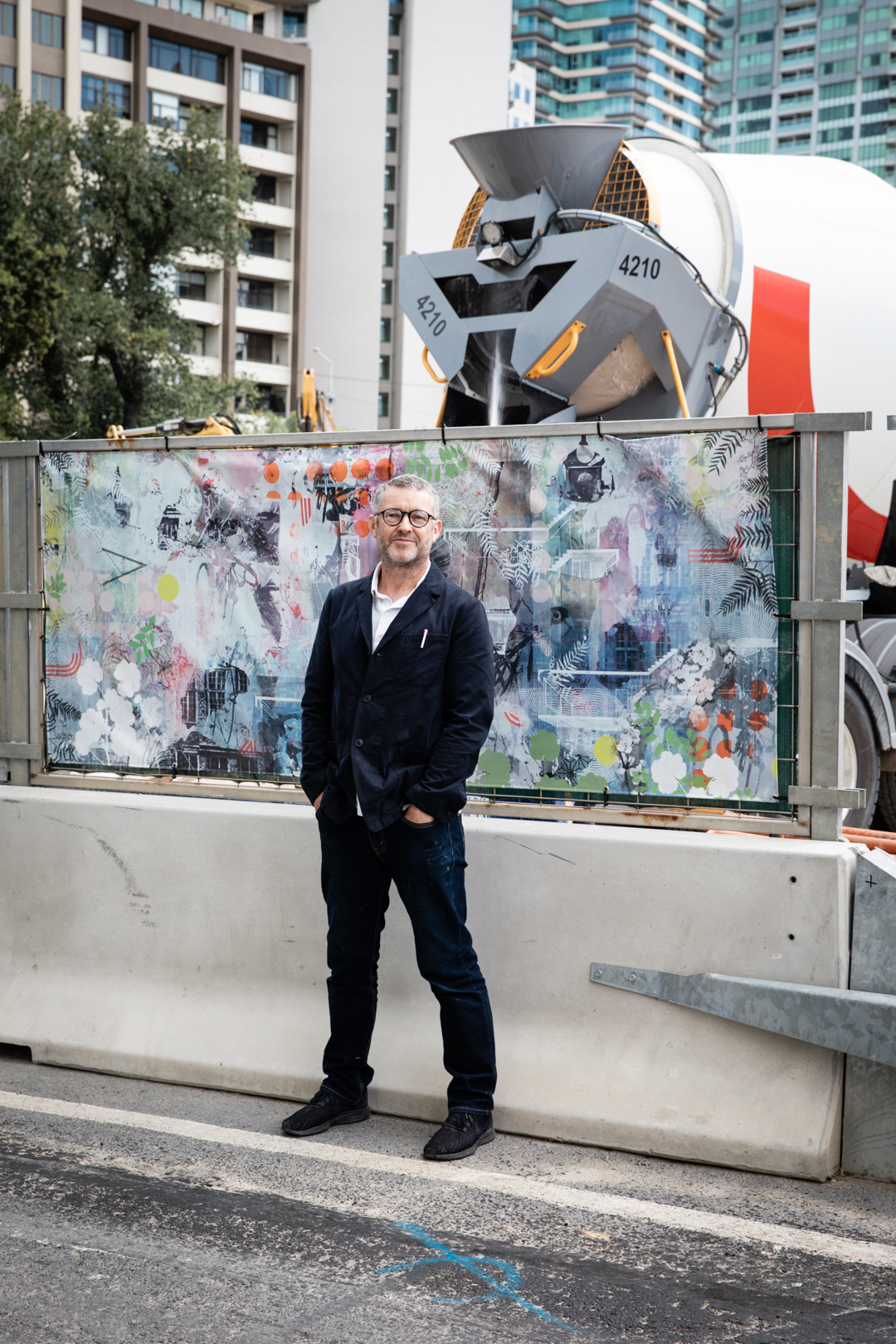 What originally made you want to become an artist ?
Well, I was born into a sporting family and was very happy to follow the family tradition at school. I started developing an interest in making art in my early teens, encouraged by no one in particular, but gradually the art drive sort of grew stronger than the sport drive. I remember not having a very clear understanding of what studying 'fine art' might entail, but loved learning to match the ideas to theory and the practical.
What originally made you want to become a designer?
After art college I had an opportunity to set up a textile printing studio for Barbara Sansoni in Sri Lanka. This gave me an early experience of a design discipline, teams, working relationships with architects, a better understanding of colour theory… Indirectly this experience led to working with fashion houses in London. After relocating to Melbourne and establishing Spacecraft Studio I just kind of added the design practice which now sits alongside my art practice.
How would you describe your approach to art & design?
I don't like the blurring of boundaries between art and design, I keep the disciplines separate, but I can see some commonality in approach. The concepts emerge and are tested through living and working in Melbourne, believing a specific local perspective doesn't have to be parochial and can have wider implications and resonances.
Today I'm happiest playing a number of creative roles, often appearing as the artist, regularly as a textile designer and occasionally as a curator. So the work of the studio is realised as contemporary art, textile design, curated exhibitions and as collaborations with fellow artists, architects, institutions and selected brands.
What intelligence can you share with people about the designs you have created for the Metro Tunnel hoardings?
The work for the Metro Tunnel banners is an extension of one of my favourite studio projects. Spacecraft has three 8m screen printing tables right in the middle of the studio. The print surfaces on these tables use lengths of expensive felt that we protect by covering with a 12oz canvas backing cloth. These backing cloths collect traces of the various art and design processes, tests, colour matching, mistakes, working drawings, spills, phone numbers, arithmetic… and eventually they become so saturated with pigment they have to be replaced. Amongst this build up of layers and layers of print I find chance compositions; essentially pages from a studio diary.
What are some of the differences in designing for indoor and outdoor spaces?
It's not so different for me. When I'm working in public spaces it's usually important to see the project as an extension of the curatorial range of a gallery programme. For example, an artwork project in 2014 at the NGV resulted in creating a cathedral of flags sited in the Great Hall and then working with City of Melbourne to negotiate the use of significant flag pole sites around town including the West Gate Bridge, The Royal Exhibition Buildings, Melbourne Town Hall, Flinders Street Station, CFMEU working cranes… so the publicly sited work connecting back to the exhibition and the work in the gallery spaces.
Do you think the context of where artwork is sited contributes to its perceived value? For example, frame a design and put it on a wall and it is art, print it on fabric and make it a cushion and it's… homewares…? Print it on vinyl and put it on a construction hoarding and it is…..? A banner?
Value seems pretty tricky at the moment. Lots of important work and important artists are so under valued commercially. Conversely people promoting terrible art on social media on buy now pay later schemes seem to be going OK.
The commercial reality for artists is a mix of making artwork and other work. Like most artists my other work used to be teaching, writing and then odd jobs. Now my other work is design and I've found this approach to be a more productive balance, though I'm drawn one day to introduce some new ideas to teaching.