Parkville Station
'Thank you' by Phoebe Powell, 2020
Photographer Phoebe Powell celebrates the life-saving work of staff at Parkville Biomedical Precinct in her striking photo essay. This work is now on display at the Parkville Station site on Royal Parade. You can read about the project and view the portraits online.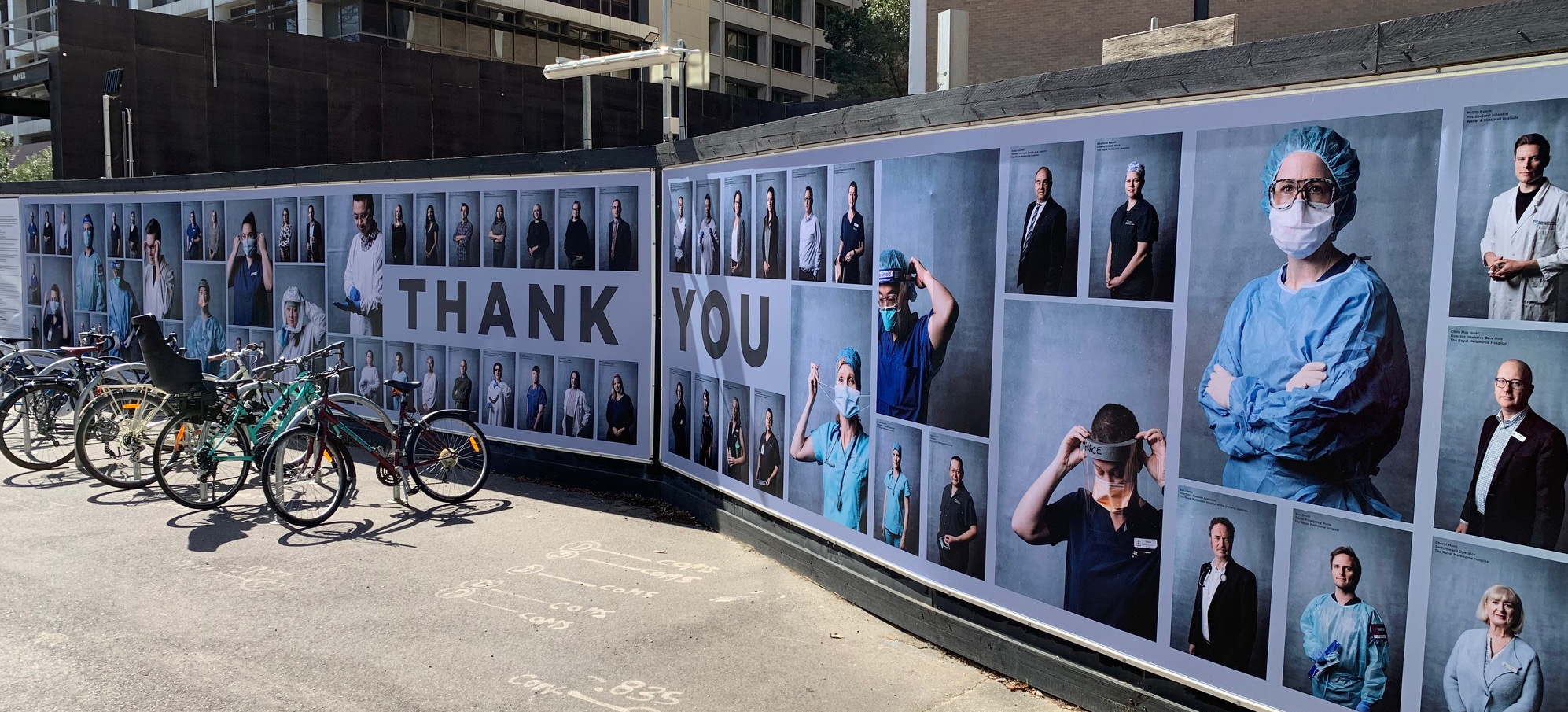 The Parkville Storytelling Project
As part of the Metro Tunnel Creative Program a new series of artworks is now on display on the construction hoardings in Grattan Street around the Parkville Station site.
'Rubber Folds' by Lorna Quinn, 2019
Artist Statement
"I take inspiration from whatever my immediate surroundings are – my context – and I often go for exploratory walks to find objects and places to paint. My artworks usually revolve around the vision of a 'safe-cave', a context for dwelling, a kind of material 'lair'. I often return to when I was a child playing alone in my garden, where I would use what was around me to form nests and coves. In my child's mind the earth and twigs and stones formed a little universe, a complete vision.
My work now is similarly something of a self-fashioned escape from the realities and anxieties of everyday life, where I can live in an artificial and eclectic kingdom, self-designed so as to allow for my own boundless inclusion, a personal utopia, you could say."
About the artist
Lorna Quinn is a Melbourne based artist, born in East Melbourne in 1995. She is a recent graduate of Victorian College of the Arts, where she majored in drawing and print-making, and graduated from with honours in 2018.
She works predominantly in oil paints, but is also a prolific drawer and sometimes sculptor. This artwork on this hoarding is based on an original oil painting of Lorna's.
Instagram: @succulenteggplants
2019 University of Melbourne Open Day
For the 2019 Open Day, the Metro Tunnel Creative Program showcased student musicians at sites around the Parkville campus.
'REJ' by Evan Whittington, 2019
This hoarding artwork is based on an original piece from 2018 that took the form of oil paint on shaped aluminum panels. The original artwork evolved from my exploration of rhythm, movement and dancing. Working in abstraction it sought to capture the dynamic nature of dance as a form of embodied movement.
When visiting the site of the project it struck me how busy the site was with pedestrian activity. I thought it interesting that the length and narrowness of the site funneled people through it in a long straight line. There is a rhythm created by the movement of the pedestrians as they travel past the colourful forms of the work, like the blurred image one gets of a landscape from a fast moving vehicle the reflected light and colours of the work become indications of motion.
About the artist
Evan Whittington is a Melbourne based artist who completed his Bachelor of Fine Art (Visual Art) at the Victorian College of the Arts in 2018. He is currently studying honours at VCA. Working across drawing, painting and printmaking he explores the dynamic and fluid nature of embodied movement.
Instagram: @evan_whittington_art
Website: evan-whittington.com
'Suburban Fringe' by Naiose Halloran-Mackay, 2019
In this work for the Metro Tunnel project site in Parkville, Halloran-Mackay presents a series of aerial views of newly constructed homes in Melbourne's outer fringes that have been reduced to their simple geometric forms. Pattern and colour are exaggerated in order to capture certain unearthly nuances surrounding geometry and abstraction within the architecture of newly built structures. The work encourages passersby to reflect on the Metro Tunnel Project's importance to facilitate this constantly growing city.
Naoise Halloran-Mackay's paintings act as a documentation of Australian attitudes surrounding space, land, urban planning and architecture within today's globalised world. He describes his work as a continuation of conversations and questions surrounding place and identity that have existed throughout the history of post-colonial landscape painting in Australia.
About the artist
Naoise Halloran-Mackay is a young artist who currently lives and works in Kyneton, Victoria. He graduated from the Painting Department at the Victorian College of the Arts in 2018.
He was the recipient of the 2018 GoGo Foundation Art Award as well as the 2018 the Tolarno Hotel Art Award.
Instagram: @Na0ise
'Reveal' by Casey Jeffery, 2019
Casey Jeffery paints her inquiry of the stripe, specifically the striped fabrics of Brella window awnings found on many of the facades of inner city and suburban houses.
Jeffery's application of paint experiments with colour, line and depth which tricks the eye whilst offering a particular insight of visual perception (deception). She utilises the structure and order of the stripe as a way of addressing notions of the past, the personal and the familiar.
The seemingly banal observations of the structures that are built around us, can explain a lot about one's own identity and what it means to be here geographically in Australia today.
About the artist
Casey Jeffery is a Melbourne based painter who completed her Bachelor of Fine Art (First Class Honours) at The Victorian College of the Arts in 2018. Jeffery has exhibited both locally and internationally.
Instagram: @caseyjeffery
Website: caseyjeffery.com
'Pretty Little Things' by The Cutaway, 2019
The world of medical research, when viewed through a microscope, is one of wonder and beauty where nature and biology can be seen in the most delicate and intricate forms. Tiny cells, a cluster of embryos, organisms multiplying - these are the unique views seen through the researcher's lens. It can be a beautiful and breathtaking view not often seen by members of the public.
Pretty Little Things is a collaboration with the University of Melbourne that celebrates and explores this beauty, re-interpreting microscopic images contributed by students, staff and researchers, into modern abstract patterns through the blasts of a vibrant fluorescent colour palette.
This artwork has picked up one of the world's most coveted design prizes - a Gold from the A'Design Award and Competition.
Further information here: https://competition.adesignaward.com/design.php?ID=75641
About the artist
The Cutaway is an award winning creative studio that creates immersive visual experiences in the public environment. Combining their love for design, technology and craft their work challenges the curious and presents visual stories that are compelling and memorable.
Instagram: @thecutaway
Website: https://www.thecutaway.com.au/
Creative Director: Beck Storer
Photography by Casey Horsfield
Instagram: @caseyhorsfield