Creative Program at State Library Station
Collage by Beci Orpin
This artwork is a large-scale collage that features papers treated with a variety of materials – inks, gouache, acrylics, pastels, colour pencils and watercolour.
Each piece has been included for a reason: its colour, shape, texture or its connection to the site on which it appears. Architecture, local history, culture and indigenous flora are echoed within the collage in both abstract and more obvious form. The combination of old and new, made and found, reflect the growth and depth of Melbourne as a city.
The collage is designed to continually surprise the viewer – especially those who pass by often and can discover something new each time. The overall look is modern and colourful, but on closer observation the viewer will see the historical context.
Beci Orpin is a local creative practitioner in Melbourne, Australia. Her work occupies a space between illustration, design and craft. Beci has run a freelance studio for over 20 years, catering to a wide range of clients, as well as exhibiting her work both locally and internationally. Beci's work is described as colourful, graphic, bold, feminine and dream-like.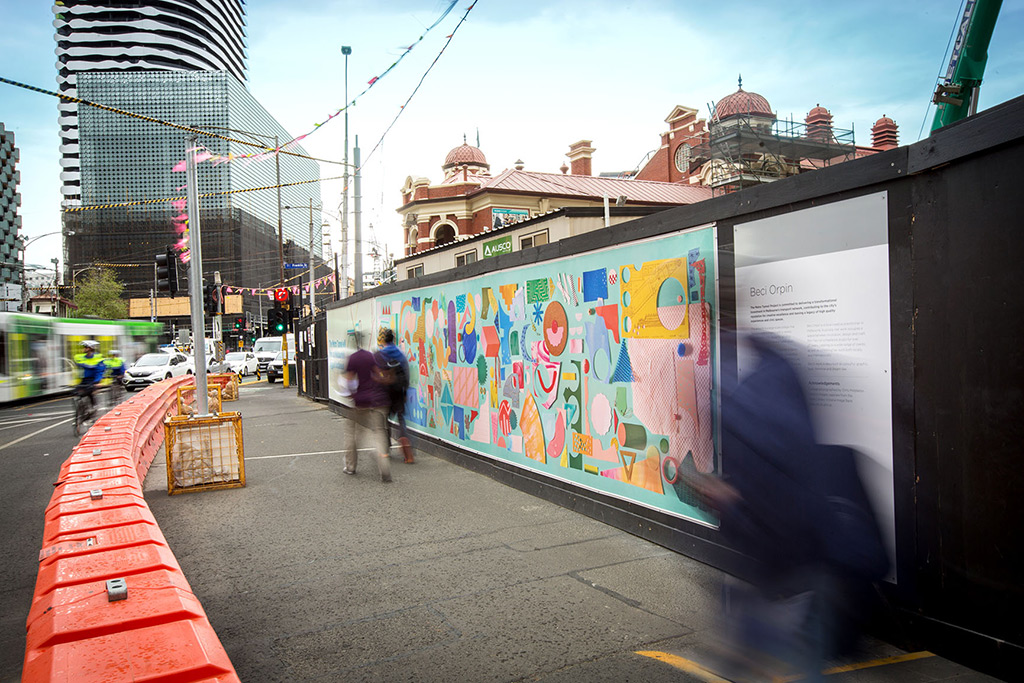 Josh X Muir
The Metro Tunnel Creative Program was the Major Sponsor of JOSH X MUIR, a solo exhibition by Ballarat based Yorta Yorta/ Gunditjmara multi-media artist Josh Muir, presented by the Koorie Heritage Trust in November 2018.

The artworks on these hoardings are from the exhibition which is a continuation of the artist's journey of self-exploration in which he surprises and confounds with his colourful and chaotic digital prints on aluminium, reflecting contemporary street and pop art (including a homage to the American artist KAWS who himself began as a graffiti artist) but incorporating imagery from his own Aboriginal heritage and strong sense of place and community.