Rafaella McDonald: Crowd Stance
City Square, 2018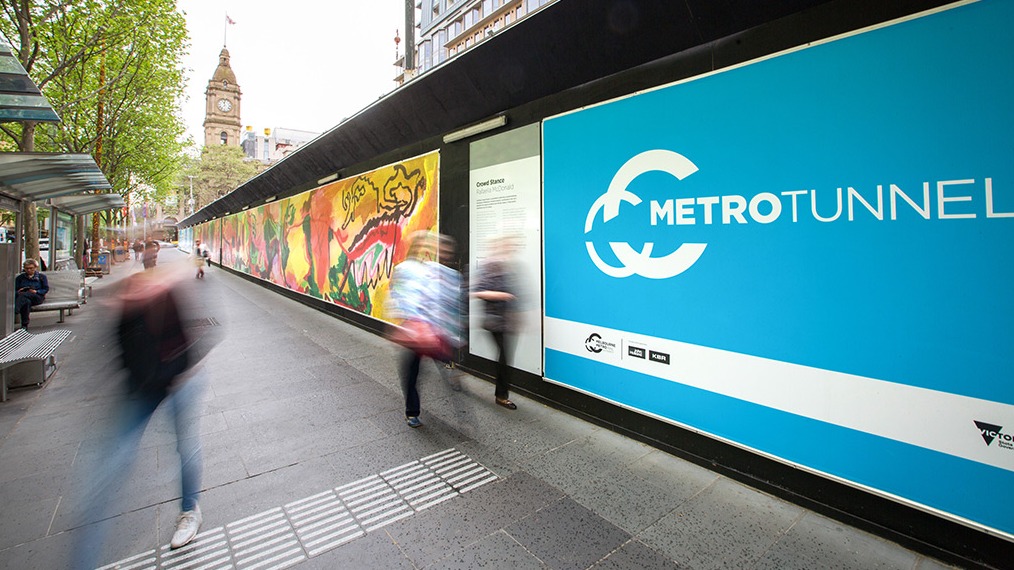 Crowd Stance depicts an imaginary collective of bodies made up of many feet and hands, caught in a dance and lifting off the ground. The artwork uses bold colour, intuitive mark-making and cartoon-like images of the body in various forms of action, playfully mimicking the exchange between individual subjectivity and the collective identity of a crowd.
Crowd Stance explores how the individual considers themselves within, and also separate to, a crowd. What do we project onto a crowd and, in doing so, how do we shape a crowd from within?
About the artist
Rafaella is an artist living in Melbourne who works in gallery settings, public spaces, on clothing and in collaborative performance. She uses colour, bodily gestures and hand-made materials to explore joy as a strategy. Rafaella has exhibited work at the National Gallery of Victoria, West Space Gallery, TCB Art Inc, the Substation and in the biennial Next Wave Festival for emerging artists.
She has painted large-scale mural commissions for the Melbourne Fringe Festival, Shepparton Art Museum and the City of Stonnington.