Kate Disher-Quill & Phoebe Powell: Surge
City Square, February to April 2021

Behind the camera
View Phoebe Powell and Kate Disher-Quill's online photographic essay detailing the unique challenges of creating Surge and Thank You during the COVID-19 pandemic.
About the artwork
Evolving over months of lockdown restrictions as the COVID-19 pandemic swept across Melbourne in 2020, Surge is a collective reflection of the nuanced and at times confronting experiences encountered by a diverse range of healthcare professionals.
In a time when photographic work was restricted and the healthcare worker experience was heavily politicised, Zoom conversations between the subjects and artists became central to developing the project using a collaborative, practice-led approach. A space to share stories and exchange ideas, these conversations became a means of catharsis and a place of connection for both the participants and artists.
In referencing the dichotomy between the clinical protocols of the pandemic and the vulnerability of the human experience, Surge combines the medical with the personal, to reveal and acknowledge our capacity to endure.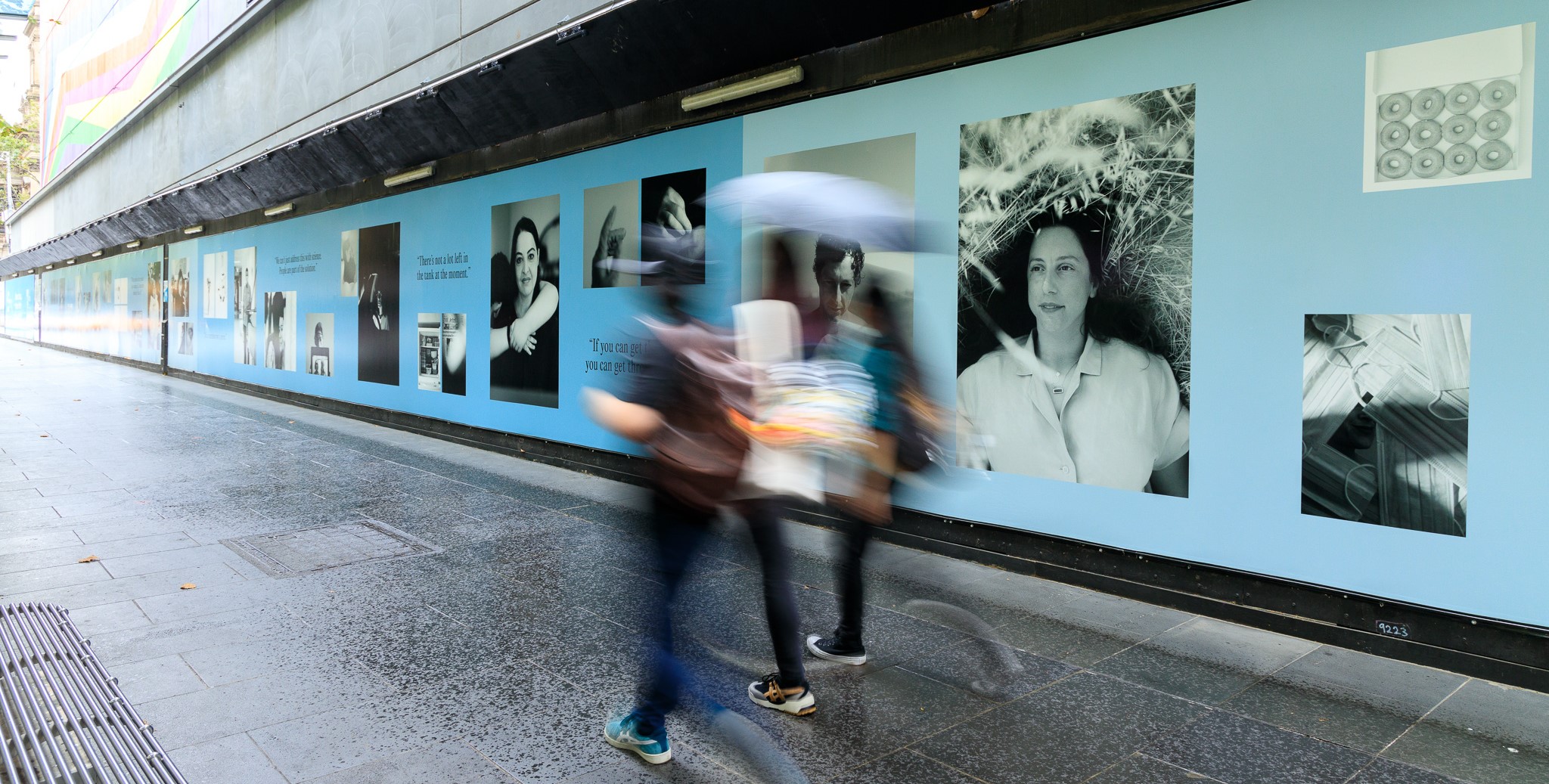 About the artists
Kate Disher-Quill is a Melbourne-based artist working across photography, film, publication and multimedia. As a visual communicator, she is drawn to weaving stories into art to explore themes reflected in her community and the wider Australian society. Since 2010, she has exhibited in numerous group and solo shows around Australia, and her publications have been distributed in leading bookstores and art institutions, including Art Gallery of New South Wales and National Gallery of Victoria. Disher-Quill's book Earshot, published in 2019 by Black Inc, portrays the myriad of experiences of Deafness and hearing loss, intersecting art and storytelling with health and education.
Melbourne-based photographer Phoebe Powell's images are motivated by curiosity and connection, and her portraiture is rooted in an ethos of compassion. Working closely with her subjects to encourage self-expression and honesty in their portrayal, Powell's work is engrained with themes of intimacy and identity. At the flattened end of the first wave of COVID 19 infections in Melbourne, Phoebe was commissioned by the Metro Tunnel Creative Program to photograph more than 50 healthcare professionals working to manage the pandemic for a photographic essay titled Thank You. Exhibited publicly on the construction hoardings for the new Parkville Station, the work gained international recognition within days, bringing about a wider acknowledgement of the people dedicated to keeping Victoria safe. It is this ability to inform, educate and inspire that draws Phoebe to photographic storytelling.
Surge was commissioned by Photo Australia and the Metro Tunnel Creative Program for PHOTO 2021.
Photography by James Henry