Maree Clarke: Uncle Jack Charles (Men in Mourning)
Scott Alley, February to May 2021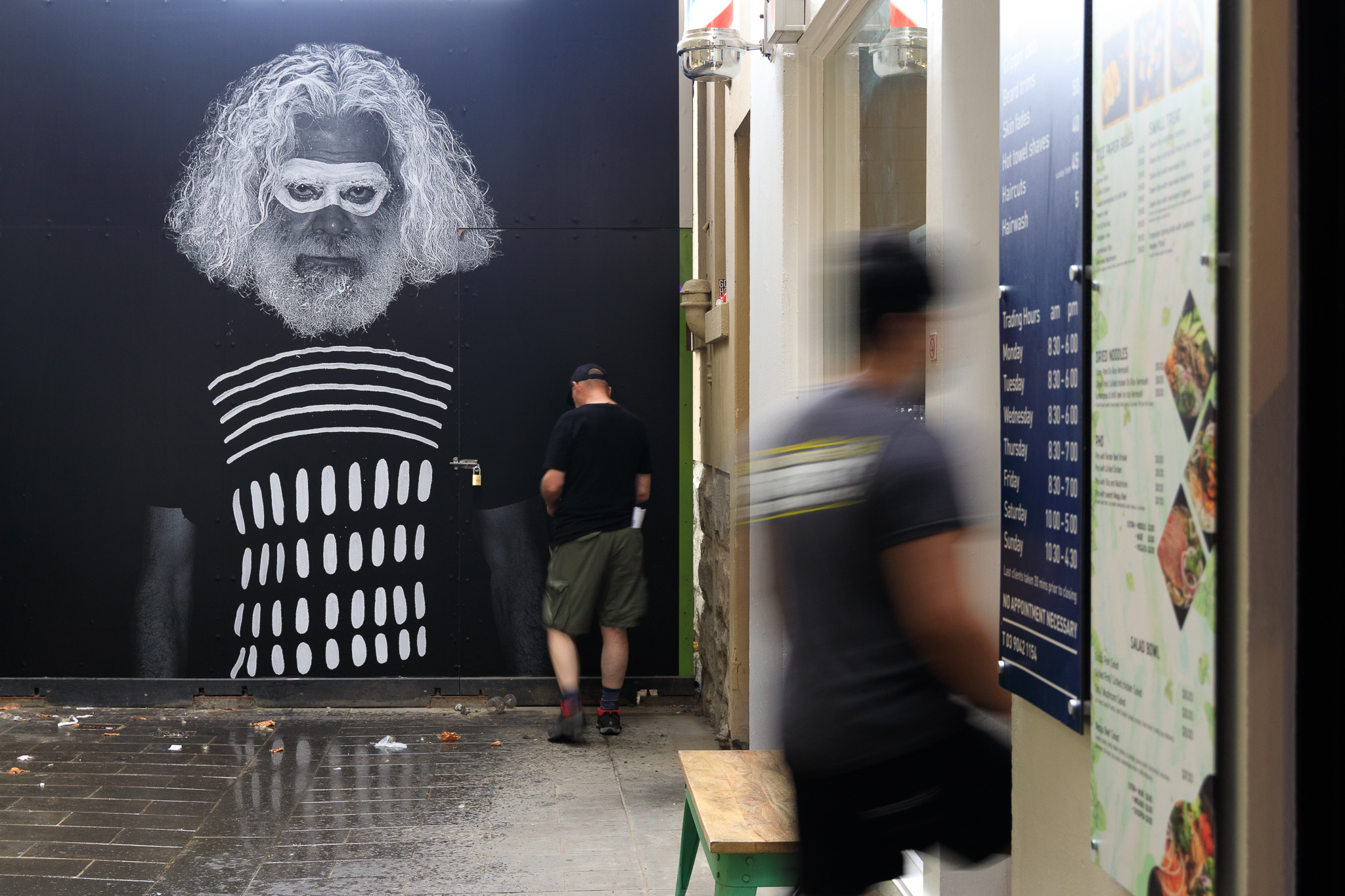 About the artwork
Mourning is an important ritual and ceremony, with all cultures having ways of expressing and showing loss of kin, land, language and cultural practices. This work by First Nations artist Maree Clarke is an expression of Indigenous loss.
As part of the Ritual and Ceremony series, Uncle Jack Charles (Men in Mourning) shows venerated elder, artist, actor, musician, activist and Stolen Generation survivor Uncle Jack Charles in the white ochre of traditional mourning and a shirt bearing the scarification marks of bereavement. Like her people, Clarke's portrait of Uncle Jack stands strong in expressing resilience in the face of loss and a tenacious celebration of survival.
Uncle Jack Charles (Men in Mourning) is presented by Photo Australia and the Metro Tunnel Creative Program for PHOTO 2021.
About the artist
Photographer and artist Maree Clarke is a Yorta Yorta/Wamba Wamba/Mutti Mutti/Boonwurrung woman who grew up in northwest Victoria – predominantly in Mildura – on the banks of the Murray River. Living and creating in Melbourne for the last three decades, Clarke makes works that explore the customary ceremonies and rituals of her ancestors.
Maree Clarke is a pivotal figure in the reclamation of southeast Australian Aboriginal art practices, reviving elements of Aboriginal culture that were lost – or laying dormant – over the period of colonisation, as well as a leader in nurturing and promoting the diversity of contemporary southeast Aboriginal artists.
Clarke has been commissioned to create a line-wide legacy artwork across the Metro Tunnel's five new underground station precincts.
Photography by James Henry