Creative Program at the western tunnel entrance
Legacy artwork
A permanent artwork by local artist and designer Stephen Banham, called One Day in Our Park, is currently being installed on the flood wall at the Metro Tunnel's western entrance in Kensington.
Find out more about the artwork at the Legacy Artwork Program section of our website.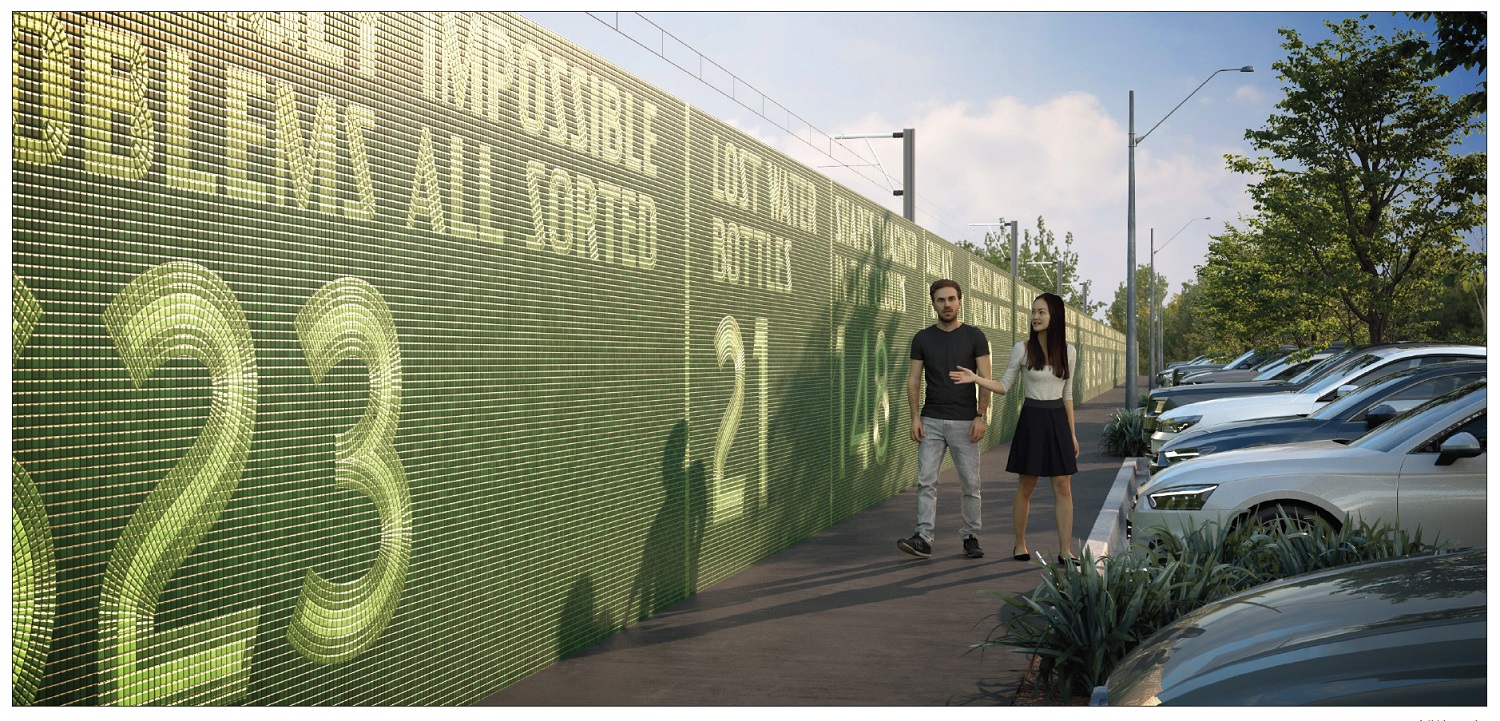 'Kensington' by Mike Maka (Makatron), Hayden Dewar, Welin, Scott Nagy and Krimsone, 2019
This work was informed by ideas from the Kensington community that focussed on what people love about their neighbourhood and the JJ Holland Park.
Pictures depicting play, pets, family and fun run along the stretch of this 120-metre-long artwork that was painted by a number of artists over a period of days in the summer of 2019.
The community also helped paint the mural, with groups from the Kensington Community Children's Co-Operative picking up brushes to colour in the large letters.
About the artist
Melbourne based Mike Maka is primarily a painter who works in a variety of media, mainly on walls, canvas and illustration on paper. He has travelled and created work around the world, painting the Berlin Wall to the River Ganges.
An active member of Everfresh Studio since 2006, Mike has exhibited extensively through Australia as well as group shows in Brazil, Japan, Miami and New York, and has works in private and public collections locally and abroad, including acquisitions by the National Gallery of Australia, Canberra, as well as working in institutions such as National Gallery of Victoria and MONA Tasmania.
Read the story in Melbourne Magazine: http://magazine.melbourne.vic.gov.au/city-news/new-neighbourhood-art/
Instagram: @mike.makatron
Website: makatron.com
Photography by Charlie Kinross
Instagram: @charliekinrossphotography
Click on any image to enlarge it and use the arrows or your keyboard to scroll through the gallery.
'Butterfly Dreaming' by Conrad Bizjak and Mika Maka (Makatron), 2019
This artwork, created from a collaboration with Conrad Bizjak and Mike Makatron, is a message to humankind to step foot outside of the concrete jungle and reconnect with mother nature and the animal in all of us. It's also a reminder of the importance of relaxing and dreaming.
Photography by Charlie Kinross
Instagram: @charliekinrossphotography