Benefits of the project
The $11 billion Metro Tunnel will free up Melbourne's biggest bottleneck by running three of our busiest train lines through a new tunnel.
Twin nine-kilometre tunnels will deliver a new dedicated pathway through the heart of the city for Melbourne's busiest rail lines, creating space for more trains to run more often across Melbourne's rail network.
The Metro Tunnel will create a new end-to-end rail line from Sunbury in the west to Cranbourne/Pakenham in the south-east, with high capacity trains and five new underground stations.
As a result, capacity will be created on the network to enable 39,000 more passengers to use the rail system during each peak period.
The Metro Tunnel is the first step towards a 'metro-style' rail network for Melbourne with the 'turn up and go' train services that are the hallmark of the world's great cities such as London, New York, Hong Kong and Singapore.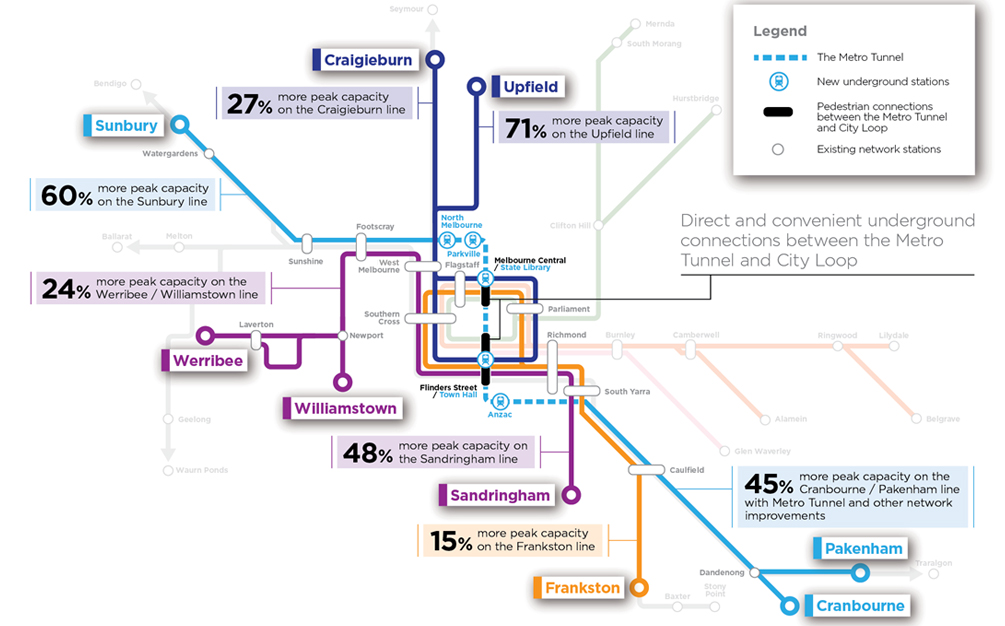 Project scope
Twin nine-kilometre rail tunnels from the west of the city to the south-east as part of a new Sunbury to Cranbourne/Pakenham line.
Five new underground stations at North Melbourne, Parkville, State Library (at the northern end of Swanston Street), Town Hall (at the southern end of Swanston Street) and Anzac (on St Kilda Road).
High capacity signalling to maximise the efficiency of the new fleet of High Capacity Metro Trains.
Train / tram interchange between Anzac Station and the Domain Interchange.
Commuter benefits
Allow more trains to run in and out of the city on the Sunbury, Cranbourne and Pakenham lines as well as the Werribee, Craigieburn, Upfield, Sandringham and Frankston lines.
Capacity for 39,000 more passengers during each peak period from the first day of operation.
Passenger safety will be enhanced with international-style platform screen doors installed in the five new underground stations.
Ease overcrowding in the inner core of the rail network.
Ease congestion on the busy St Kilda Road/Swanston Street tram corridor.
Reshape travel demand to enable a future restructure of the tram network within the expanding CBD.
Create network capacity to enable the future construction, extension and electrification of rail lines across Melbourne.
Social benefits
Providing three new stations (North Melbourne, Parkville and Anzac) in areas not currently serviced by heavy rail with a combined catchment of over 200,000 jobs, student enrolments and residents.
Improving social and economic inclusion as more people will be able to access employment, education, sporting, entertainment and cultural opportunities in Central Melbourne via public transport.
Stimulating significant urban renewal in inner city areas such as Arden-Macaulay.
By enabling more workers to locate in a highly productive and employment-dense area, the benefits will flow to businesses, employees, and the economy at large.
The Metro Tunnel will be the catalyst for enhanced connectivity and will underpin Melbourne's rail network growth for decades to come.
Improved frequency and reliability of rail services will encourage travellers to leave their cars at home, reducing traffic congestion in the north, west and south-east.
Reducing road congestion by providing capacity equivalent to taking over 18,000 cars off the road in the busiest hour of the peak.
Reducing the number of road crashes, lowering the level of greenhouse gas emissions and improving health, due to increased physical activity, as people switch from car travel to public transport.
Construction jobs
The Metro Tunnel Project will create nearly 7,000 jobs, including 500 apprentices, trainees and engineering cadets working as part of the Tunnels and Stations package.
More than 88 per cent of the materials used to build the new tunnels and underground stations will be sourced locally, including 93 per cent local steel.
65 per cent of the project will be delivered by small and medium sized businesses.
Sustainable population and jobs growth
Better transport connections to education, health, employment and cultural opportunities support sustainable population and jobs growth.
Enabling communities in key population corridors in the west and north to be better connected with knowledge-based jobs.
Creating education and employment opportunities in the city's inner west for Melbourne's key population growth corridors to the north, west and south-east of Melbourne.
Economic benefits
The construction and operation of the Metro Tunnel is expected to increase Victoria's Gross State Product by at least $7 billion.
Help to maintain Melbourne's status as one of the world's most liveable cities.
Improvements in the transport network as a result of the Metro Tunnel will boost:

existing national employment clusters: Melbourne CBD, Monash and Dandenong South)
emerging employment clusters: East Werribee and Sunshine
existing activity centres: Sunshine, Footscray, Broadmeadows, Frankston, Dandenong, Narre Warren and Fountain Gate.
Station precinct benefits
Each of the new Metro Tunnel stations will:
enhance transport access to strategic locations in Melbourne
reduce crowding at City Loop stations and relieve congestion on the rail network
provide interchange opportunities with other modes of transport
lead to the creation of new urban landmarks and precincts
be a catalyst for new residential and commercial developments.