Project overview
Construction is underway on the Metro Tunnel which will untangle the City Loop so more trains can run more often across Melbourne.
The Metro Tunnel will create a new end-to-end rail line from Sunbury in the west to Cranbourne/Pakenham in the south east, with bigger and better trains, next generation signalling technology and five new stations.
The Metro Tunnel will create capacity on the network to enable more than a half a million additional passengers per week across Melbourne's train network to use the rail system during the peak periods. See the peak capacity increase for your train line.
Melbourne Airport Rail services will also run through the Metro Tunnel to maximise access for all Victorians and provide passengers with an under-30-minute service from the airport to the CBD.
The project scope includes:
Twin nine-kilometre rail tunnels from the west of the city to the south east as part of a new Sunbury to Cranbourne/Pakenham line.
Five new underground stations: Arden, Parkville (under Grattan Street), State Library (at the northern end of Swanston Street), Town Hall (at the southern end of Swanston Street) and Anzac (under the Domain Interchange on St Kilda Road). The two stations under Swanston Street will be directly connected to the City Loop at Melbourne Central and Flinders Street stations.
High Capacity Signalling to enable more frequent services.
Train/tram interchange between Anzac Station and the Domain Interchange.
Upgrades on other suburban rail lines with benefits across the network.
Safety features including platform screen doors.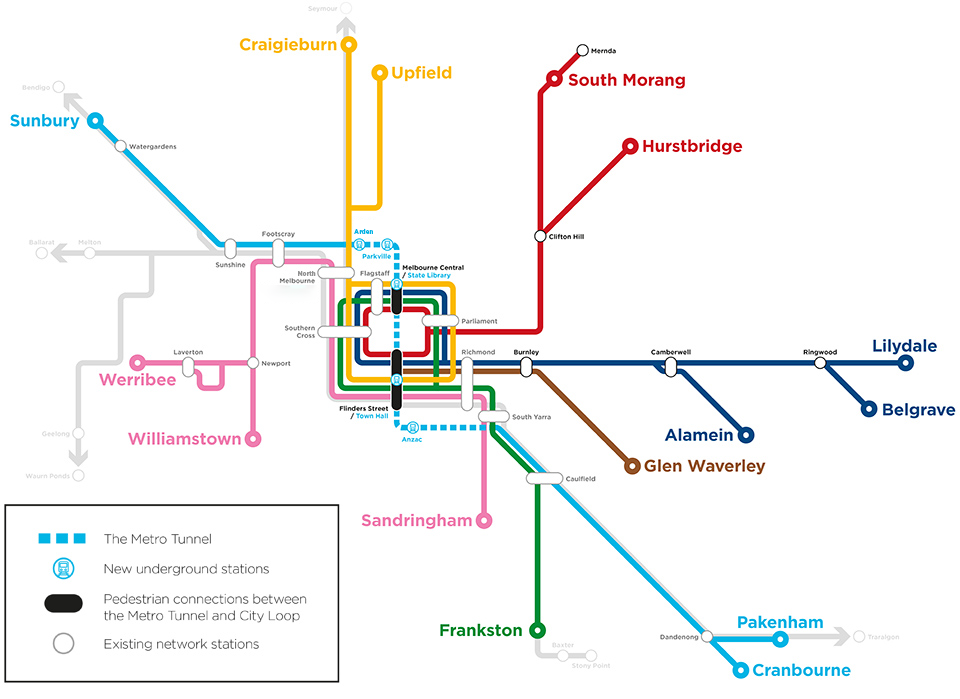 Explore the project
Take a virtual tour of the Metro Tunnel Project with a series of deep dives into different aspects of the project.
Fly through the Metro Tunnel
In February 2020, our first tunnel boring machine completed the leg of tunnelling from North Melbourne to Kensington. Learn more about how we reached this milestone, and how the twin nine-kilometre tunnels were constructed.
---
Watch a roadheader breakthrough deep under Melbourne
Our roadheaders work together deep underground to mine the station caverns for our State Library and Town Hall stations. Watch one of the massive machines break through into the central cavern of the future Town Hall Station.
---
How we're building our CBD stations
Our two CBD stations are being constructed with a trinocular design, in which three overlapping tunnels are mined to create a wide open space that allows the concourse and platforms to integrate on a single level. See how this design is coming together at the site of State Library Station.
---
How our tunnel boring machines operate
In August 2019, as our first tunnel boring machine prepared to launch towards Kensington, our Director of Tunnels and Underground Stations explained the tunnelling process for the project.
---
Walk aboard a tunnel boring machine
Learn more about how our tunnel boring machines work underground, and the conditions that operators work in deep under Melbourne.