High Capacity Signalling
Next-generation High Capacity Signalling technology will be installed on the Metro Tunnel and on the Cranbourne, Pakenham and Sunbury lines to deliver more trains, more often during peak times.
The technology will also be rolled out on the new Melbourne Airport Rail when it is built.
These upgrades will revolutionise Melbourne's train network as we move towards a reliable 'turn-up-and-go' network, similar to those in London, Singapore or Hong Kong.
The bigger, more modern trains running on this new network will provide capacity for 121,000 passengers every week on the Cranbourne and Pakenham lines during peak periods – that's 45 per cent more peak capacity.
Existing signals used along these lines will be also be updated so trains that use High Capacity Signalling and those that use conventional signalling – such as freight and regional passenger services – can safely and efficiently operate on the one system.
Moving block signalling
High Capacity Signalling is the hi-tech "moving block" signalling system used around the world that enables trains to automatically adjust their speed to maintain a safe distance from the train in front.
The new technology will replace Melbourne's current "fixed block" system, which uses coloured signals to indicate when it is safe for a train to proceed.
We are currently testing High Capacity Signalling on a section of the Mernda Line between Epping and South Morang stations. Following this trial the technology will be rolled out in the Metro Tunnel and along the new Sunbury to Cranbourne/Pakenham line. It will be the first rollout of High Capacity Signalling on an existing network anywhere in Australia.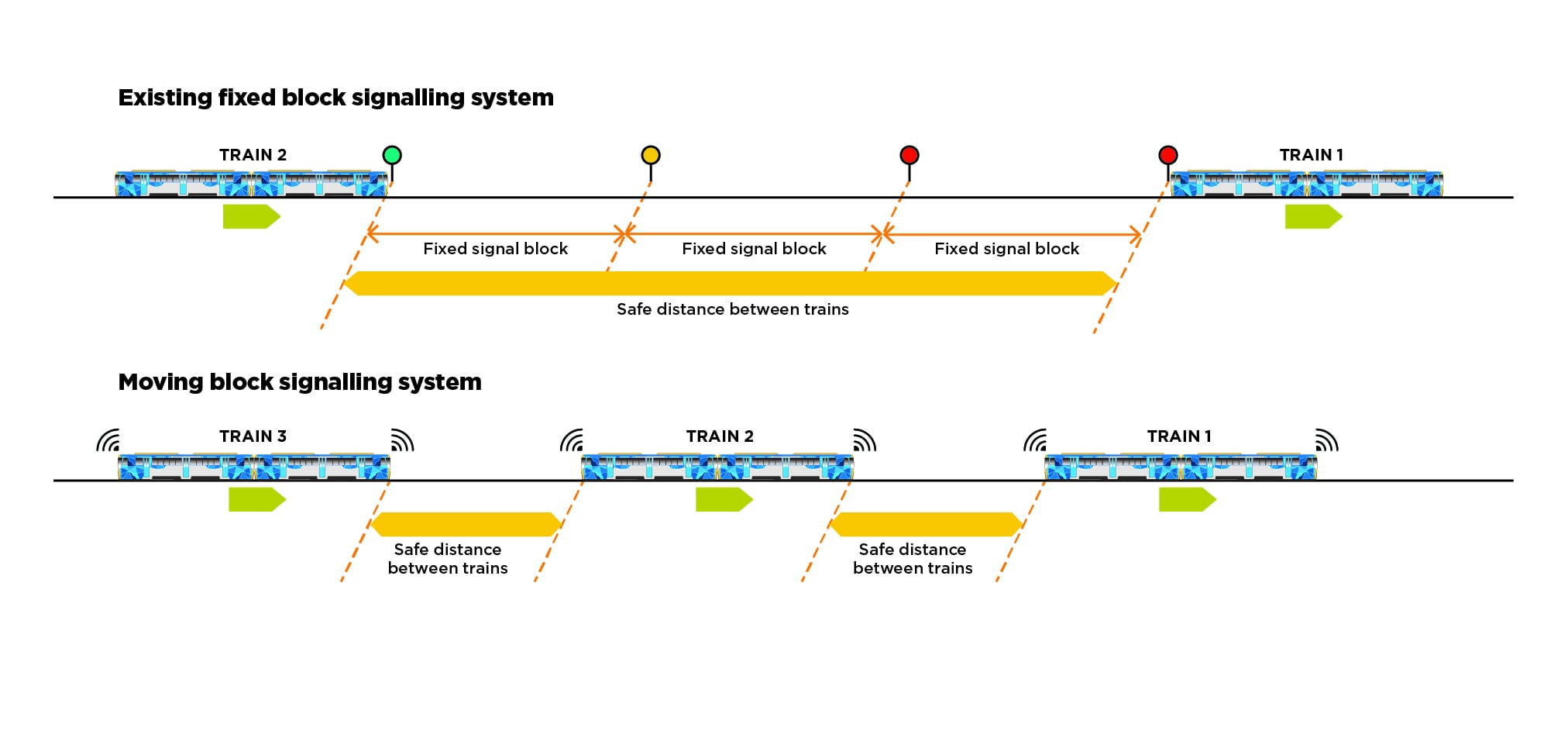 How it works
To visualise how High Capacity Signalling works, imagine driving on a freeway. Adaptive cruise control adjusts the vehicle speed according to the distance from the car ahead, to help the driver travel more safely.
Under the control of train drivers, High Capacity Signalling works in a similar way by communicating this information wirelessly between trains, the railway line and the signal control centres.
Signal control centres
High Capacity Signalling technology requires installing specialised equipment on our bigger, more modern trains and along the Cranbourne, Pakenham and Sunbury lines.
This equipment will transmit speed and location data to our two new signalling control centres at Sunshine and Dandenong, providing signalling staff with a dynamic, real-time, overview of train movements across the network.

Sunshine and Dandenong were chosen as locations for the signal control centres because of their strong connection points to metropolitan, regional and freight rail services.
Construction of the Sunshine Signal Control Centre began in 2020 and is scheduled for completion in 2021.
The High Capacity Signalling upgrades for the Dandenong Signal Control Centre, which has already been built, will be up and running in 2022.

Platform

screen doors

Platform screen doors are used in some of the world's leading underground rail networks including London, Hong Kong and Paris. This will be the first time the technology has been used in Melbourne.

These doors open and close automatically when trains arrive at and depart stations. They improve passenger safety and boarding times, help manage the station environment and improve tunnel ventilation.

We are installing more than two kilometres of platform screens doors in the Metro Tunnel and along the Cranbourne, Pakenham and Sunbury lines. Each station will be fitted with 60 platform screen doors and floor-to-ceiling toughened glass walls along the length of the platforms.There will be clear entry markings to make it easy for passengers to know where to wait for their train.

Testing of this new technology is currently underway at a train depot in Pakenham East.
More information