Building the tunnels and stations
A range of construction techniques will be used to build the Metro Tunnel, with an emphasis on reducing impacts to local residents and business.
Tunnel Boring Machines
Learn more about the massive machines digging the Metro Tunnel.
Roadheaders
Our roadheaders will work together deep underground to mine the station caverns for our State Library and Town Hall stations.
Cut and Cover
Learn more about the construction methodology used to build the new Arden, Parkville and Anzac stations.
Acoustic Sheds
Temporary acoustic sheds will be built to enclose construction sites while the new Metro Tunnel stations are built.
Overview
Building the Metro Tunnel presents many challenges, including:
Managing disruption to residents, businesses and public events.
Minimising potential impacts on road traffic, pedestrians, cyclists and existing public transport and freight services.
Navigating existing underground infrastructure – including the City Loop, CityLink tunnels and services such as water, gas and electricity.
Excavating through a range of challenging geological conditions including rock, sands, clays and silt.
Tunnelling under two significant waterways, the Yarra River and Moonee Ponds Creek.
Managing the removal and disposal of large amounts of excavated material.
Along its route, the depth of the Metro Tunnel will be up to 40 metres. The deepest point will be under Swanston Street, at the northern edge of the CBD, where the new tunnels pass under the existing City Loop tunnels. From the station under Swanston Street at Flinders Street, the tunnels will travel below the Yarra River before passing under CityLink on their way to the new Anzac Station under St Kilda Road.
Hundreds of geotechnical site investigations have developed our understanding of existing geological conditions across the alignment and confirmed the location of underground services. This information has also informed the construction methodology for building different elements of the project.
Construction methods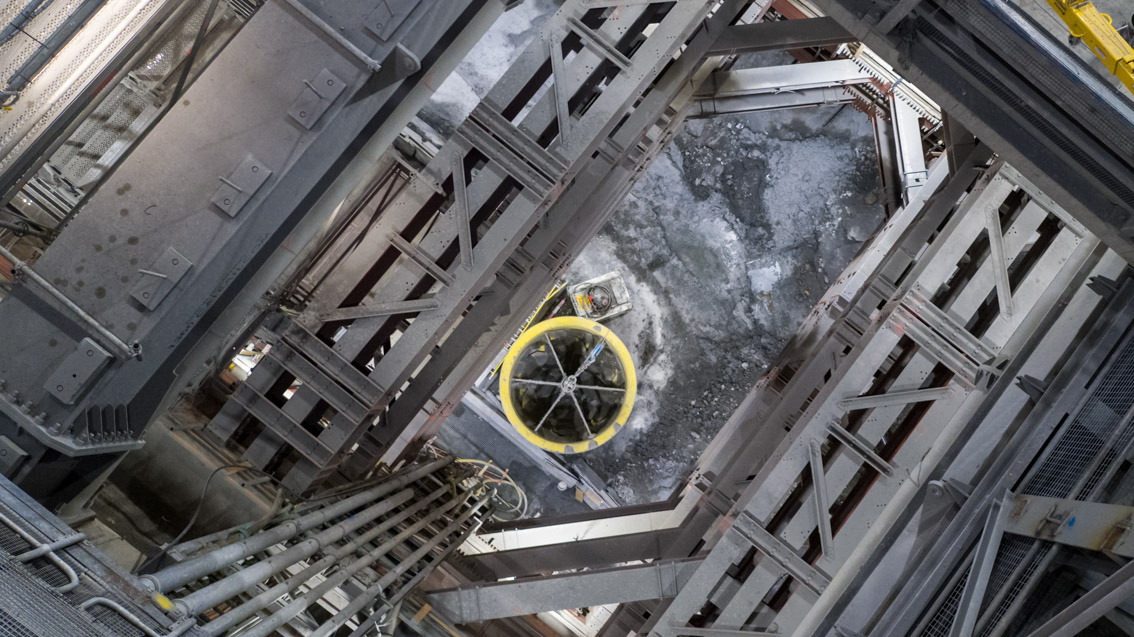 A number of different construction techniques are needed to successfully build a project as large and complex as the Metro Tunnel.
These are used to construct many underground rail projects around the world and are tried and tested under a range of geological conditions and inner-city urban environments.
Rail Projects Victoria (RPV) will oversee delivery of the project on behalf of the Victorian Government and is working with the contractors to identify ways to reduce the unavoidable impacts of the work required.
CBD excavation
To keep Swanston Street open while the Metro Tunnel is built, access shafts up to 11 storeys deep are being dug adjacent to Swanston Street at City Square and behind Young and Jackson Hotel where the station entrances will be. These shafts will be used to transport machinery, equipment and workers underground to excavate and line the station caverns below the surface of Swanston Street.
This construction approach reduces disruption at surface level and is used on tunnel projects overseas, particularly in constrained city environments. Building the CBD stations this way means trams will continue to travel along Swanston Street during construction and above ground disruption is greatly reduced.
Trinocular excavation
The State Library and Town Hall stations will be built as 'trinocular' caverns.
Three overlapping tunnels will be mined by road headers to create a wide open space that allows the concourse and platforms to be integrated on a single level.
The result is a spacious station cavern with vaulted ceilings, rather than two separate tunnels separated by a cross passage. The total platform width at the CBD stations will be around 19 metres – some of the widest underground metro platforms in the world.
This construction technique is uniquely suited to the CBD's highly variable geological conditions.
Cut and cover
The new Arden, Parkville and Anzac stations and the entrances to the tunnels will be built using a construction technique known as cut and cover.
This type of construction involves using excavation equipment to dig a large trench or rectangular hole in the ground, which is then covered by a concrete deck. Once the deck is in place, surface activity can resume as construction works continue below.
Concrete panels are then used to form the various levels and internal structures, similar to the construction of the underground basements of high rise buildings.
Tunnelling under the Yarra River
The Metro Tunnel will travel under the Yarra River, which has a depth of up to four metres at this location. The top of the twin tunnels will be around 10 metres below the riverbed, east of the Princes Bridge.
To minimise impacts at the Yarra River and surrounding areas, tunnelling with Tunnel Boring Machines will be used for this section of the project.
Acoustic sheds
Temporary acoustic sheds up to 20 metres high will enclose some Metro Tunnel construction sites at City Square, Federation Square, Franklin Street, A'Beckett Street, and St Kilda Road.
Acoustic sheds are commonly used during construction of tunnels to minimise noise, light and dust impacts on the local community during 24-hour tunnelling activities. The walls of the sheds include acoustic insulation and will be custom built for each site.
Managing excavated material
Around 1.8 million cubic metres of excavated soil and rock will be produced during the construction of the Metro Tunnel.
Given the importance of roads to local communities, effective traffic management plans will manage truck movements. The predicted daily truck movements for Metro Tunnel will not create substantial increases in daily traffic volumes on the arterial roads to be used.
Most truck movements will occur during the day, however, some activities and construction sites may require 24-hour truck movements. Measures will be in place to minimise impacts on surrounding areas.
As the bulk of works are underground, there will be limited opportunities to re-use excavated clean fill as part of Metro Tunnel's construction. As such, it will need to be removed from construction work sites and potentially re-used at other locations. Materials that cannot be re-used due to contamination will be disposed of in line with Environment Protection Authority (EPA) Victoria and WorkSafe Victoria guidelines.
More information about tunnel and station construction