Tunnelling depths and staging
Tunnelling stages
North Melbourne to Kensington (complete)
In mid-2019, two tunnel boring machines (TBMs) were assembled at the Arden Station site and launched separately to tunnel towards the western tunnel entrance at Kensington.
In February 2020, the first TBM, Joan, arrived in Kensington and the second TBM, Meg, arrived in March.
Before the TBM's cutterhead 'broke through' into the retrieval shaft, the shaft was filled with water to balance groundwater levels while the TBM constructed the final section of tunnel. The water was then drained and the TBM retrieved. Water was then pumped back to the water treatment plant at Arden Station site via the TBM.
The rear (gantry) sections of the TBMs travelled back to Arden Station through the constructed tunnel, and the rest of the oversized pieces were transported back at night by truck. The TBMs were then relaunched towards Parkville.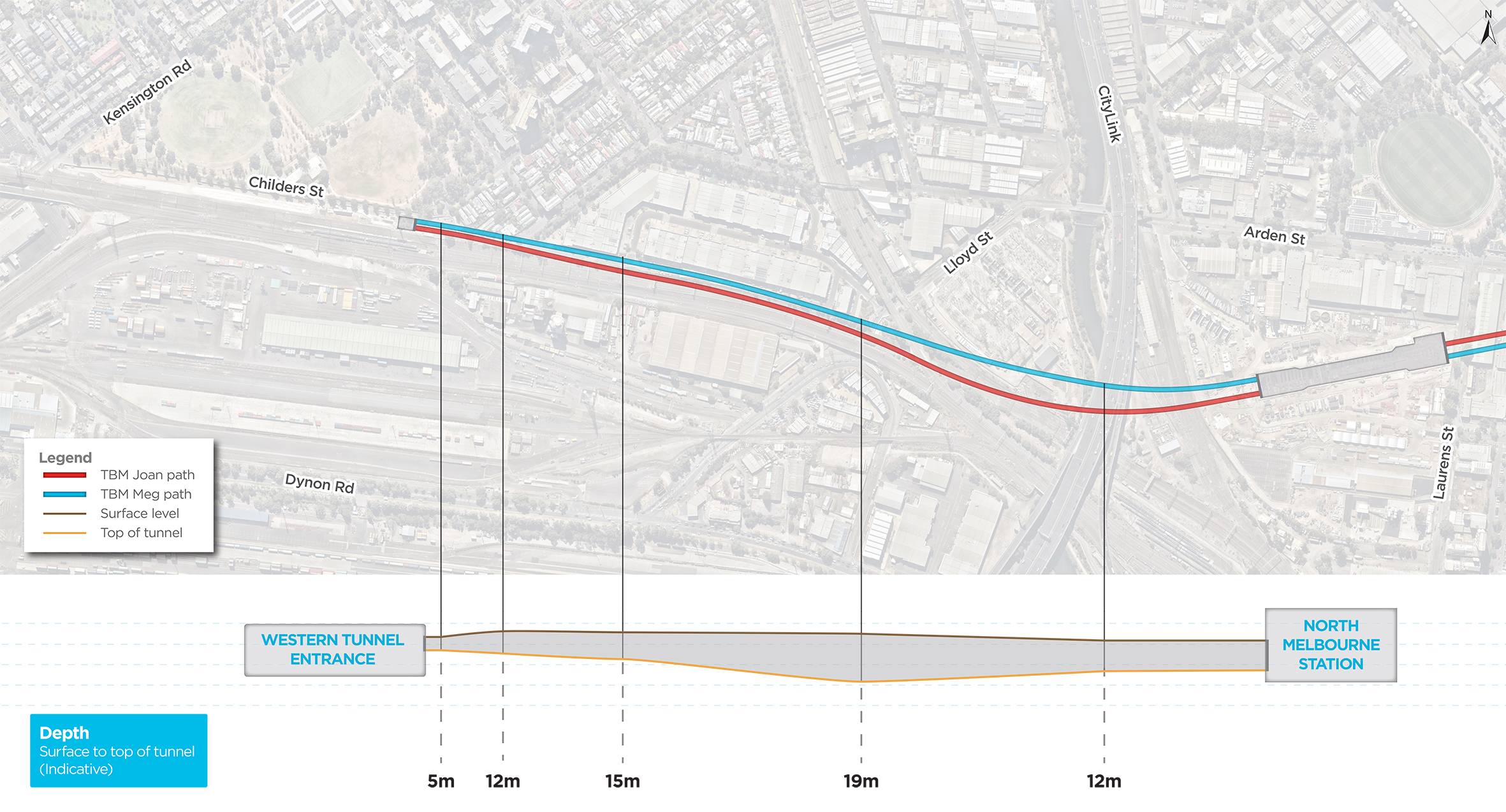 North Melbourne to Parkville (complete)
In mid-May 2020, TBM Joan launched from the Arden Station site to tunnel towards Parkville, followed by TBM Meg in June. Joan broke through at the Parkville Station site in late August, while Meg arrived in September 2020.
The TBMs are transferred on steel rails with hydraulic ramps through the station box. This process takes around three weeks, after which the TBMs are cleaned and recommissioned.
Two launch frames are set up at the eastern end of the station box to assist the TBMs in breaking through a 'soft eye' (reinforced with fibreglass rather than steel) to begin tunnelling again towards the CBD.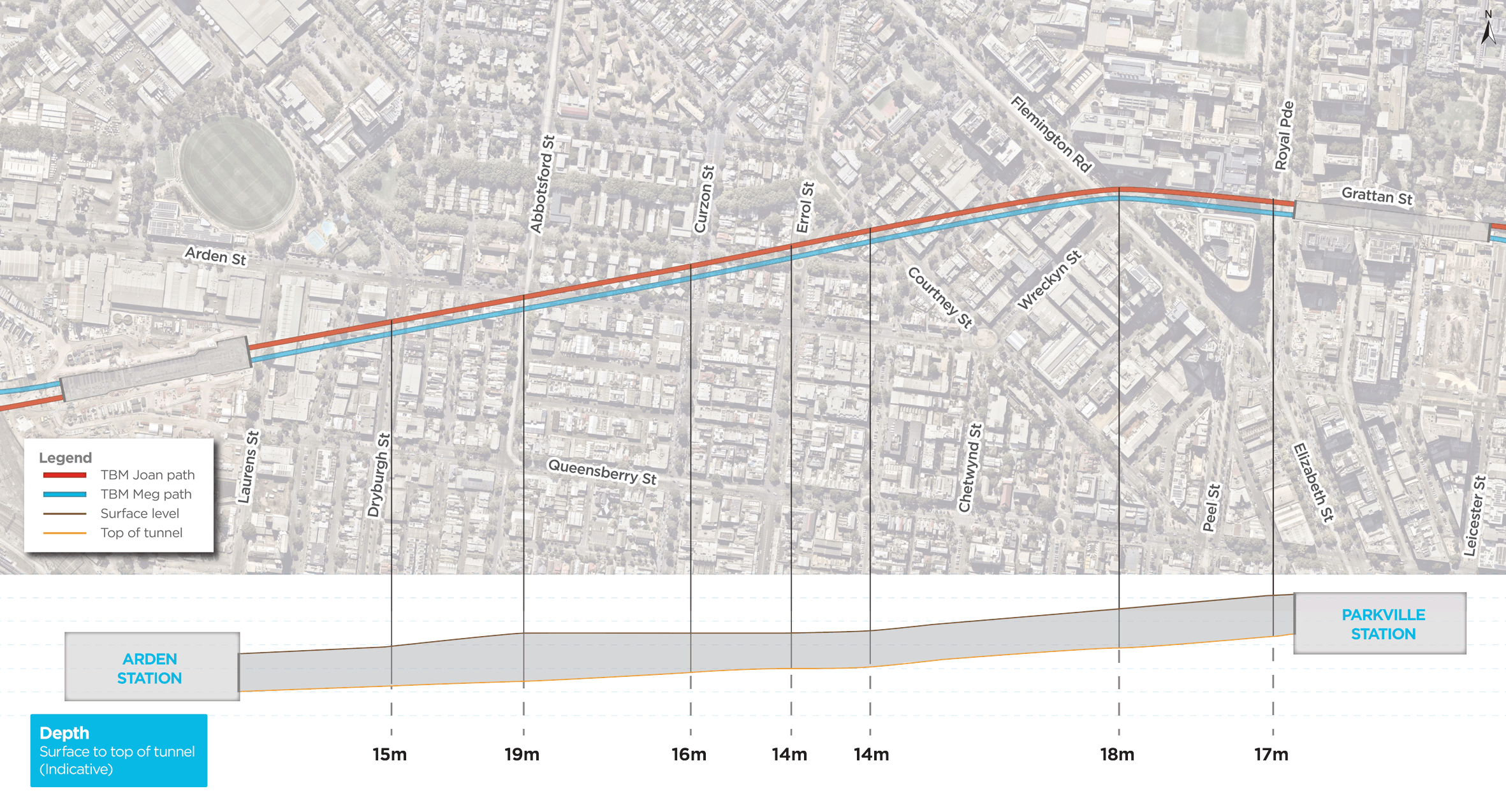 Parkville to State Library (complete)
TBM Joan relaunched in October 2020 to begin tunnelling the one-kilometre stretch from Parkville to the new State Library Station site. TBM Meg followed in November 2020 to tunnel the parallel route.
TBM Joan broke through at the State Library Station site in December 2020. TBM Meg broke through at the State Library Station site in February 2021.
State Library to Town Hall (underway)
TBM Joan was relaunched in February to tunnel towards the Town Hall Station site. TBM Meg followed in March 2021 digging the parallel tunnel.
TBM Joan broke through at Town Hall station in April 2021, marking the completion of one half of the northern tunnelling.
Domain precinct to South Yarra (complete)
At the future Anzac Station in the Domain Precinct, TBMs Millie and Alice were assembled in the station box and launched separately to tunnel towards the new tunnel entrance at South Yarra. Millie was launched in April 2020, with Alice following in May.
TBM Millie arrived at South Yarra in September 2020, while TBM Alice broke through in October.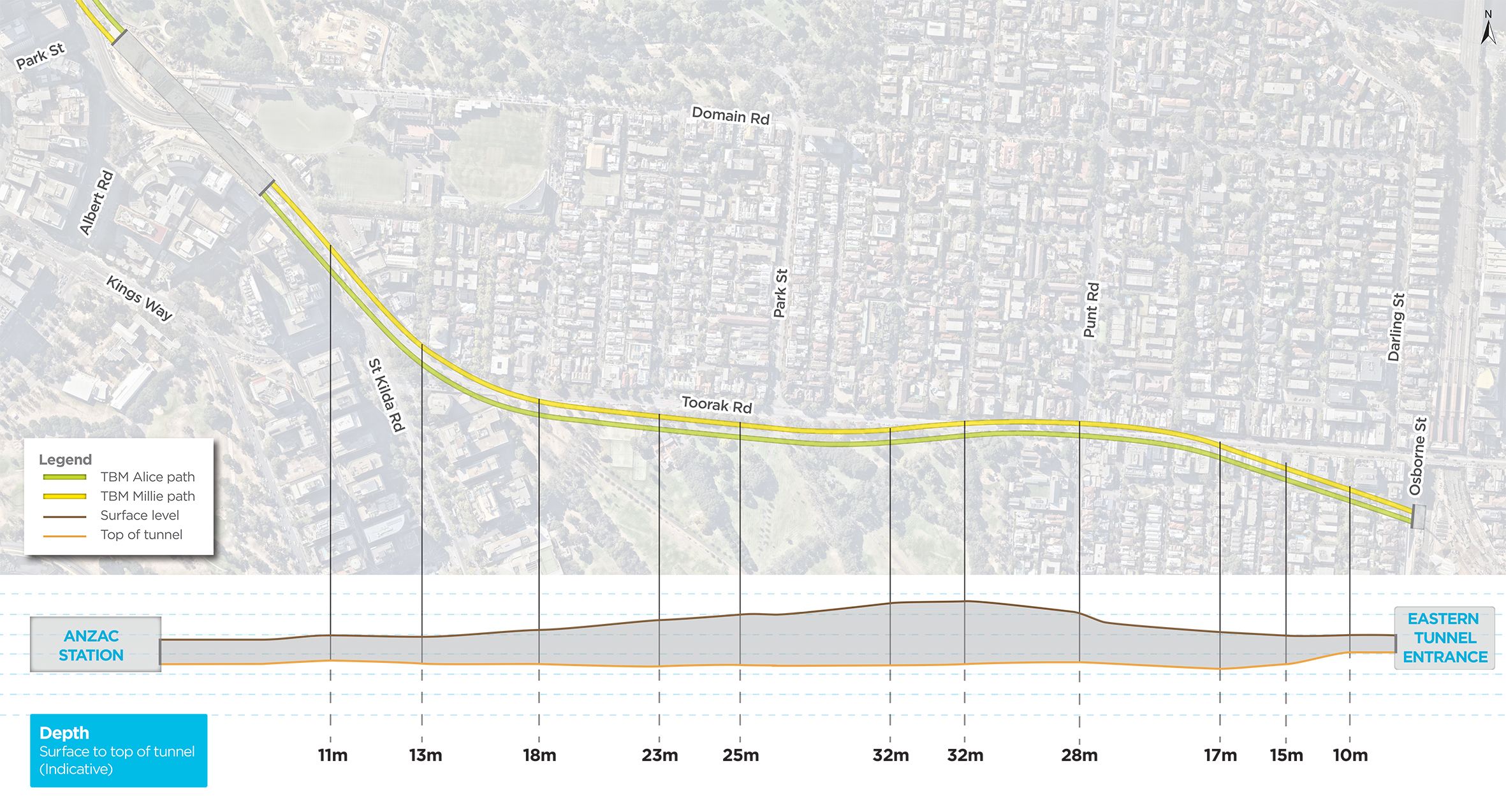 Domain precinct to CBD (underway)
The TBMs will be reassembled in the station box and will start their journey towards the CBD and under the Yarra River. TBM Millie was launched towards the CBD in December 2020 and Alice was launched in January 2021.
TBM Millie successfully tunnelled under the Yarra, breaking through at Town Hall Station in late March 2021.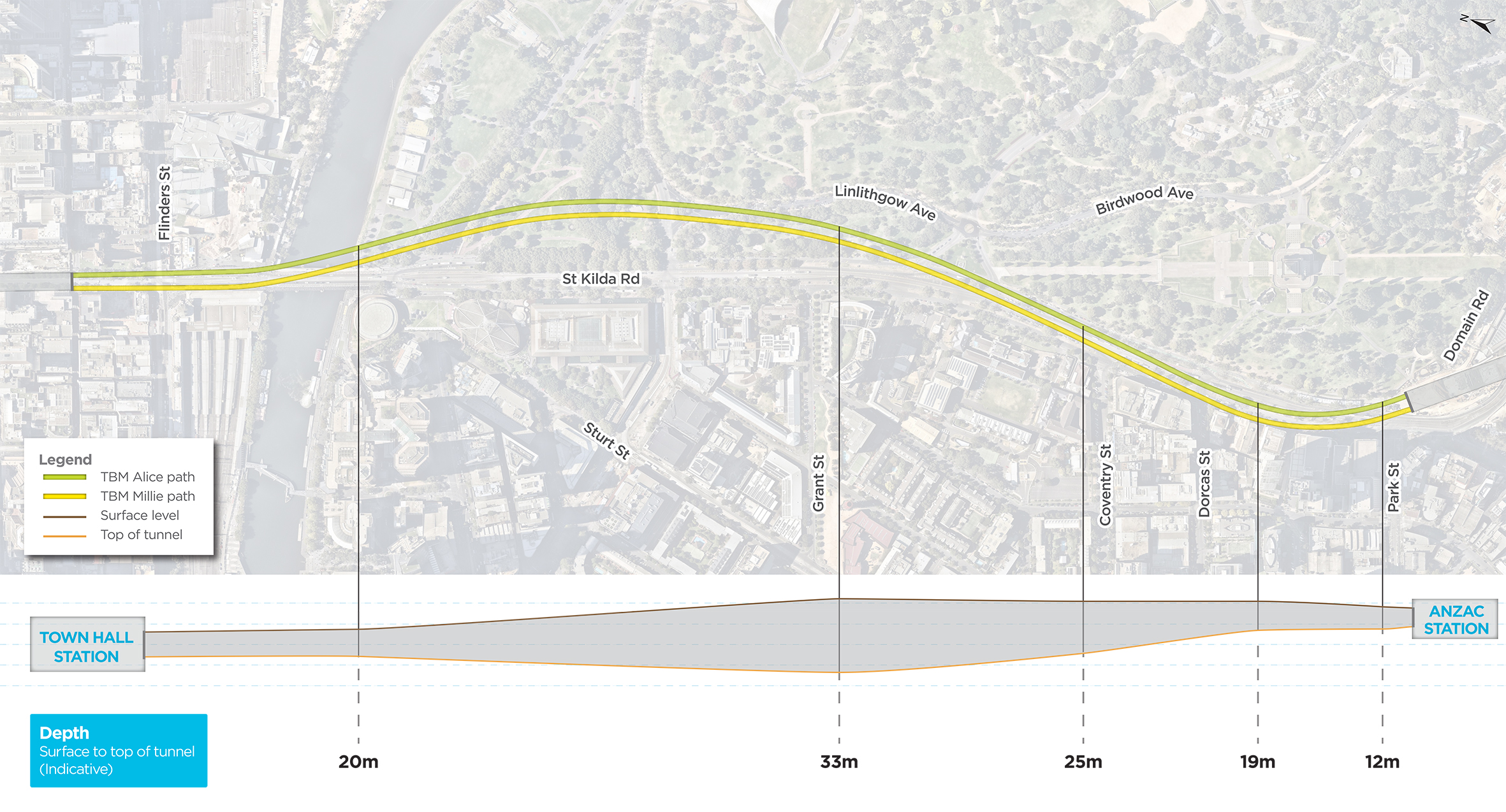 Tunnelling timeline
2021
April 2021 - Joan arrival at Town Hall station
March 2021 - Millie breakthrough at Town Hall station
March 2021 - Meg relaunched towards Town Hall Station
February 2021 - Meg breakthrough at State Library Station
February 2021 - Joan relaunched towards Town Hall Station
January 2021 - Alice relaunched towards Town Hall Station
2020
December 2020 - Joan breakthrough at State Library Station
December 2020 - Millie relaunched towards Town Hall Station
November 2020 - Meg relaunched towards State Library Station
October 2020 - Joan relaunched towards State Library
October 2020 - Alice breakthrough at South Yarra
September 2020 - Meg breakthrough at Parkville
September 2020 - Millie breakthrough at South Yarra
August 2020 - Joan breakthrough at Parkville
June 2020 - Meg relaunched towards Parkville
May 2020 - Joan relaunched towards Parkville
May 2020 - Alice launched towards South Yarra
April 2020 - Millie launched towards South Yarra
March 2020 - Meg breakthrough at Kensington
February 2020 - Joan breakthrough at Kensington
2019
October 2019 - Meg launched towards Kensington
September 2019 - Joan launched towards Kensington
More information