Building the CBD stations
The construction of the two new stations under Swanston Street in the heart of the city presents a range of engineering and construction challenges.
These include:
navigating existing below-ground infrastructure, such as water, gas and electricity services and the City Loop
managing the effects on vehicle, pedestrian, cyclist and tram movements
minimising disruption to residents, traders and businesses
maintaining a safe environment for the project workforce and the community.
Recent works at State Library Station
Recent works at Town Hall Station
Station construction techniques
To keep Swanston Street open and trams running while the Metro Tunnel is built, access shafts up to 11 storeys deep have been dug adjacent to Swanston Street at Franklin Street (east and west of Swanston Street), A'Beckett Street, La Trobe and Little La Trobe Streets, City Square, Federation Square and behind Young and Jackson Hotel.
These shafts are used to transport machinery, equipment and workers underground. Equipment is then used to excavate and line the stations below the surface of Swanston Street.
This construction approach minimises disruption at surface level and is commonly used overseas, particularly in constrained city environments. The above ground disruption to businesses, cyclists, pedestrians and surrounding streets is greatly reduced as a result.
To better respond to the unique ground conditions in the CBD, and to provide more spacious and accessible station platforms, an innovative trinocular design has been proposed for the State Library and Town Hall stations. A trinocular design combines three overlapping tunnels that integrate the concourse and platforms on a single level to create a wide, central tunnel space, improved passenger circulation and vertical transportation.
Tunnelling under the CBD
The stations will be built as 'trinocular' caverns. Three overlapping tunnels will be mined by the roadheaders to create wide platforms with supporting columns and vaulted ceilings. The total platform width will be around 19 metres – one of the widest metro platforms in the world.
In 2021, following roadheader excavation of the tunnels through the CBD stations, tunnel boring machines carved out the twin tunnels between State Library Station and Town Hall Station around 30-40 metres below Swanston Street.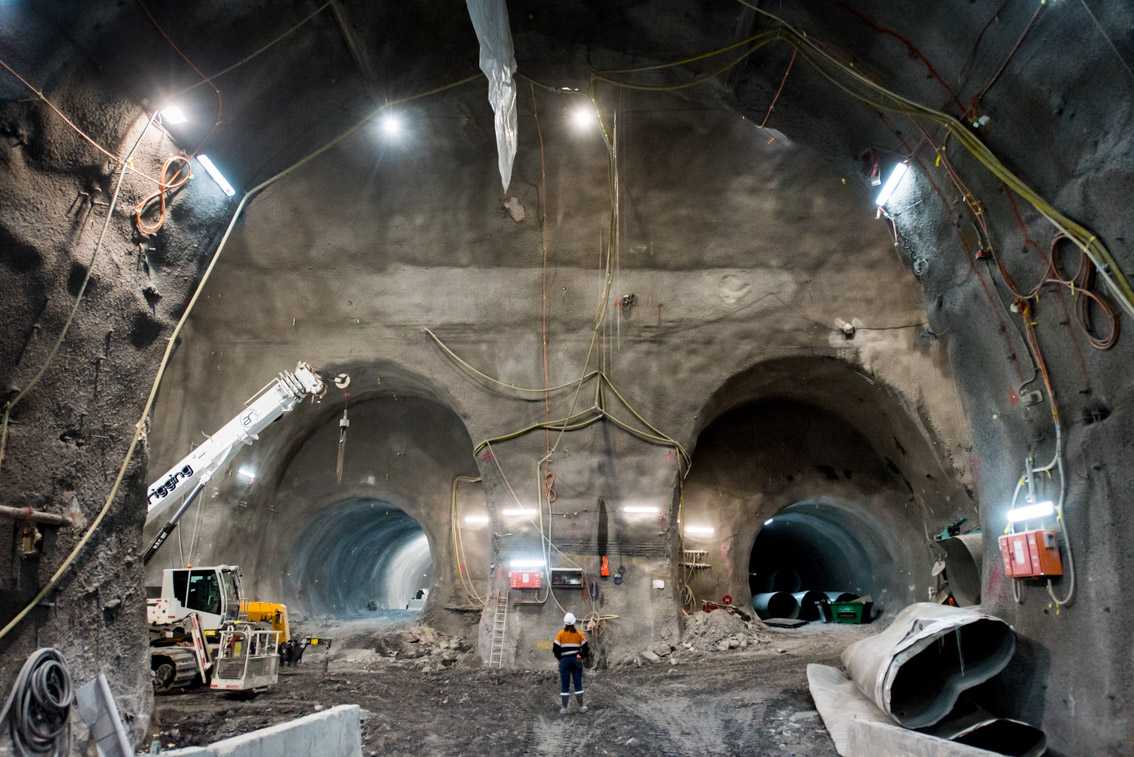 Construction sites
State Library
Parts of Franklin Street between Elizabeth Street and Victoria Street have been temporarily closed to support construction, along with part of A'Beckett Street. Two sites near the corner of La Trobe Street and Swanston Street and between Little La Trobe Street and Literature Lane will also be utilised for construction. The La Trobe Street site will ultimately be the location of a new station entrance.
Town Hall
City Square has been temporarily occupied to create an access shaft, and will ultimately become a station entrance. A construction site facing onto both Swanston Street, Flinders Street (around, but not including, the Young and Jackson Hotel) has been established. Another construction site is located at the station's Federation Square entrance at its northwest corner. A passenger connection will be provided from the new Town Hall station to Flinders Street station via the existing Campbell Arcade.
Key construction activities
Construction activities within the CBD will include:
Preparatory works including tree removal and protection, and the relocation of underground services such as water, electricity, gas, sewers, stormwater and telecommunications.
Excavation of construction access shafts.
Demolition of buildings at station entrance locations, where required.
Excavation of the tunnel between the two CBD stations.
Structural works and station entrance connections.
Architectural, mechanical and electrical fit-out.
Track works and the installation of signalling, safety and communications systems.
Site remediation, including landscaping at Swanston Street, City Square and Federation Square.
Acoustic sheds
Temporary acoustic sheds up to 20 metres high enclose some of Metro Tunnel's CBD construction sites for Town Hall Station and State Library Station.
Works are underway to remove the acoustic shed at City Square by mid-2022.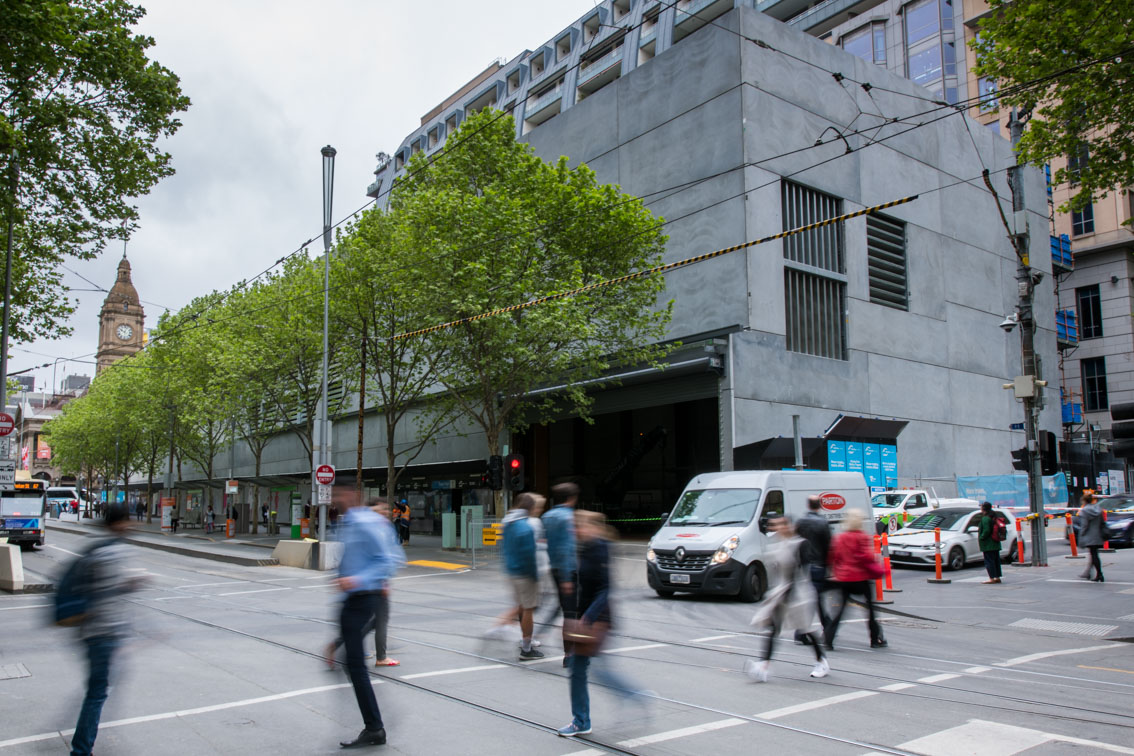 Traffic and transport
The use of mined tunnelling and underground excavation techniques will significantly reduce impacts on Melbourne's CBD, helping to ensure tens of thousands of workers, residents and visitors can continue to access Swanston Street while construction of the new tunnels and stations continues underground.
However, there will still be some unavoidable disruption at surface level and some changes to roads, tram services, and bicycle and pedestrian access will be required to deliver the project.
State Library Station
Building the State Library Station requires the temporary closure of Franklin Street between Swanston Street and Bowen Street.
Other traffic changes at the northern end of the CBD include the permanent closure of A'Beckett Street to vehicle traffic at Swanston Street, and reduction in the number of traffic lanes on Franklin Street between Swanston Street and Elizabeth Street.
See the Traffic changes around State Library Station page for more information.
Town Hall Station
At the southern end of the CBD, partial closures of Flinders Street are required to construct the underground pedestrian connections linking Flinders Street Station and Federation Square to Town Hall Station. These works may impact traffic, trams and footpaths. The Flinders Street eastbound lanes have also been closed between Degraves Street and Swanston Street.
See the Traffic changes around Town Hall Station page for more information.
Public transport, cycling and walking
Tram services will continue to run during the Metro Tunnel's construction in the CBD, although some activities are likely to temporarily impact tram services along Swanston, Flinders, Collins and La Trobe streets. Construction activities in the CBD will be carefully managed to minimise disruption to pedestrians and cyclists, especially during peak periods.
Pedestrian and bicycle paths will be maintained around construction sites, and will include arrangements to direct pedestrians and cyclists safely around work areas.
Construction traffic
Construction traffic routes for the CBD aim to move trucks and other construction traffic away from the city as quickly as possible, using major arterial roads such as Victoria Street, Wurundjeri Way, Dudley Street and the Exhibition Street extension.
The impacts of additional traffic will be managed by using detailed traffic management plans. These plans will seek to minimise truck movements during peak periods, manage truck arrivals and departures to avoid trucks queuing in CBD streets, and minimise truck movements past residential areas at night time.
Additional road works
Temporary traffic management measurements on the following roads will support construction of the new tunnels and stations:
Arden Street – between Fogarty Street and Dryburgh Street
Royal Parade – south of Storey Street to Genetics Lane
Grattan Street – between Bouverie Street and Swanston Street
Cardigan Street – between Victoria Street and Earl Street
Flinders Street – between Queen Street and Elizabeth Street
Flinders Lane – between Elizabeth Street and Swanston Street, and between Swanston Street and Russell Street.
These measures will typically involve signage, line marking and small kerb adjustments to provide a safer environment for cyclists, pedestrians and motorists during construction.
Permanent road works are proposed for parts of the following roads to improve the public realm as part of the project:
Royal Parade
Flinders Street
Flinders Lane.
These works include footpath resurfacing, landscaping, adjustments to bus stops and new pedestrian and cyclist crossings.
These works also include an extension of the tram route from Elizabeth Street onto Flinders Street via new tram tracks. This will:
allow trams 19, 57 and 59 to integrate into the current tram network along Flinders Street
reduce delays currently experienced on the network due to trams terminating at the Elizabeth Street/Flinders Lane tram stop
enhance capacity to and from the sports precinct centred on the MCG and Melbourne Park.