Traffic changes around State Library Station
Temporary and long-term changes to traffic and pedestrian conditions will be required for the construction of the State Library Station.
Temporary works
La Trobe Street
The eastbound lane closure on La Trobe Street, between Elizabeth and Swanston streets, will remain in place as tower crane installation works continue until 8pm on Sunday 22 March. The lane will be reopened if works are completed before this time.
Little La Trobe Street will also be closed from Swanston Street to motorists, cyclists and pedestrians during the assembly of the crane boom (refer to map). This work will take place from 7am to 6pm, Saturday 21 March (Sunday 22 March, if required).
The eastbound lane on La Trobe Street, between Elizabeth and Swanston streets will need to be closed again between 1am and 5am on Tuesday 24 March 2020 to transport a crane from the La Trobe Street site. There will be no through access to Swanston Street during this time (refer to map).
Local access for residents and businesses will be maintained at all times.
Long-term works
La Trobe Street
For the safety of workers, motorists and cyclists during the construction of the new State Library Station a new 30 kilometre per hour speed limit applies on La Trobe Street between Elizabeth and Swanston streets. The speed limit will be in place for five years.
The eastbound lanes on La Trobe Street are reduced to one lane between Elizabeth and Swanston streets, with the northern footpath closed for pedestrians. The eastbound cycle lane is closed between Elizabeth Street and Swanston Street, reopening mid-2020.
Cyclist detour map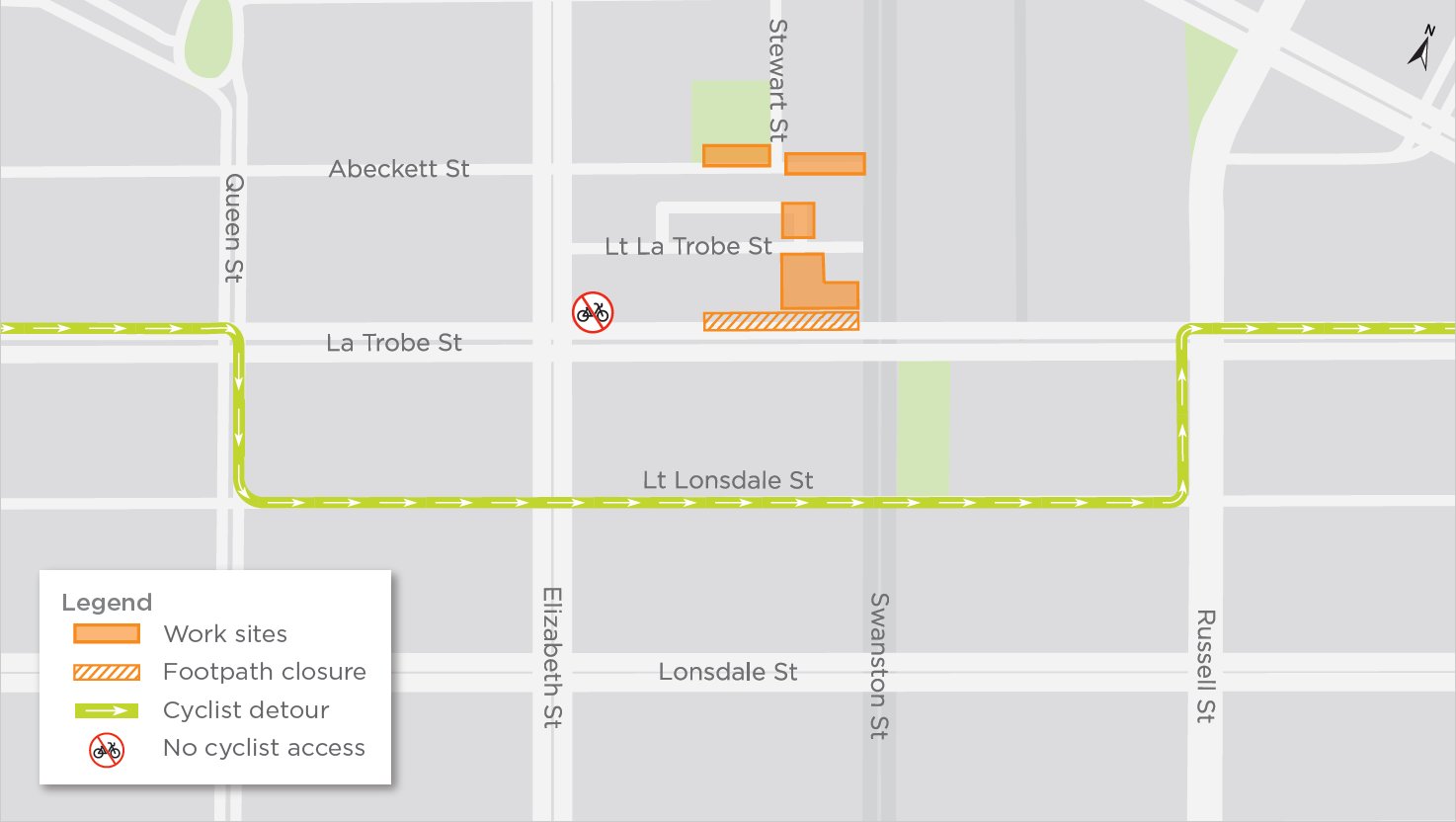 Literature Lane
The eastern entrance to Literature Lane is closed to traffic. Access to Literature Lane will be via the western entrance off Little La Trobe Street.
Stewart Street
The entire length of Stewart Street in a southbound direction is now one-way.
A'Beckett Street
A'Beckett Street is closed between Swanston and Stewart streets and gantry walkways have been installed on both sides of A'Beckett Street.
A designated pedestrian access path has been installed around the laydown and storage area on the half basketball courts on A'Beckett Street.
At night, pedestrians will be able to cross A'Beckett Street at the Stewart Street intersection to the southern footpath. This access will be closed during the day for pedestrian safety purposes.
A gantry walkway on the northern footpath of A'Beckett Street creates an enclosed and well-lit pedestrian walkway that provides a safety barrier between pedestrians and the construction site.
More information