Traffic changes around State Library Station
Temporary and long-term changes to traffic and pedestrian conditions will be required for construction of State Library Station.
Temporary works
Franklin Street closures
There will be intermittent access for motorists travelling eastbound on Franklin Street to Swanston Street from early July until late-August between 7am and 3pm Monday to Saturdays. Signage and traffic controllers will be in place to safely guide motorists around the area.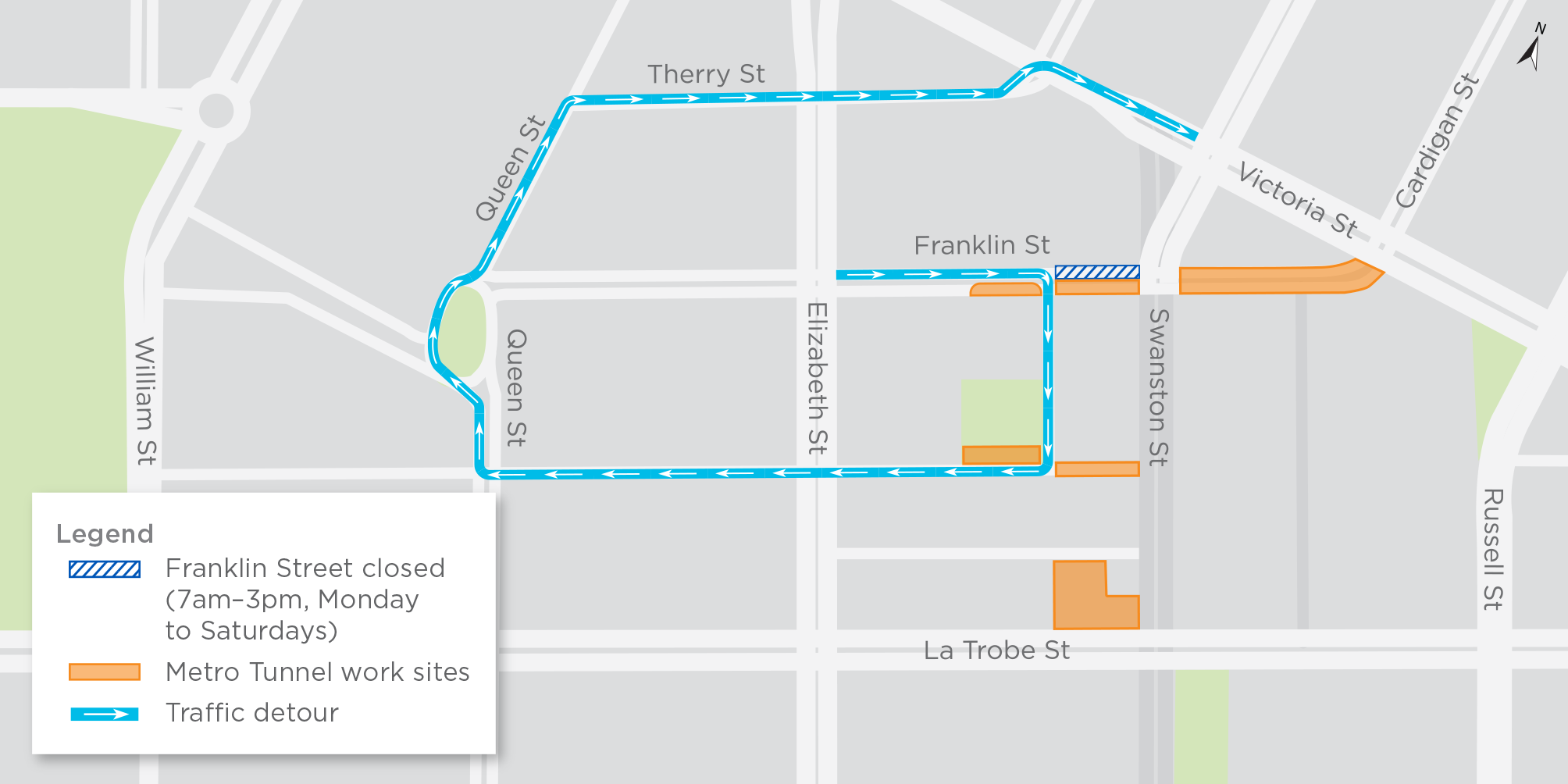 Long-term works
Literature Lane
Car movements
The eastern entrance to Literature Lane will be closed to traffic as of Wednesday 10 July. Access to Literature Lane will be via the western entrance off Little La Trobe Street.
Stewart Street
Car movements
The entire length of Stewart Street in a southbound direction is now one-way.
A'Beckett Street
Car movements
A'Beckett Street is closed between Swanston and Stewart streets.
Pedestrian access
Gantry walkways have been installed on both sides of A'Beckett Street.
A designated pedestrian access path has been installed around the laydown and storage area on the half basketball courts on A'Beckett Street.
At night, pedestrians will be able to cross A'Beckett Street at the Stewart Street intersection to the southern footpath. This access will be closed during the day for pedestrian safety purposes.
A gantry walkway on the northern footpath of A'Beckett Street creates an enclosed and well-lit pedestrian walkway that provides a safety barrier between pedestrians and the construction site.
Franklin Street
Car movements
Franklin Street is closed between Swanston Street and Victoria Street.
The westbound lanes on Franklin Street (between Swanston and Stewart Streets) are closed (from 27 August 2018 for up to two years).
Victoria and Therry streets
Car movements
Detour via Elizabeth Street to access Franklin Street.
More information