Construction at Kensington
A decline structure is being built so trains can enter the new Metro Tunnel.
Building the western tunnel entrance involves construction works on Childers Street to build a retaining wall that will support the embankment on the northern side of the rail corridor (east of Kensington Road), which is to be widened to accommodate the new Metro Tunnel tracks.
A construction support site on Hobsons Road and a tunnel boring machine (TBM) retrieval box have been built to support tunnelling works.
It is not proposed that any construction activities for the Metro Tunnel Project will be undertaken in JJ Holland Park, other than potential upgrades to the shared use path.
See Kensington precinct works notifications page for details of current works in Kensington.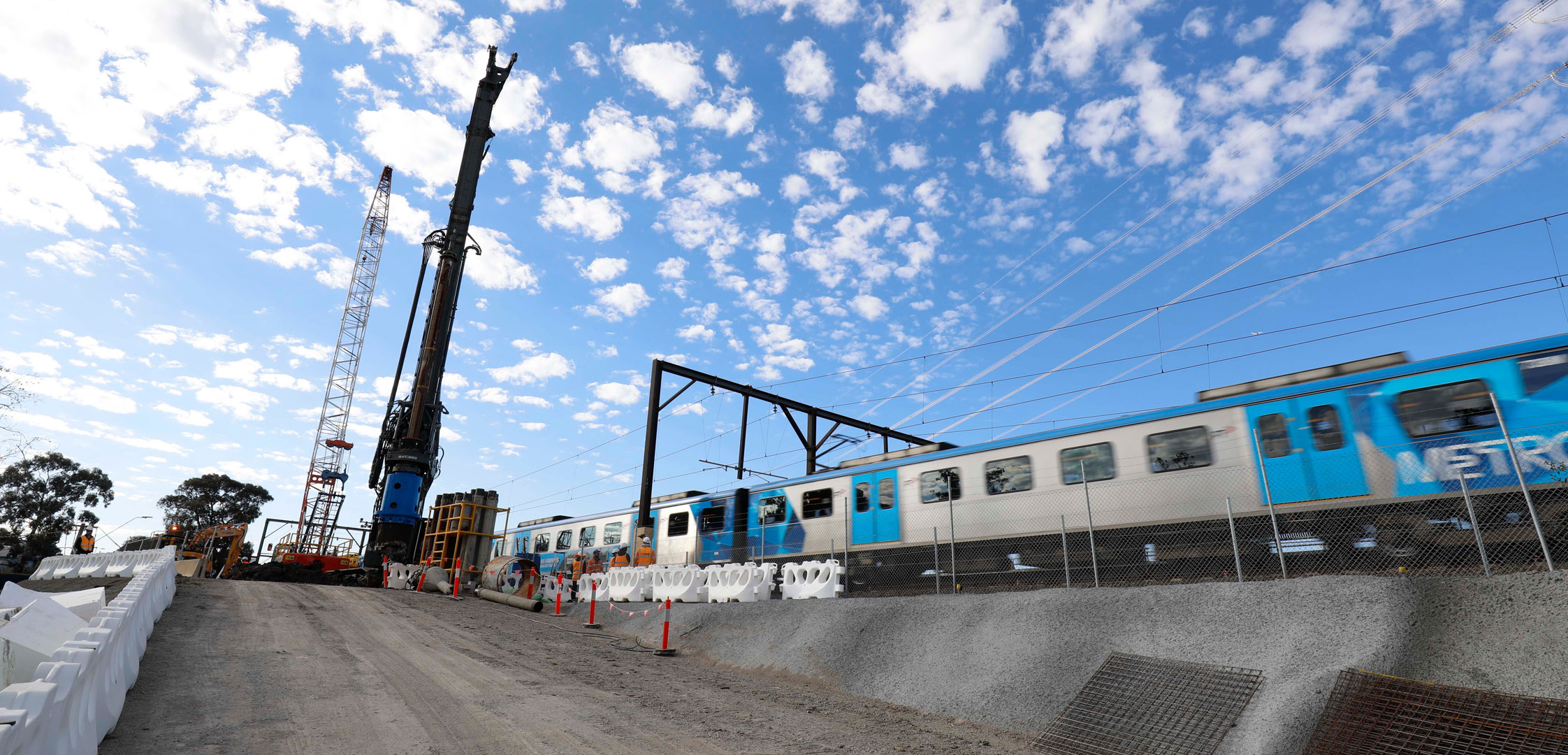 Construction look ahead for 2020/2021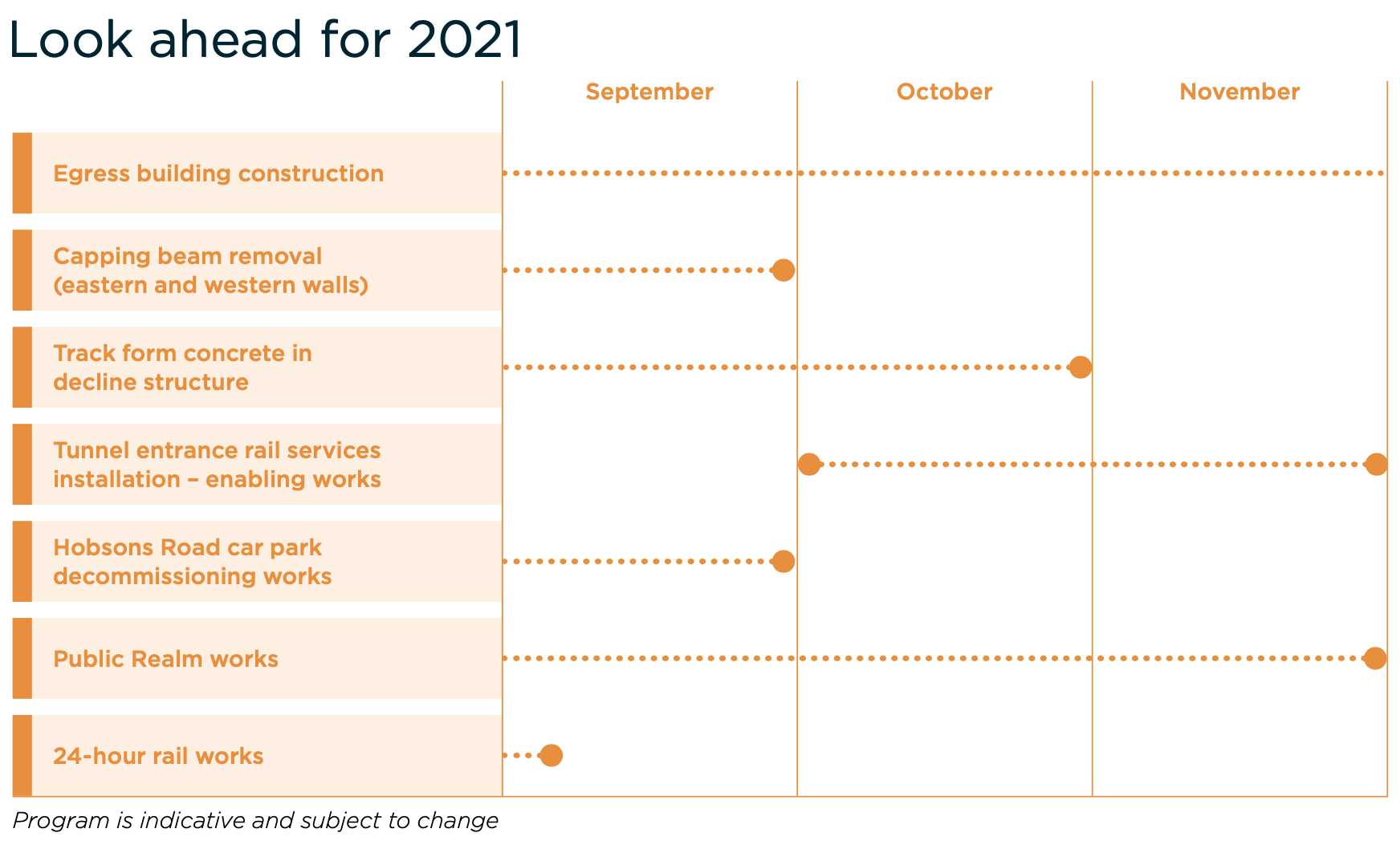 Work site map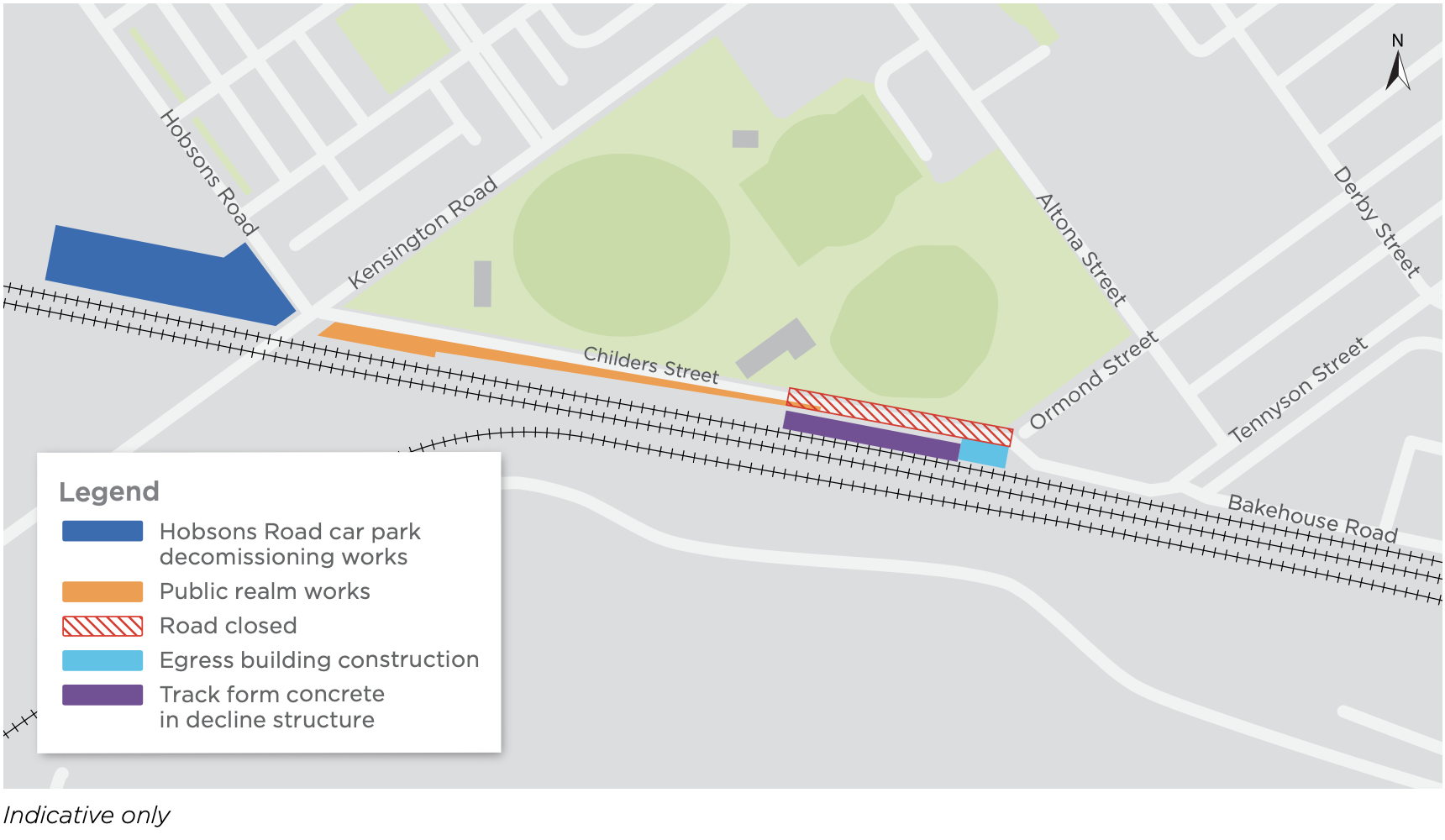 What we are doing
Diaphragm wall (D-Wall) construction
Construction of two, 280-metre D-walls consisting of over 200 individual panels
Two large cranes excavating individual panels, up to 20 metres deep and one crane excavating rock and firmer soils at the bottom of the excavation
Use of the temporary bentonite plant in Hobsons Road to mix, pump and recycle bentonite while D-wall works take place
For more information about D-Wall construction, see our fact sheet
Tunnel entrance excavation and base slab construction
Earthworks to construct new access ramps and a stable working platform within the tunnel entrance
Construction of base slab including installing drainage pipes and pits, installing waterproofing material, placing steel and pouring concrete
Breaking back D-walls to connect base slab steel into the steel of D-Wall panels
Removing excavated material using excavators and trucks
TBM breakthrough and retrieval
In mid-February 2020, the first Tunnel Boring Machine (TBM), Joan, arrived at the TBM retrieval shaft adjacent to South Kensington station. In mid-March, the second TBM, Meg, also arrived and broke through into the shaft at Childers Street.
When the TBM cutterhead 'broke through' into the retrieval shaft, the shaft was filled with water to balance groundwater levels while the final section of the tunnel is constructed. After the water was drained, the TBM cutterhead was retrieved. Water was pumped back to the water treatment plant at the Arden Station site via the TBM.
The TBM cutterhead and front shield sections were cleaned and disassembled using high pressure cleaners and hand tools before being removed from the retrieval shaft and loaded onto trucks using a crane.
The rear (gantry) sections of the TBM travelled back to the Arden Station site through the constructed tunnel.
Each TBM took approximately four weeks to retrieve. Oversized TBM pieces were transported at night to Arden Station.
See Tunnel Boring Machines for details of how TBMs work.