Western tunnel entrance location and features
The western tunnel entrance will be located alongside the existing rail corridor near South Kensington station. A decline structure, or descending tracks, will be built so that trains can enter the Metro Tunnel.
From the western tunnel entrance, the tunnels will pass under Moonee Ponds Creek and CityLink before connecting to the new underground station at Arden.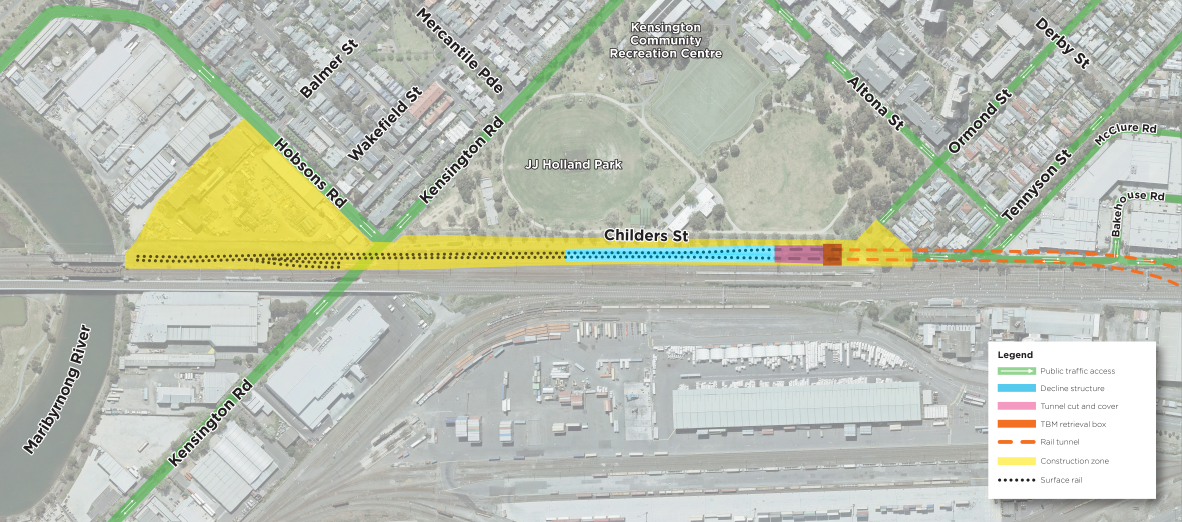 Above ground structures
The western tunnel entrance will also require the construction of the following structures:
A flood wall along Childers Street, and embankments
An emergency access shaft to allow emergency crews to access the tunnels in case of emergency.
Details of these structures were provided in the Western Portal Development Plans.
South Kensington station
Upon completion of the Metro Tunnel, passengers using South Kensington station will benefit from improved capacity and more frequent services on the Werribee and Williamstown lines.
While a new station in South Kensington or connection from the existing station to the Metro Tunnel is not in the scope of the project, the project will undertake upgrades near the tunnel entrance, including:
Reinstated roads, including Childers Street, footpaths, pavement, improved landscaping and car parking
Redesigned entry and forecourt at South Kensington station, and
A new pocket park at 135 Ormond Street.
For information on the proposed designs of the tunnel entrance, visit Western Portal Development Plans.
Kensington Urban Design
Click on any image to enlarge it and use the arrows or your keyboard to scroll through the gallery.