Western tunnel entrance location and features
The western tunnel entrance is located alongside the existing rail corridor near South Kensington station. It includes a decline structure, or descending tracks, so that trains can enter the Metro Tunnel.
From the western tunnel entrance, the twin tunnels pass under Moonee Ponds Creek and CityLink before connecting to the site of the new underground station at Arden.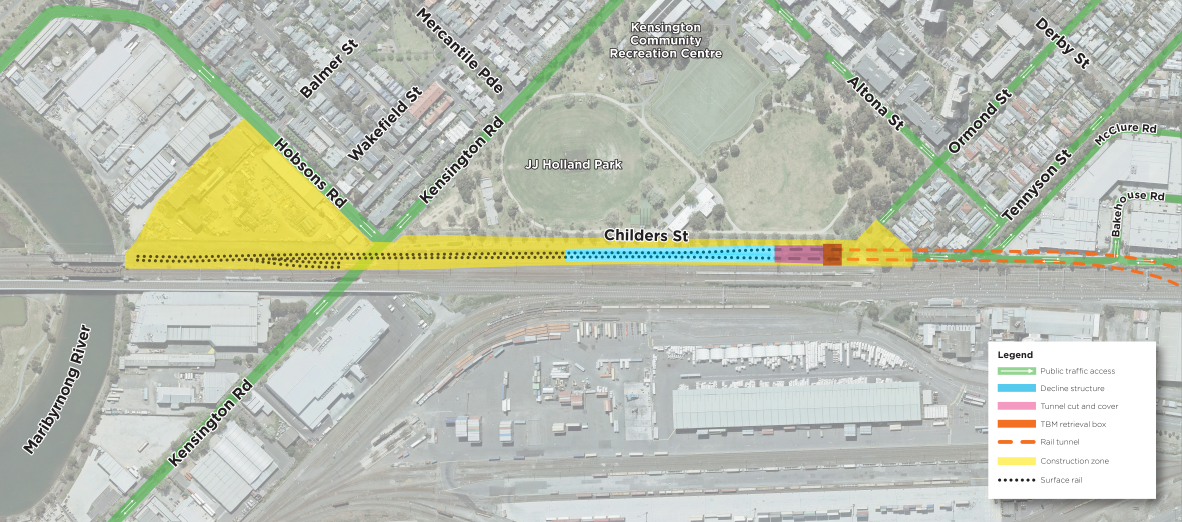 Above ground structures
The western tunnel entrance also requires the construction of the following structures:
A flood wall along Childers Street, and embankments
An emergency access shaft to allow emergency crews to access the tunnels in case of emergency.
Details of these structures were provided in the Western Portal Development Plans.
South Kensington station
Upon completion of the Metro Tunnel, passengers using South Kensington station will benefit from improved capacity and more frequent services on the Werribee and Williamstown lines.
While a new station in South Kensington or connection from the existing station to the Metro Tunnel is not in the scope of the project, the project will undertake upgrades near the tunnel entrance, including:
Reinstated roads, including Childers Street, footpaths, pavement, improved landscaping and car parking
Redesigned entry and forecourt at South Kensington station, and
A new pocket park at 135 Ormond Street.
For information on the proposed designs of the tunnel entrance, visit Western Portal Development Plans.
Kensington urban design
Key urban design elements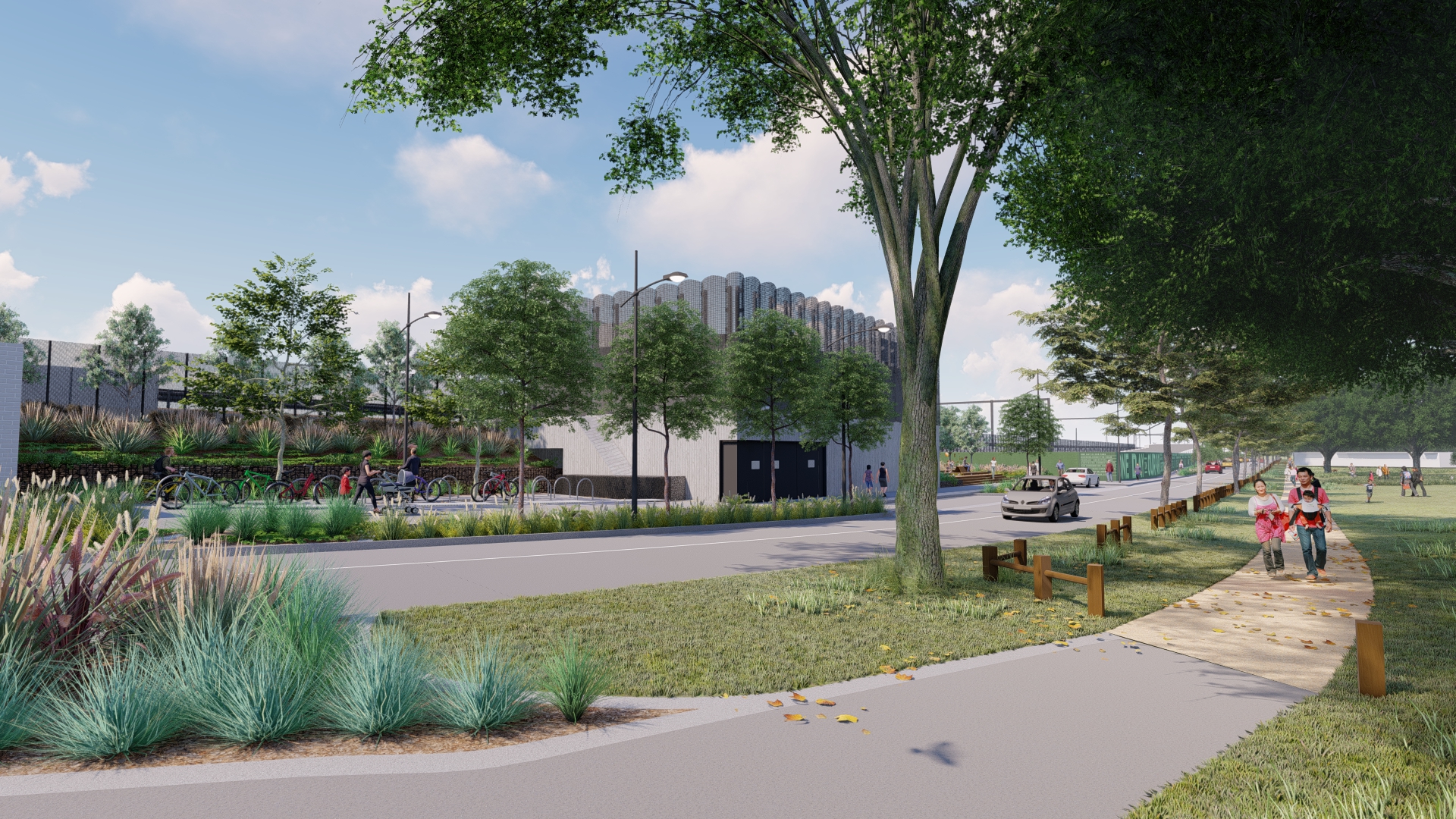 Works to reinstate landscaping and the streetscape at Childers Street, Kensington (above) commenced in 2021. Once complete, the upgrades will include:
reinstated Childers Street road surface, footpaths, pavement and improved landscaping
a new public space located at 135 Ormond Street
enhanced integration between JJ Holland Park, new public space and an updated South Kensington station entrance
82 parking spaces, between Kensington Road and South Kensington station, as well as four accessible parking bays and two emergency vehicle bays
on-street parking for vehicles retained on Childers Street between Tennyson Street and Younghusband Lane
landscaping that makes use of Water Sensitive Urban Design (WSUD) to manage and treat rain runoff
36 bicycle parking spaces at the station forecourt
new street lighting along Childers Street
a new canopy and realigned pedestrian pathways as part of an improved South Kensington station forecourt
a creative design treatment for the 300 metre-long flood wall protecting the western tunnel entrance.
Some areas along Childers Street will remain as a construction site until project completion in 2025 to allow works on the Metro Tunnel to continue safely. Find out more about upcoming works.
Legacy artwork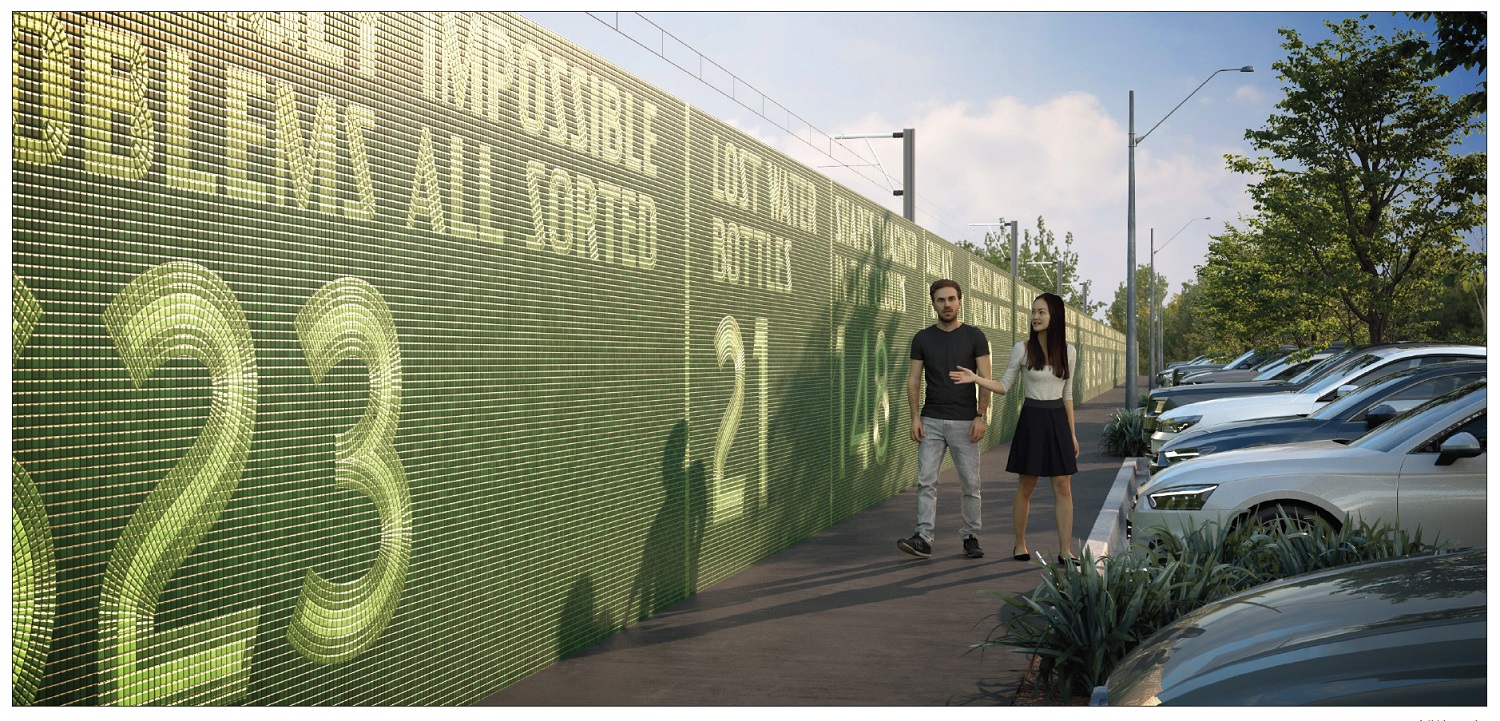 A permanent artwork by local artist and designer Stephen Banham, called One Day in Our Park, is currently being installed on the flood wall at the western tunnel entrance.
Find out more about the artwork at the Legacy Artwork Program section of our website.
Corner of Ormond and Childers Streets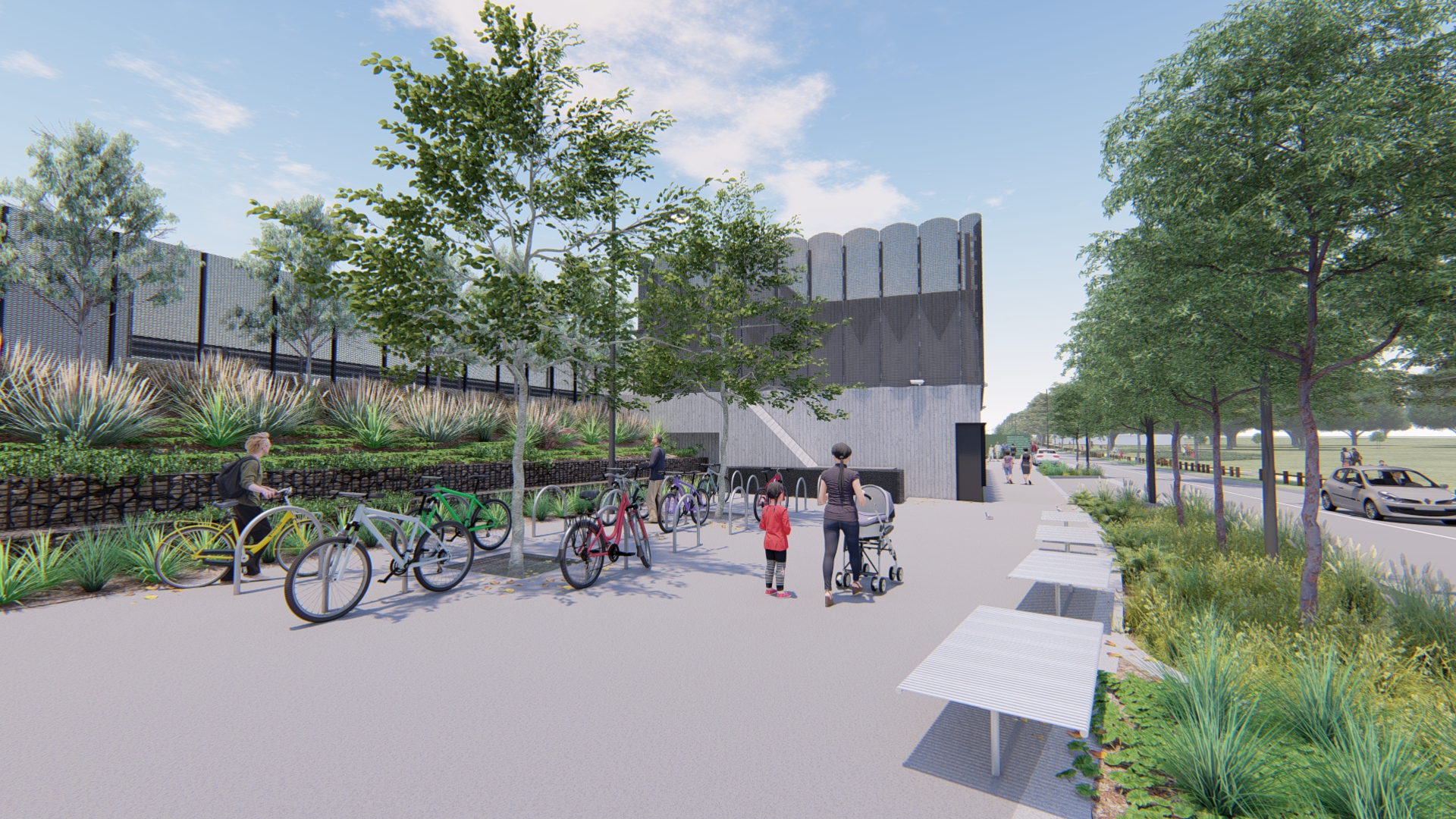 The area at 135 Ormond Street, north of South Kensington station, will feature a new public space as an extension to JJ Holland Park. This space will include a series of mudstone and gabion retaining walls, with extensive plantings.
A key focus of this area is to improve the local pedestrian and cyclist connections. Childers Street has been realigned to improve pedestrian, cyclist and vehicle safety in the area and to accommodate additional space directly in front of the South Kensington station entrance. This includes a raised pedestrian crossing that connects the station entrance to the new public space.
To the west of South Kensington station, 18 bicycle hoops will be provided, along with four accessible parking spaces (Disability Discrimination Act compliant), two emergency vehicle bays and a public seating area with slatted decking.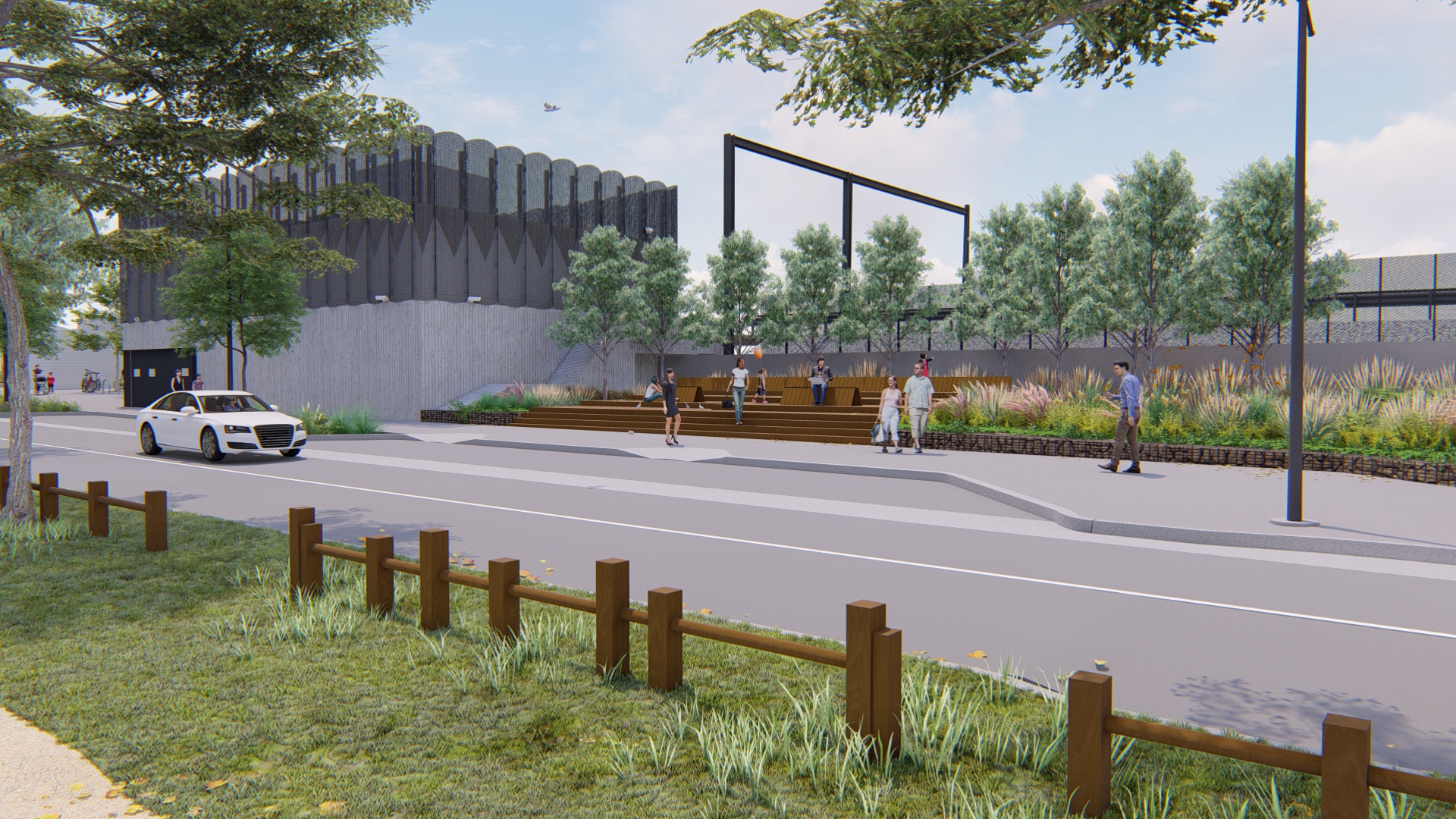 Communication and signalling equipment rooms
A Signalling Equipment Room and a Communications Equipment Room are being built adjacent to the rail corridor at 1-39 Hobsons Road. These rooms will host important equipment to operate trains on the new Metro Tunnel. A driveway from Hobsons Road will provide maintenance access to the new buildings and the existing high voltage tower.
Key urban design elements in this area will include architecturally treated panelling surrounding the buildings, along with a landscaped area at the corner of Kensington and Hobsons roads.