Building Arden Station
Major construction of the Metro Tunnel is underway in North Melbourne.
The Arden Station box has been built using a 'cut and cover' method, with the station box excavated from the bottom up. Construction of the station's concourse level and internal walls is complete and the roof slab is currently being constructed. Works to prepare for construction of the station entrance commenced in early 2021.
The Arden Station site plays a key role in supporting the construction of the western section of the Metro Tunnel. The worksite houses a number of important facilities including offices, a concrete batching facility, storage areas for the concrete segments that will line the rail tunnels and facilities to manage excavated materials.
Ongoing works
Work at the Arden Station site involves:
TBM and tunnelling support
station box construction, including concreting of the station roof, and removal of struts
slurry treatment plant, water treatment plant and concrete batching plant operation
out of hours oversize deliveries to and from site
utility investigations on Laurens, Barwise, Arden and Queensberry streets
surveying, and sampling and testing of groundwater and soil
transporting concrete from the concrete batching plant to other Metro Tunnel Project construction sites
construction of a station services building to support station operations
construction of the North Melbourne electrical substation
construction of the Arden Station entrance and façade.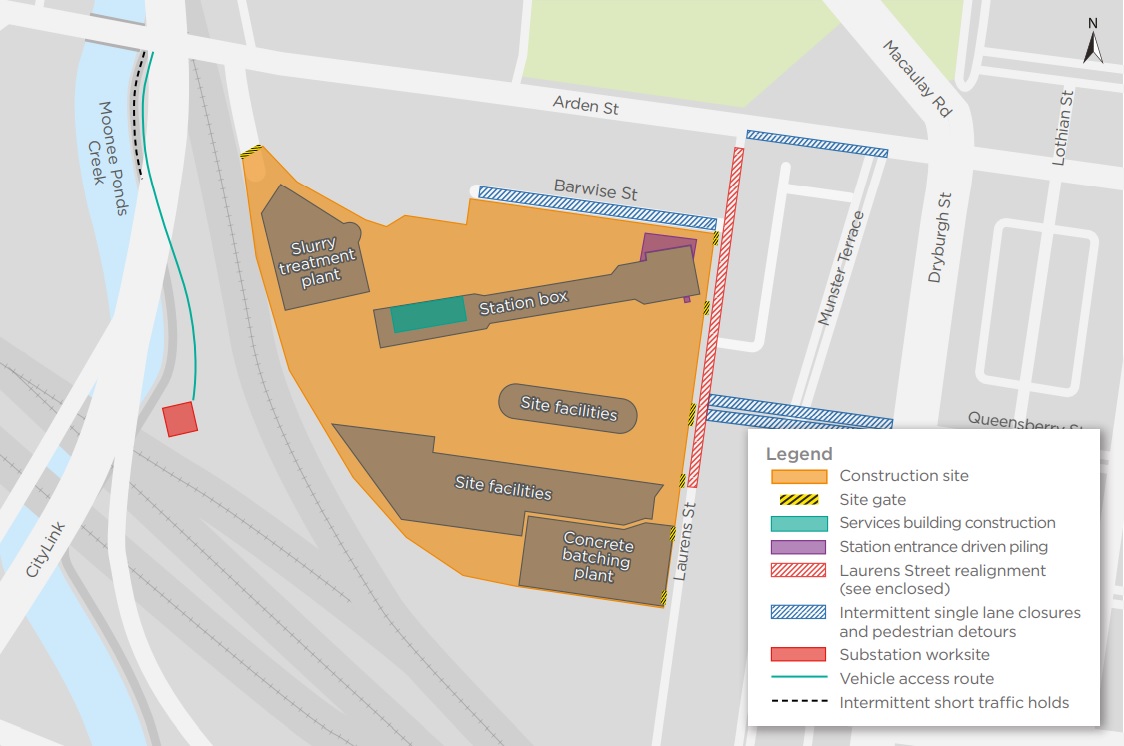 Construction look ahead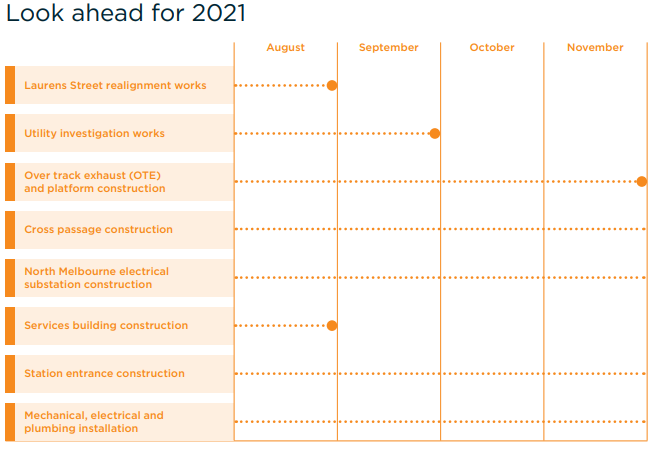 Laurens Street realignment and Arden Station entrance construction
From August 2021, Laurens Street will be realigned to support service relocations and construction of the Arden Station entrance. This involves the narrowing of traffic and bicycle lanes and closures of sections of footpath and on street parking. These changes will remain in place until late-2023. For more information see the Laurens Street realignment notification (PDF, 289.2 KB)
Piling to support the station entrance structure located on Laurens Street was completed in April 2021, with 31 precast concrete piles installed underground
With the completion of piling, construction of the above ground structure is now underway
Utility investigation works
Utility investigations will involve the intermittent closure of Laurens and Barwise streets down to one lane. Traffic will be maintained in both directions via a shuttle flow arrangement
Some on-street parking spaces may be temporarily impacted on Barwise, Queensberry and Laurens streets
Sections of footpath on Laurens Street, adjacent to works, may be temporarily closed during works
Access to businesses will be maintained at all times
Signage and traffic controllers will be in place to direct vehicles, cyclists and pedestrians around the work area
Tunnelling
The Arden Station site plays a key role in supporting the construction of the western section of the Metro Tunnel. The site provides worker access, supplies and concrete tunnel lining segments to the TBMs, and houses facilities to manage material excavated during tunnelling.
In mid-2019, two tunnel boring machines (TBMs) were assembled at the Arden Station site. TBMs Joan and Meg have now completed the 1.2 kilometre journey between the Arden Station site and the tunnel's western entrance in Kensington, and the 1.4 kilometre journey between the Arden Station site and the Parkville Station site.
Learn more about tunnelling on the Metro Tunnel.
Managing construction impacts
Environmental Performance Requirements (EPRs) have been developed in consultation with key stakeholders throughout the Metro Tunnel's planning process to avoid, reduce or manage construction impacts in Arden. Find out more about managing construction impacts.
Normal construction hours
Work will take place 7am to 6pm, Monday to Friday and 7am to 1pm, Saturdays.
Some activities may be required to continue past these hours. All efforts will be made to complete activities as scheduled.
Managing traffic and transport
The construction of Arden Station will require some changes to local traffic conditions to allow trucks to transport excavated material from site.
Construction traffic routes have been developed that focus on moving trucks and other construction traffic to CityLink as directly as possible. Traffic routes include Laurens Street, Arden Street, Dryburgh Street, Dynon Road and Macaulay Road.
Temporary traffic and cycling diversions in other nearby streets may be required at times to ensure the safety of cyclists and other road users.
Truck movements and routes during construction
Up to 400 trucks per day are expected to travel to and from site
Construction vehicles and trucks will access the site via Laurens and Arden streets
After 6:00pm, all construction vehicles will enter and exit site via Arden Street
All trucks carrying excavated materials will be covered, and water carts and street sweepers will be sued to minimise the spread of dust
Rumble grids and a wheel wash have been installed to remove debris from the wheels of vehicles to minimise the spread of dirt on local roads
Excavation of the station box