Building Parkville Station
Work is underway on Grattan Street to build Parkville Station.
Construction activities
Construction of Parkville Station will take around five years. Key construction activities include:
Preparatory works, including tree protection and removal and the relocation of underground services
Road closures and site establishment
Piling and excavation of the station box
Structural works for the station box
Station entrance construction and mined excavation of a pedestrian underpass under the Grattan Street and Elizabeth Street/Royal Parade intersection
Tunnel boring machine arrival and re-launch to the State Library Station
Station architectural, plumbing, mechanical and electrical fit out
Rail system works including the installation of track, signalling and communications
Site remediation including landscaping and public realm works, including final service relocations
New road layout.
There are two construction sites for works at Parkville:
Grattan Street east (between Royal Parade/Elizabeth Street and Leicester Street)
Grattan Street west (between Flemington Road and Elizabeth Street/Royal Parade).
We've been working closely with key stakeholders throughout the planning and construction of Parkville Station to avoid, reduce or manage construction impacts in line with our Environmental Performance Requirements (EPRs). Find out more about how we are managing construction impacts across the project.

Construction look ahead for 2021
Station entrance construction
Grattan Street west
We began construction of the station entrance on Grattan Street, next to the Peter MacCallum Cancer Centre, in May 2020. Construction is now moving into the next phase in March 2021, with station entrance construction adjacent to The Royal Melbourne Hospital commencing.
Station entrance construction will involve:
Site establishment
Piling
Excavation
Construction of a roof slab
Following roof slab construction, excavation will continue underground
Permanent structure works include walls, base slab, and above ground structures
Final service relocations, reinstatement, urban realm and landscaping will then be completed.
Grattan Street westbound lanes between Flemington Road and Royal Parade/Elizabeth Street are closed for three years to enable station entrance construction. From March 2021 to late 2022 the Elizabeth Street/Royal Parade northbound service lane will close. Find out more about traffic and transport changes in Parkville.
Construction of the station entrance on Royal Parade adjacent to The Royal Melbourne Hospital will commence in 2021.
For more information, see our Parkville Station entrance construction fact sheet (PDF, 709.4 KB).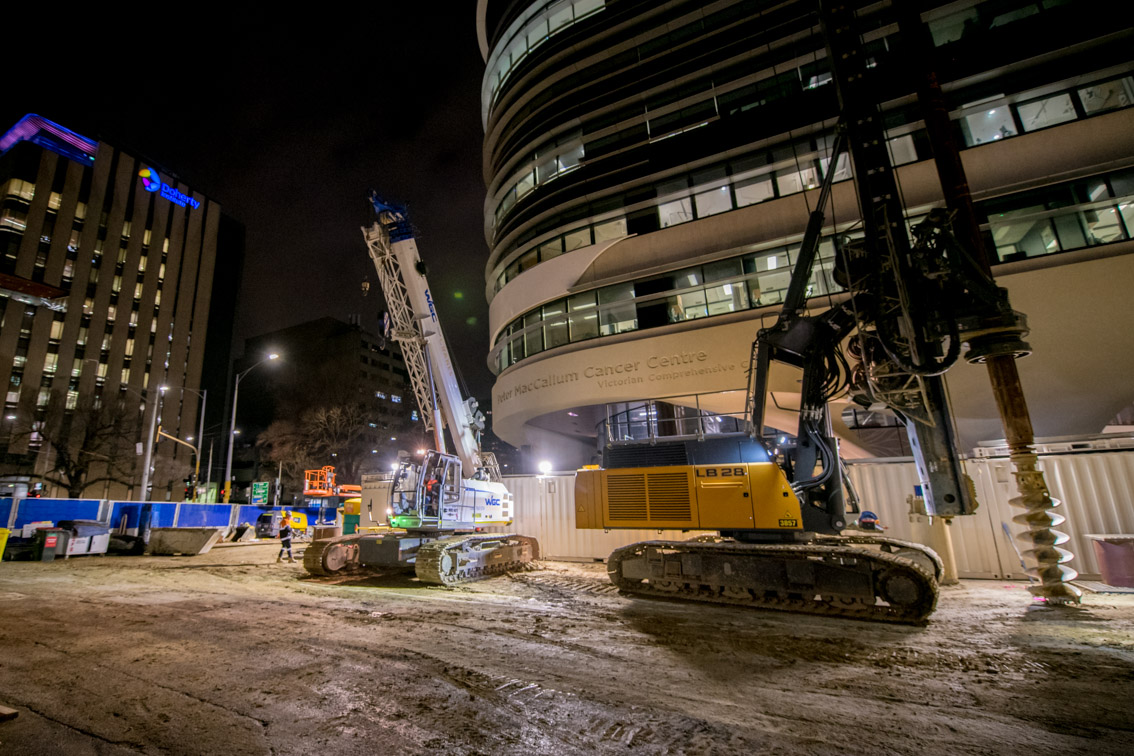 Grattan Street east
We began construction of the station entrance on the north-east corner of the Grattan Street and Royal Parade/Elizabeth Street intersection, next to the University of Melbourne, in June 2020.
Station entrance construction works will involve:
Excavation, strut installation and associated works in 2020
Permanent structure works from early 2021.
Station works
Construction inside of the station box excavated for the new Parkville Station began in November 2019, at the Grattan Street east site. This work includes building a base slab, internal walls and columns, and other station levels.
Parkville Station is being built using a method called 'bottom up'. This involves excavating the box down to its maximum depth, construction and fit out of the box, followed by the installation of mechanical and electrical equipment to operate the station.
Construction of station facilities at the eastern end of the Parkville station box commence in 2021 and continue for approximately two years. This work involves the construction of a goods lift to provide access to the station for operational activities (deliveries and waste removal) and a tunnel ventilation shaft (TVS) to balance air pressure within the tunnel which is created by the movement of trains, and assist in an emergency.
Once the station is complete the road surface will be reinstated over the top.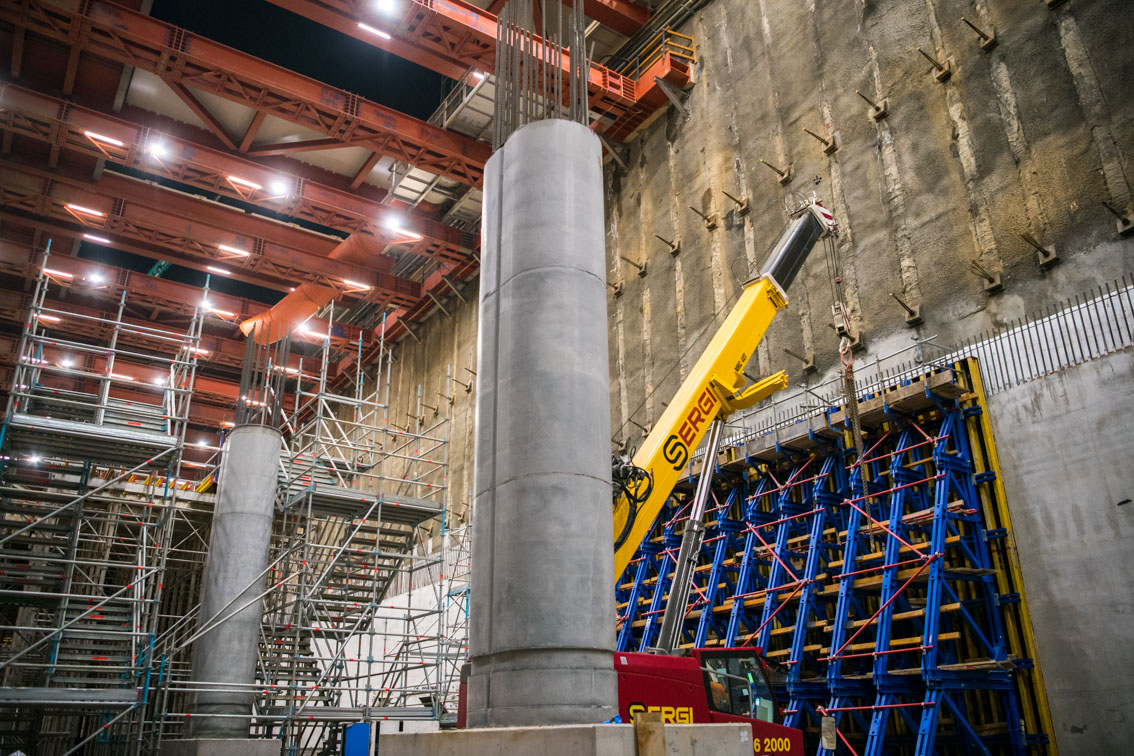 Excavation
Excavation of the station box began in November 2019 and finished in April 2020. The excavated space is 32 metres below ground and around 270 metres long. A temporary deck was installed over the work site to minimise noise and dust while excavation went on underneath.
For more information, view the Excavation at Parkville Fact Sheet (PDF, 1.1 MB).
Tunnelling at Parkville
In May and June 2020 two tunnel boring machines (TBMs), Joan and Meg, were launched separately from the Arden Station site towards the Parkville Station site. Joan broke through at Parkville in late August 2020, and Meg broke through at Parkville in late September 2020.
After arriving at Parkville, the TBMs were moved from the western end of the station box to the eastern end. TBM Joan relaunched from Parkville towards the new State Library Station site in October and TBM Meg began a parallel journey in November 2020. The TBMs will complete around 10 metres of tunnelling each day.
As they dig their tunnels, the TBMs pipe excavated material (slurry) back to the Arden Station site, and line the new tunnel with curved concrete segments.
For more information see our Tunnelling at Parkville fact sheet (PDF, 3.8 MB).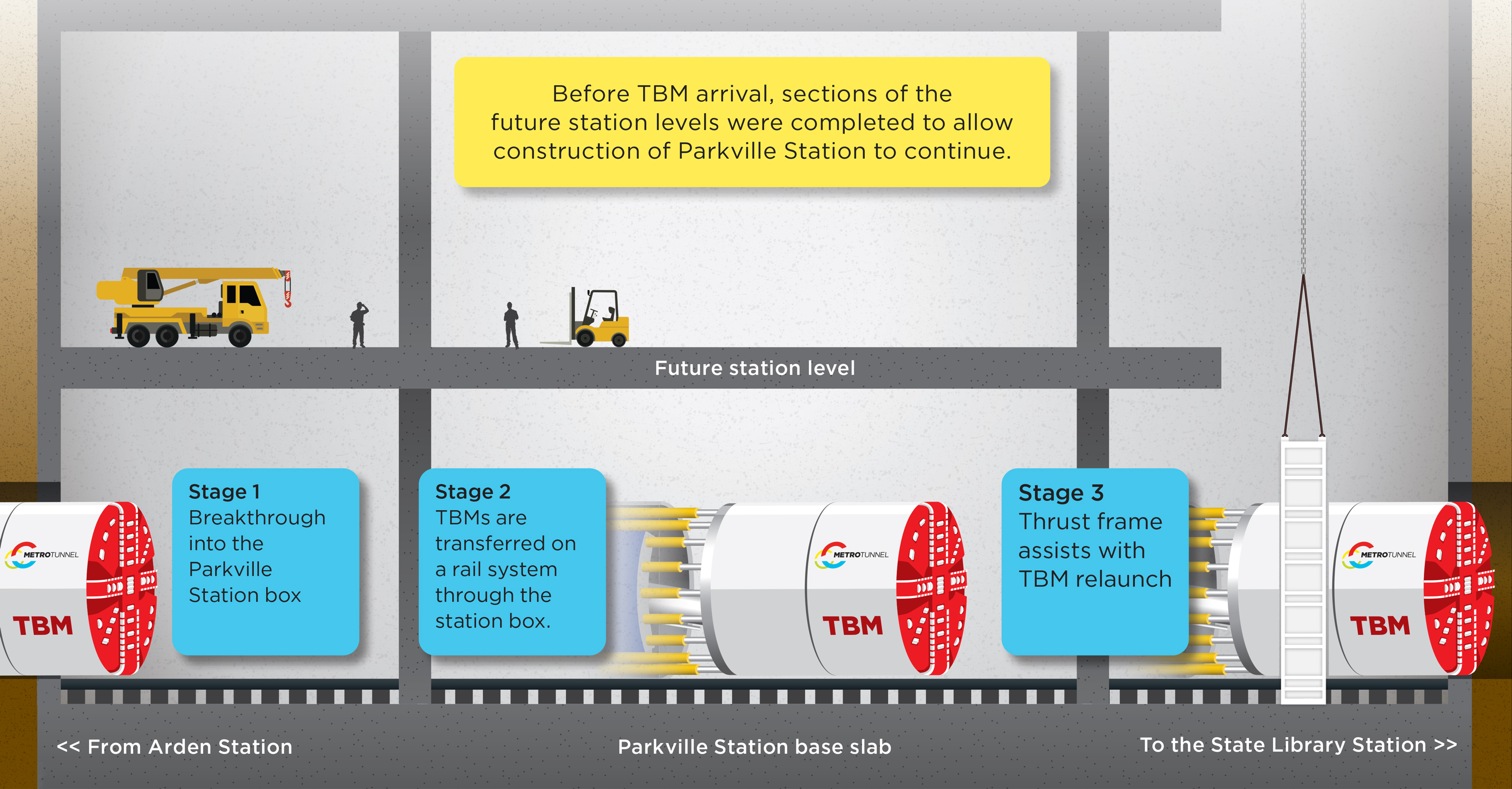 How did the TBMs break into the station box?
The TBMs broke into the western end of the Parkville Station box, located on Grattan Street, between Royal Parade/Elizabeth Street and Leicester Street. The station box walls at the west and east ends contain fibreglass reinforcement, instead of steel, creating a 'soft eye'. The 'soft eye' minimises impacts from noise and vibration as the TBM cutterheads (front sections of the TBMs) slowly break into the station box.
How will the TBMs transfer through the station box?
The TBMs will be transferred on steel rails with hydraulic ramps to slowly move the machines to the relaunch area. The transfer of each TBM will take around three weeks.
How will the TBMs relaunch towards the CBD?
Two launch frames will be delivered to Parkville at the eastern end of the Grattan Street east site. The launch frames will assist the TBMs in breaking through the 'soft eye' at the eastern end of site. After the TBMs have travelled approximately 100 metres, they will be paused to allow removal of the launch frame. Each TBM will launch approximately one month apart.
Will there be ongoing works relating to tunnelling at Parkville?
Ongoing tunnelling support works will continue to be managed by the Arden Station site in North Melbourne. Tunnelling support activities will occur underground via the tunnel, including delivering concrete tunnel segments to the TBMs, removing excavated material to the slurry treatment plant, and accessing of the TBMs by TBM operators.
During tunnelling, the project team will undertake survey and monitoring activities at ground level along the tunnel alignment. Property condition surveys have been offered to eligible properties based on a detailed environmental assessment. Properties located near tunnelling works will be contacted with further information before tunnelling occurs in their area.
How are noise and vibration managed during tunnelling?
Management of noise and vibration during tunnelling is based on a best practice approach as undertaken by Metro Tunnel's contractors on similar projects around the world. Prior to tunnelling, comprehensive geological testing and environmental assessments are completed. During tunnelling, noise, vibration and ground movement are managed in line with strict Environmental Performance Requirements.
More Information