Eastern tunnel entrance location
The eastern tunnel entrance will be located in the South Yarra Siding Reserve. A decline structure, or descending tracks, will be built so trains can enter the new Metro Tunnel near William Street and pass underneath the Sandringham and Frankston lines.
From the eastern tunnel entrance, the tunnels will pass under Osborne Street, Davis Avenue, Powell Street, Myrtle Street and Macfarlan Street and travel west under Toorak Road and St Kilda Road to connect with the new Anzac Station.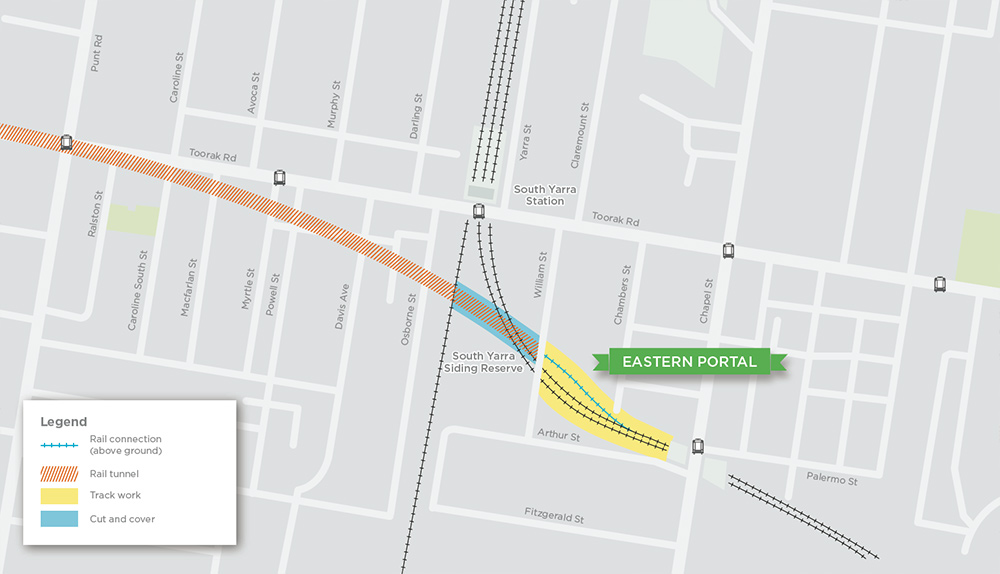 What we heard
Drawing on the ideas, expertise and opinions of stakeholders and the community is vital as planning for the Metro Tunnel continues.
A comprehensive program of public engagement and consultation has been underway since early 2015, and feedback has informed planning documentation and project designs.
Key eastern tunnel entrance feedback topics included:
The importance of reducing impacts on local streets and notifying residents in advance of any changes to parking or access arrangements.
Green space is highly valued; South Yarra Siding Reserve and Lovers Walk were noted as important places with opportunities to improve existing conditions.
There is a high interest in noise treatments, including the height and design of noise walls, and visual amenity both during construction and operation of the Metro Tunnel.
Above ground structures
The eastern tunnel entrance will also require the construction of the following structures:
A ventilation shaft that will be used for maintaining air quality during tunnel maintenance and removing fumes in the event of an emergency. The Metro Tunnel will be used exclusively by electric trains, which do not emit fumes.
An emergency access shaft to allow emergency crews to access the tunnels in case of emergency.
Details of these structures were provided in the draft development plans on display earlier this year and are subject to approval by the Minister for Planning.
Other utilities required for the eastern tunnel entrance will be located below ground or within the rail reserve where possible.