Transport changes in South Yarra
Temporary changes
WILLIAM STREET - oversized deliveries
As part of the Metro Tunnel works to construct the eastern tunnel entrance in South Yarra, deliveries of the new Osborne Street bridge beams will take place over two nights in June.
These works will occur:
Thursday 11 and Friday 12 June
1am to 5am
Traffic management will be in place along Toorak Road and William Street when the beams are delivered to site. Traffic will be temporarily stopped as the beams are maneuvered into site. Some parking along Toorak Road and William Street will be temporary occupied during the delivery of bridge beams.
Long-term changes
Williams Street and Lovers Walk
To enable works at the eastern tunnel entrance, Williams Street bridge was demolished in April 2019 and rebuilt to accommodate a widened rail corridor underneath. Installation of the new bridge base structure took place in October and November of 2019. Further works will occur in 2020 to complete the urban design components before it opens to the public after construction in the area completes. The height of the rebuilt bridge has been increased to pass over the top of the reconfigured Cranbourne / Pakenham line.
The Lovers Walk pedestrian path closed in October 2018 and will reopen in 2022 to allow for construction of the eastern tunnel entrance. Pedestrians can detour via Toorak Road or Chapel Street:
Toorak Road and Chapel Street: 505m, 5min walk
Toorak Road, Chambers and Oxford streets: 530m, 7min walk
Toorak Road, Chambers and Bond streets: 513m, 6min walk
Osborne Street and Arthur Street: 680m, 10min walk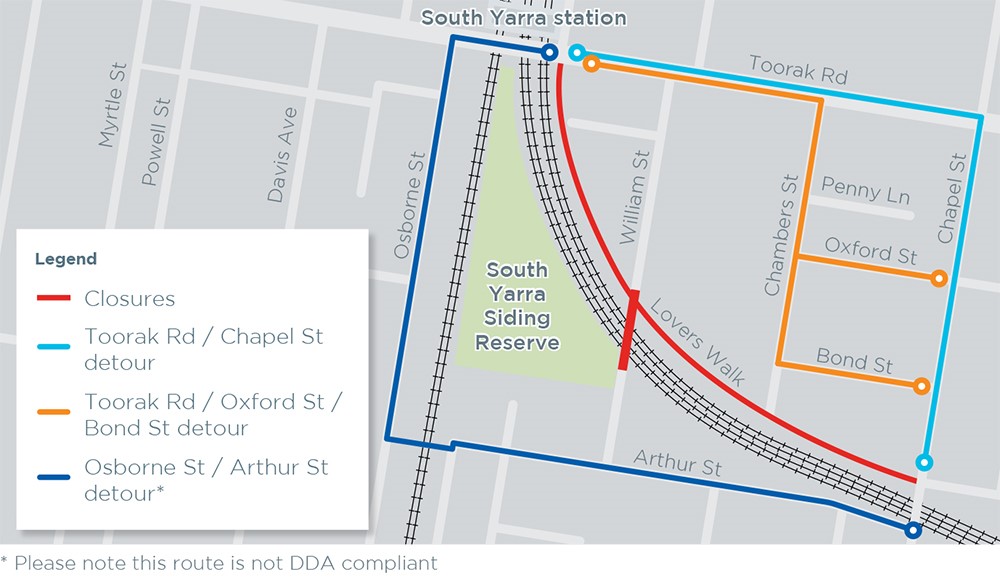 Construction traffic routes have been developed for the eastern tunnel entrance precinct that focus on moving trucks and other construction traffic to Toorak Road as quickly as possible. Active traffic management will also be used to minimise delays to tram movements and traffic flow along Toorak Road.
A number of rail corridor occupations (periods where trains stop running so works can take place) will be required to connect the Metro Tunnel to the Cranbourne/Pakenham line. These occupations will potentially disrupt services on parts of the rail network.
Our construction contractors are required to develop and implement measures to minimise disruption to the transport network during construction of the Metro Tunnel.