Upgrades to the rail network
To take full advantage of the extra capacity on the rail network created by the Metro Tunnel and its new High Capacity Metro Trains, a range of upgrades are proposed on the Sunbury, Cranbourne and Pakenham lines.
These will include installation of next-generation signalling technology and upgrades to infrastructure.
Proposed works summary
High capacity signalling
As part of the Metro Tunnel Project, 58 kilometres of next generation, high capacity signalling (HCS) will be installed from just west of Watergardens to Dandenong.
High capacity signalling is required to enable Victoria's new fleet of High Capacity Metro Trains (external link) to run on the Sunbury, Cranbourne and Pakenham lines and through the Metro Tunnel.
Sophisticated HCS equipment will be installed in both the rail corridor and within the driver's cabin of each train, allowing trains to safely run closer together.
HCS equipment will enable trains to run every two to three minutes – creating a true 'turn-up-and-go' train network for Melbourne that requires no timetable. It will be the first roll-out of high capacity signalling on an existing network anywhere in Australia.
Track side radio equipment will also be installed along the length of the corridor.
Dedicated control centres will be built in Dandenong and Sunshine to support the new technology and will be fully staffed by experts who will monitor trains on the new Metro Tunnel line.
Initial implementation of HCS will be trialled on part of the South Morang line, before being rolled out along the new Sunbury to Cranbourne and Pakenham line that will run through the Metro Tunnel.
Train stabling and track works
Stabling facilities are used to maintain and store trains when they are not in service. The existing Calder Park stabling facility is proposed to be expanded to store and maintain the new High Capacity Metro Trains. Changes may also be required to existing train stabling at Watergardens and Sunbury to accommodate the new trains.
Track works are also proposed across the network to support the extra capacity the Metro Tunnel will provide.
These works will increase the number of trains that can run on the network and enable the system to better manage minor disruptions that can impact trains.
Platform modifications
New High Capacity Metro Trains are being delivered by the Victorian Government to meet the future needs of Melbourne. The new trains will have more carriages, carry more passengers and be longer than trains used today.
Some existing stations on the Sunbury, Cranbourne and Pakenham lines may require platform extensions and ancillary works to support the longer trains.
Works at West Footscray station, including an extra platform, will also be undertaken to enable some Sunbury-bound services to turn around at this station.
This will enable trains to terminate and commence from West Footscray station which in turn, will create more services towards the city on this line.
Power upgrades
Electricity upgrades are proposed to power the new trains and systems that are part of the Metro Tunnel. This may include upgrading a number of existing substations and potentially building new power facilities along the rail corridor.
Works on other lines
Prior to being implemented on the Sunbury, Cranbourne and Pakenham lines, the new high capacity signalling will first undergo testing along the rail line between Epping and South Morang stations.
This allows the technology to be tested and drivers, operators and maintenance crews to be trained. The testing and training program will involve using empty trains running on this section of track when passenger trains are not running.
Works are proposed in the rail corridor between Epping and South Morang to prepare for the initial testing. The proposed works include the installation of signalling, cables, track side radio equipment and associated infrastructure.
To support the network upgrades, signalling and track work may also be required along the rail corridor within inner city areas and along the Sandringham line between South Yarra station and Windsor station.
Map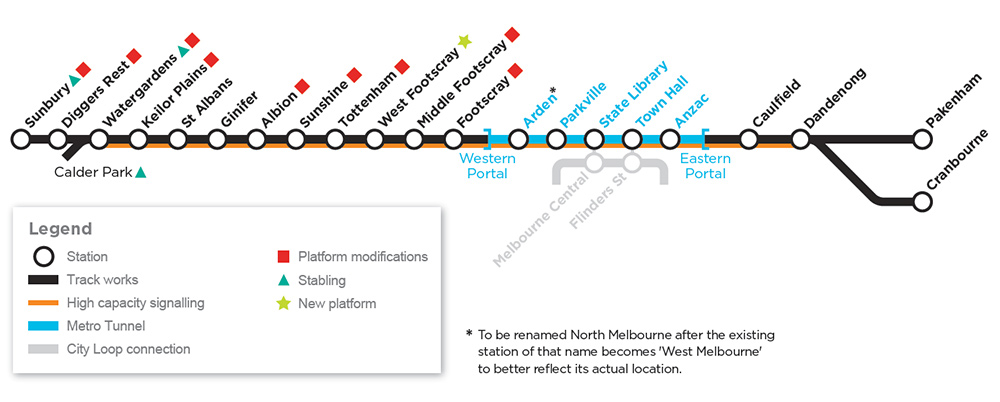 Timing and delivery of works
The proposed upgrades on the metropolitan network are planned to be delivered from 2018 to 2025.
There may be some disruptions to rail services while these works are delivered. Advanced notice and bus replacement services will be provided.
Planning process
Most of the proposed works will occur in the railway corridor where railway work does not require planning approval. However, there are a number of heritage and environmental overlays along the rail corridors where a planning permit is required for the proposed works.
The Minister for Planning has approved a Planning Scheme Amendment and supporting documentation to facilitate these works.