Construction at West Footscray station
To get the most out of the new underground rail line the Metro Tunnel Project built a new passenger platform and additional track at West Footscray Station
New platform
The new platform is now open at West Footscray Station.
Platform 1 can now be accessed for city-bound services via the concourse by taking the ramp or new lift down to the platform, or the new stairs on Cross Street.
The new passenger platform is located on the northern side of West Footscray Station (Cross Street side) and services city-bound trains coming from Sunbury in peak periods. The existing city-bound platform is now used for trains to start and finish services at West Footscray Station.
Providing an additional platform for Sunbury line trains allows for an increase in the number of services and help ease overcrowding at West Footscray, Middle Footscray and Footscray stations during the morning and afternoon peaks. The new platform also enables trains to start and finish services at West Footscray.
Overview of works
The works at West Footscray involved realigning regional, suburban and freight tracks, construction of new tracks and turnbacks (to enable trains to change direction), a third passenger platform and alterations to the existing station concourse.
The Rail Infrastructure Alliance (RIA), which comprises Rail Projects Victoria, Metro Trains and a consortium of CPB, John Holland and AECOM, constructed the new platform and track at West Footscray.
Planning approvals
The Western Turnback was delivered in two stages, Stage 1 (Rail Works) and Stage 2 (Station Works).
As part of the planning process for these works, RIA prepared two Development Plans which set out the scope and extent of the built form and urban design around the Metro Tunnel Project's works at West Footscray station.
For more information visit our West Footscray Western Turnback Development Plan page.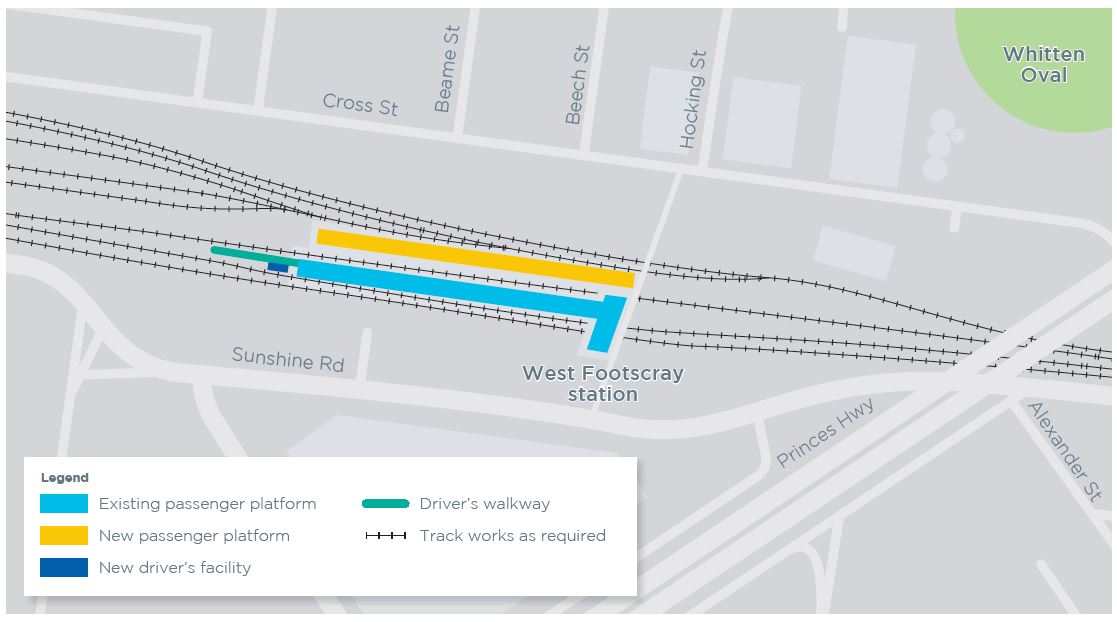 More information