Flinders Street, Melbourne CBD
Coronavirus and Victoria's Big Build
Works have resumed safely with COVIDSafe plans in place to help protect workers and the community. Strict processes will be in place to check and record the vaccination status of workers entering construction site. Learn more.
Long-term lane closures (eastbound) – from September 2019
Motorists
From 2 September, eastbound lanes on Flinders Street are closed between Elizabeth and Swanston streets for up to three years to build an underground connection from the new Town Hall Station to Flinders Street Station.
Long-term eastbound Flinders Street closure from September 2019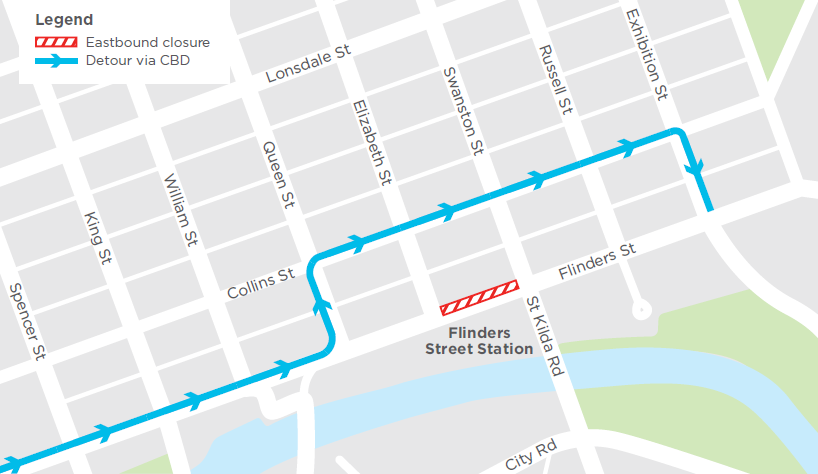 Changed conditions from September 2019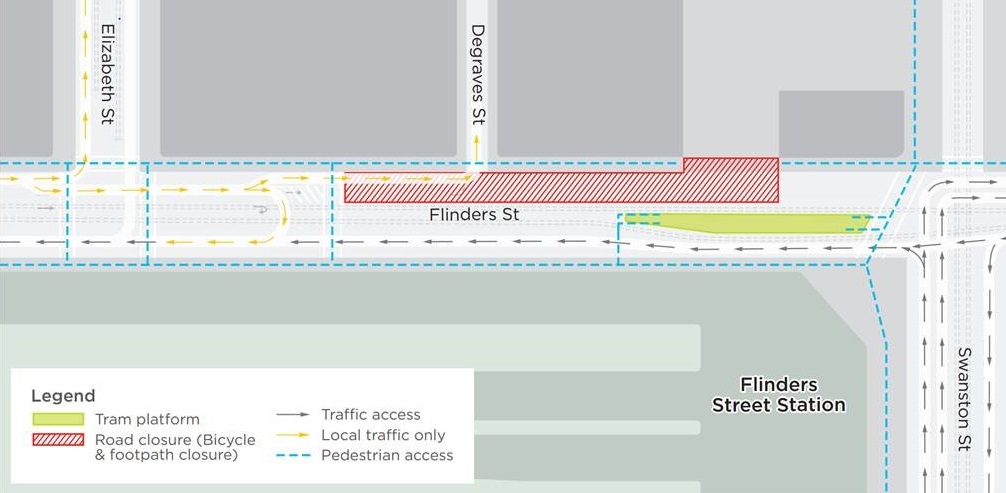 Trams
Trams will continue to run in both directions throughout the works.
Pedestrians
The footpath will remain open along Flinders Street past Degraves Street and outside Young & Jackson Hotel.
A new pedestrian crossing will also be established to the west of Degraves Street to enable pedestrians to cross to the south side of Flinders Street and maintain access to the tram stop.
The full footpath on Flinders Street is expected to re-open to pedestrians in in the first quarter of 2021.
Long-term lane reduction (westbound) – from October 2018
Flinders Street has been reduced by one lane westbound between Russell and Swanston streets.
Access to businesses and residential buildings will be maintained at all times, and traffic management will be in place to safely guide motorists, pedestrians and cyclists around work areas.
Motorists
The outer westbound lane on Flinders Street is closed adjacent to Federation Square. Drivers continue to have one lane turning left towards St Kilda Road, and one lane through the intersection of Flinders/Swanston streets towards Elizabeth Street.
Motorists are encouraged to allow extra time if travelling through this stretch of Flinders Street.
Pedestrians
The southern footpath on Flinders Street is closed adjacent to the Federation Square worksite, with the pedestrian detour through Federation Square.