Grattan Street & Barry Street, Parkville
Coronavirus and Victoria's Big Build
Works have resumed safely with COVIDSafe plans in place to help protect workers and the community. Strict processes will be in place to check and record the vaccination status of workers entering construction site. Learn more.
Long-term closure – From 2018
Grattan Street is closed to road users between Royal Parade/Elizabeth Street and Leicester Street. Barry Street is also closed to road users between Pelham Street and Grattan Street.
Access to businesses and residential buildings will be maintained at all times, and traffic management will be in place as needed to safely guide motorists, pedestrians and cyclists around work areas.
Motorists
Grattan Street is closed to motorists between Royal Parade/Elizabeth and Leicester streets, and Barry Street is closed between Pelham and Grattan streets.
There is no access into Berkeley Street from Grattan Street, however, Berkeley Street can still be accessed via Pelham Street.
Access to the University of Melbourne main campus via Gate 10 is also closed to motorists, excluding emergency vehicles and essential deliveries.
To help motorists avoid congestion in the area, Queensberry Street has been widened to two traffic lanes between Elizabeth and Rathdowne streets to provide motorists travelling east-west across the city an alternative route to avoid Grattan and Victoria streets.
Cyclists
Grattan Street is closed to cyclists between Elizabeth Street/Royal Parade and Leicester Street, and Barry Street is closed between Pelham and Grattan Streets.
Cyclists can use the alternative routes shown in the map below. Signage is in place to safely guide cyclists around the area.
Cyclists are required to dismount and walk their bikes when travelling through the covered pedestrian walkway on the south side of Grattan Street.
Cyclists have continued access to bike lanes on both sides of Queensberry Street.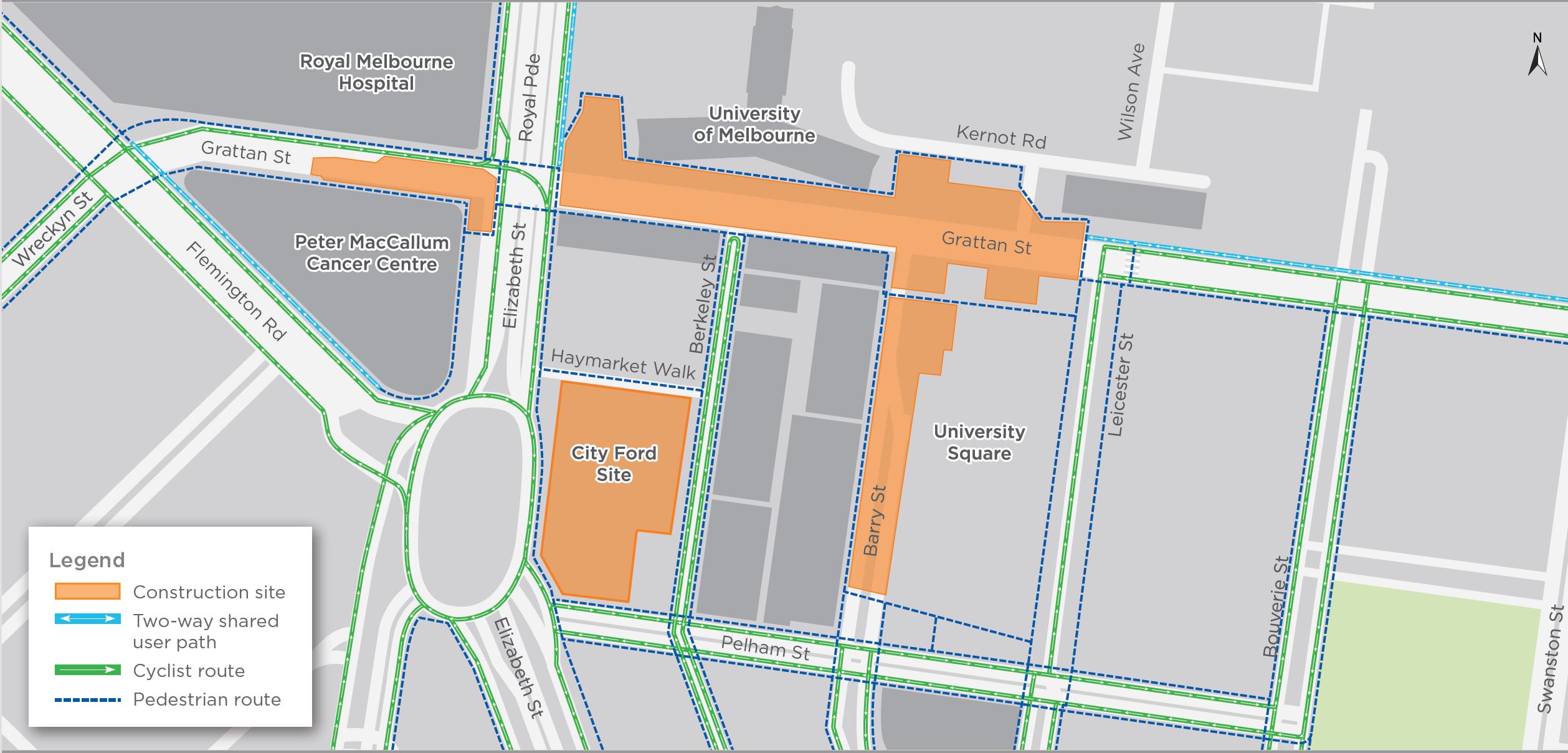 Pedestrians
Access for pedestrians is maintained on both sides of Grattan Street using the covered pedestrian walkways.
Pedestrian access is also maintained to to the University of Melbourne's Medical Building, Alan Gilbert Building, the Peter Doherty Institute and the University of Melbourne main campus via Gate 10.
On Barry Street, boom gates have been installed at the northern end to safely facilitate truck movements between the Barry and Grattan Street work sites.
There will be times when pedestrian diversions are in place. Signage and traffic controllers will safely guide pedestrians around the area. See above map for pedestrian access in the Parkville Precinct.
Buses
Bus routes 401, 402, 403, 505 and 546 have been re-routed around the Grattan Street closure. For information about bus routes and timetables, visit the Public Transport Victoria website.
Trams
Tram services and access to tram stops have not been impacted.