St Kilda Road & Domain Road, Domain Precinct
Coronavirus and Victoria's Big Build
Work is continuing safely on the Metro Tunnel Project as part of Victoria's Big Build. The health and safety of our workforce and community remains our top priority. COVIDsafe Plans are in place on all project sites across Victoria. Learn more.
Long-term lane reduction – from 2018
St Kilda Road has been temporarily reconfigured to one traffic lane in each direction between Dorcas Street and Toorak Road west.
Access to businesses and residential buildings will be maintained at all times, and traffic management will be in place as needed to safely guide motorists, pedestrians and cyclists around work areas.
Motorists
Access is closed to Domain Road and Bowen Lane from St Kilda Road, and Domain Road is closed between St Kilda Road and the western edge of Edmund Herring Oval.
Check real time travel advice at VicTraffic and use real-time navigation to find your best route.
If you can, leave earlier or later to avoid congestion – on weekdays you can save time by not driving on St Kilda Road between 8am and 9:30am and 5pm and 6:30pm. Or try a different route – avoid congestion on St Kilda Road by using Kings Way, Canterbury Road or Beaconsfield Parade.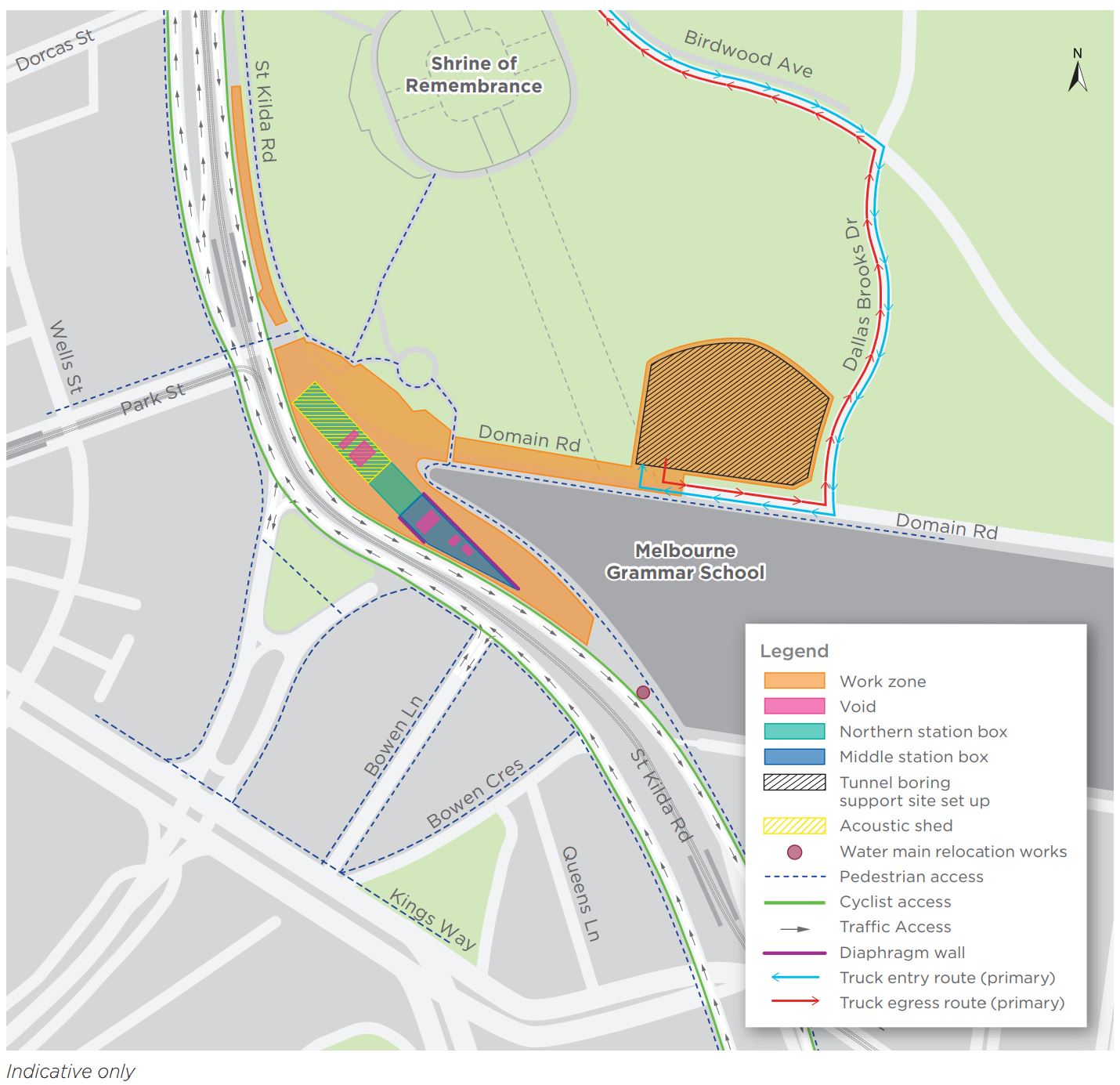 Trams
Trams continue to run as normal on St Kilda Road. During these periods, leave earlier or later if you can to avoid the crowds. St Kilda Road trams carry more passengers from 8am to 9am and 5pm to 6pm than any other time in the day.
The former Domain interchange has been replaced with a tram stop north of Park Street during construction. The Bowen Crescent tram stop has also been removed, and the former stop at the intersection of Kings Way and Park Street has been replaced with a tram stop on Park Street.
Buses
Bus passengers on routes 216, 219, 220 and 605 may be affected by on-road delays and passengers are encouraged to allow extra travel time.
Cyclists
Cyclists have continued access to dedicated on-road bike lanes in both directions on St Kilda Road.
There will be occasional closures of the bike lane to facilitate truck access and egress at the Domain construction site. Cyclists should follow on-street signage and traffic controllers will be available to manage truck access and egress.