Travel advice
Changes to the road, tram and bicycle networks are required to keep Melbourne moving during construction of this city-shaping project.
Construction of the Metro Tunnel will see temporary but extended road and lane closures at a number of locations including St Kilda Road, Domain Road, Franklin Street, A'Beckett Street, Flinders Street, and Grattan Street.
These changes to travel routes into and around the city mean that people will need to consider changes to their transport routines to avoid and minimise delays.
Transport options
Changing the way you travel to, from and around Melbourne, could help you have a quicker and more comfortable journey. You could also save money, improve your health and reduce your carbon emissions.
There are plenty of transport options in Melbourne so select any of the transport options below to help you decide the best way to travel.
Select a transport option
Traffic and parking
Melbourne's road network is generally at its busiest between 8.00am and 9.00m in the morning and 5.00pm and 6.00pm in the evening.
There will be some changes to the road and transport network for the construction of the Metro Tunnel. There are a range of tools to help you plan your journey.
| | |
| --- | --- |
| | VicTraffic by VicRoads provides road closures, traffic alerts and more. |
| | Google Maps provides real-time GPS navigation, traffic, and transit information. |
Public transport
Melbourne's public transport networks are generally at their busiest between 8.00am and 9.00m in the morning and 5.00pm and 6.00pm in the evening. Travelling outside of these times will make your journey more comfortable and may even reduce your travel time.
There will be some changes to some bus and tram routes across the city due to Metro Tunnel construction.
Do you know?
Taking advantage of Early Bird train travel means your journey is free if you touch on and off before 7.15am on a weekday on the metropolitan train network.
If you are currently using myki money and travel consecutively for five or more days you could be saving money with a myki pass.
Tools and information
For the latest public transport information including live travel updates and how to plan your journey the following information is on the Public Transport Victoria website.
For public transport information on the go, you can download of these apps [from the App Store or Google Play].
| | |
| --- | --- |
| | Public Transport Victoria - journey planner, maps and more for trains, trams and buses throughout Victoria. |
| | metroNotify - live service updates for Metro Trains |
| | V/Line - stay up-to-date with service information and timetables |
| | TramTracker - real-time information for Melbourne trams |
Cycling
Cycling to work is a great way to be active, save time and save money! If you live within 8 kilometres from the CBD your commute may even be quicker than driving or taking public transport.
Changes to the road, tram and bicycle networks are required during Metro Tunnel construction. A number of initiatives will be delivered across the bicycle network to help keep cyclists moving, including redesigning some intersections and road layouts. These changes will occur at a number of locations by early 2018.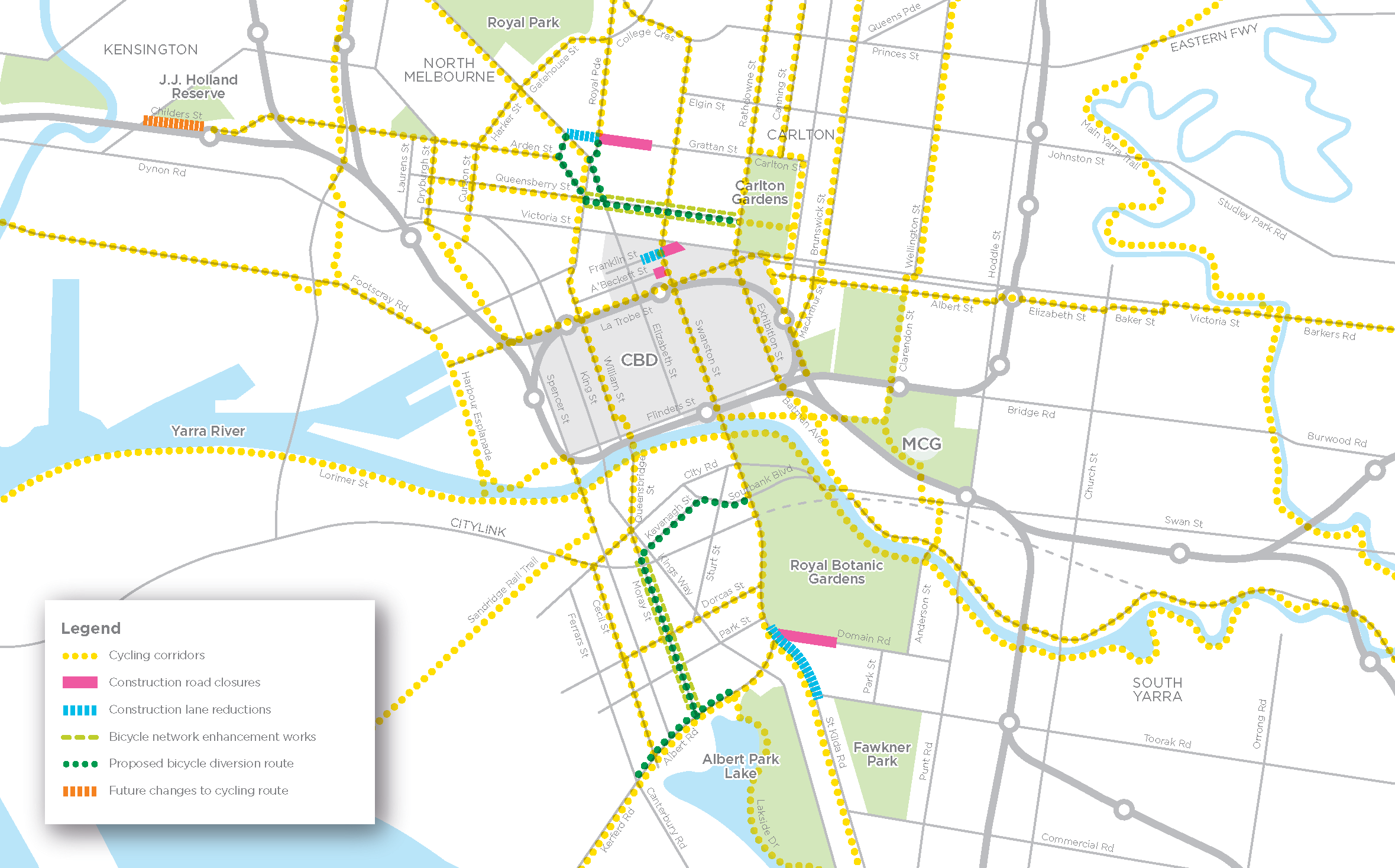 Changes to the cycling network
Cycling resources
Bicycle Network can provide you with advice on how to get started, how to negotiate riding in traffic, what to do about wet weather, tips for riding in winter and much more.
Google Maps can help you find the best cycle route for your trip.
Parkiteer makes riding to train stations easy by providing secure bike parking at stations and public transport hubs.
Walking
Walking for 30 minutes a day or more is a great way to improve or maintain your overall health and reduce stress.
Do you know?
Walking part of your journey may be faster than driving or taking public transport short distances when you consider waiting times, or the time it takes to park a car and get into the office. It is easy to add a short walk into your journey by getting off public transport one or two stops early and walking the rest of the way to work.
Walking resources
| | |
| --- | --- |
| | Google Maps can help you find the best walking route for your trip. |
| | Public Transport Victoria provides schedules and journey planner for trains, trams and buses throughout Victoria. You can add walking as part of your journey by using PTV's Journey Planner to select the maximum time and speed you want to walk. |