Home
By untangling the City Loop,
the Metro Tunnel will benefit
train lines across the network
By untangling the City Loop, the Metro Tunnel will benefit train lines across the network.
The Metro Tunnel will free up space in the City Loop to run more trains to and from the suburbs, by taking our busiest train lines through a new tunnel under the city.
That means more trains, more often across Victoria, with a less crowded and more reliable train network.
Work to build the massive 9km twin rail tunnels and five new underground stations is underway.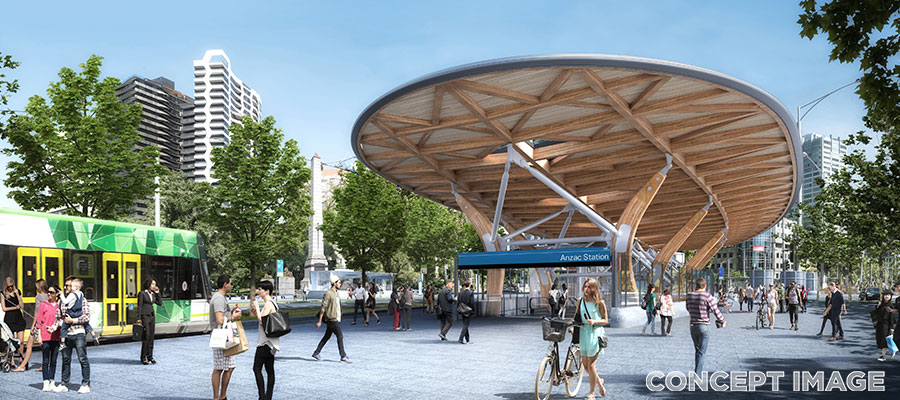 Updated station designs
Melbourne will be home to five stunning new landmarks when the underground stations for the Metro Tunnel open in 2025.
View the updated station designs and learn more about each station. Explore the stations in our interactive map.
Graduate Program
Rail Projects Victoria, North East Link Authority, Western Distributer Authority and Major Road Projects Authority are offering recent graduates the opportunity to work with world-class industry experts on the biggest projects Victoria has ever undertaken.
Applications are now open for the 2019 Graduate Program.
July train disruptions
Buses will replace trains on the Sandringham and Sunbury line over the first two weekends of July due to works at the sites of the future tunnel entrances.
See the Works in South Yarra and Works in Kensington pages for details.
Archeological digs underway
The state's biggest ever archaeological investigation is underway in Melbourne's CBD.
Digs are taking place at each end of Swanston Street at the future sites of two new underground stations.
Travel time savings across Victoria
Benefits for:

Select a train line:
Alamein Line
Belgrave / Lilydale Lines
Craigieburn Line
Cranbourne / Pakenham Lines
Frankston Line
Glen Waverley Line
Hurstbridge Line
Sandringham Line
South Morang Line
Sunbury Line
Upfield Line
Werribee / Williamstown Lines
Ballarat Line
Bendigo Line
Geelong / Warrnambool Lines
Gippsland Line
North-East Corridor
Sign up for eNews
Subscribe to our project enewsletter.
You can also choose to receive disruption notices via email.
Social media
Contact us
You can contact us through our online feedback form or by phone on 1800 105 105.
Other languages
For information in your language please call our Interpreter Line 03 9280 0700 or you can read our Multilingual resources.