Home
Tunnelling progress
JOAN
Arden to Kensington: 1.2km (completed)
Arden to Parkville: 402m (underway)
Total distance tunnelled
1,602m
Total Rings installed
942
MEG
Arden to Kensington: 1.2km (completed)
Arden to Parkville: 290m (underway)
Total distance tunnelled
1,468m
Total rings installed
864
MILLIE
Anzac to South Yarra: underway
Total distance tunnelled
184m
Total rings installed
108
ALICE
Anzac to South Yarra: underway
Total distance tunnelled
25m
Total rings installed
15
Indicative only, residents and local businesses seeking specific information regarding the location of a TBM please get in touch with the project team on 1800 105 105.
Learn more about how we are building the Metro Tunnel.
Latest news
Breakthrough at Town Hall Station
Excavation of Town Hall Station's first level is now complete, with all three roadheaders breaking through into the station's central cavern.
Slowing the spread of coronavirus (COVID-19)
We are doing our part to help reduce the risk of infection and slow the spread of coronavirus (COVID-19) in the Victorian community.
Eastern Portal Development Plan amendments
Transport disruptions
Victoria's Big Build - works continue this winter
Metro Tunnel Project disruptions include:
For a full list of major transport works and winter disruptions, visit Victoria's Big Build.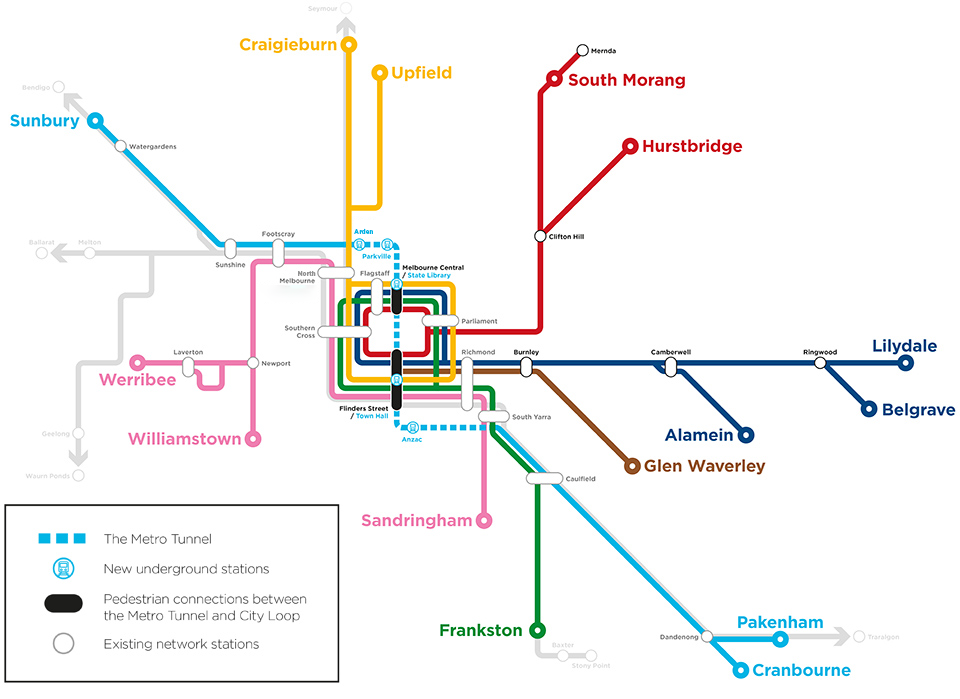 Contact us
Social media
Stay informed