Hoarding artwork
The Metro Tunnel Project is committed to delivering a transformational investment in Melbourne's transport network, contributing to the city's reputation for creative excellence and leaving a legacy of high-quality experiences and civic spaces.
Town Hall
Crowd Stance - Rafaella McDonald
Crowd Stance depicts an imaginary collective of bodies made up of many feet and hands, caught in a dance and lifting off the ground. The artwork uses bold colour, intuitive mark making and cartoon like images of the body in various forms of action to playfully mimic the exchange between individual subjectivity and the collective identity of a crowd.
Crowd Stance seeks to explore how the individual considers themselves within, and also separate to a crowd. What do we project onto a crowd, and in doing so, how do we shape a crowd from within?
Rafaella is an artist living in Melbourne and works in gallery settings, public spaces, on clothing and in collaborative performance. She is interested in using colour, bodily gestures and hand-made materials to explore joy as a strategy. Rafaella has recently exhibited work at The National Gallery of Victoria, West Space Gallery, TCB Art Inc, The Substation and in the biennial Next Wave Festival for emerging artists.
She has painted large-scale mural commissions for the Melbourne Fringe Festival, Shepparton Art Museum and the City of Stonnington.
State Library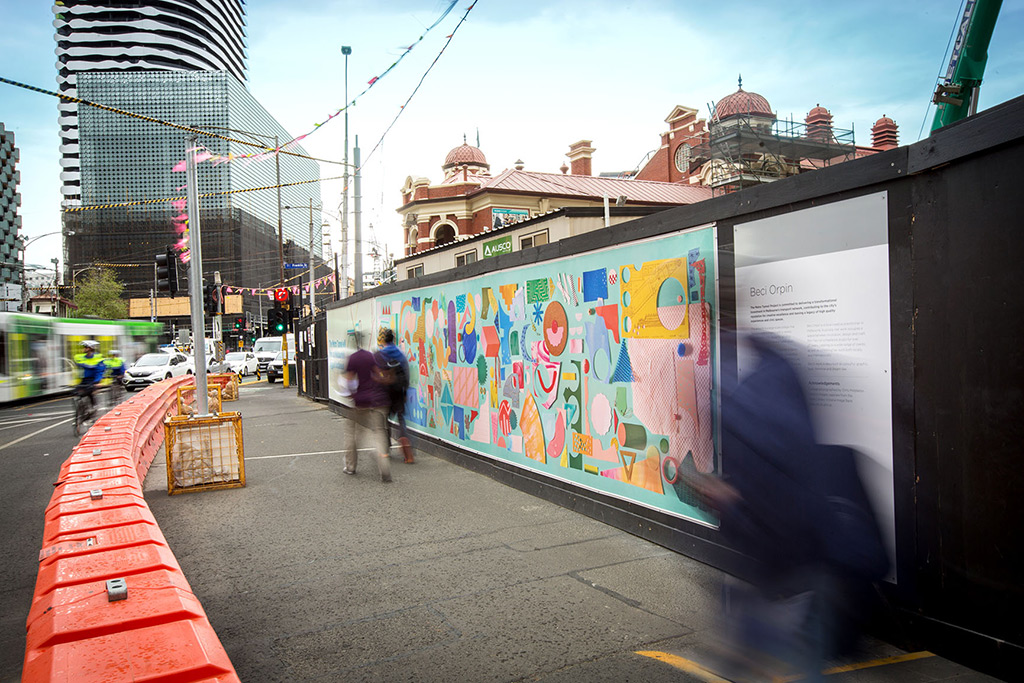 Beci Orpin
This artwork is a large-scale collage that features papers treated with a variety of materials – inks, gouache, acrylics, pastels, colour pencils and watercolour.
Each piece has been included for a reason: its colour, shape, texture or its connection to the site on which it appears. Architecture, local history, culture and indigenous flora are echoed within the collage in both abstract and more obvious form. The combination of old and new, made and found, reflect the growth and depth of Melbourne as a city.
The collage is designed to continually surprise the viewer – especially those who pass by often and can discover something new each time. The overall look is modern and colourful, but on closer observation the viewer will see the historical context.
Beci Orpin is a local creative practitioner in Melbourne, Australia. Her work occupies a space between illustration, design and craft. Beci has run a freelance studio for over 20 years, catering to a wide range of clients, as well as exhibiting her work both locally and internationally.
Beci's work is described as colourful, graphic, bold, feminine and dream-like.
Acknowledgements
Collage photographed by Chris Middleton.
Historic images used are from the State Library Victoria Image Bank