Project alignment
The alignment for the Metro Tunnel has been refined as part of the planning and design process.
Refinements to the route have been made based on the findings of geotechnical and other site investigations, analysis of construction methods, and efforts to reduce potential impacts on existing properties.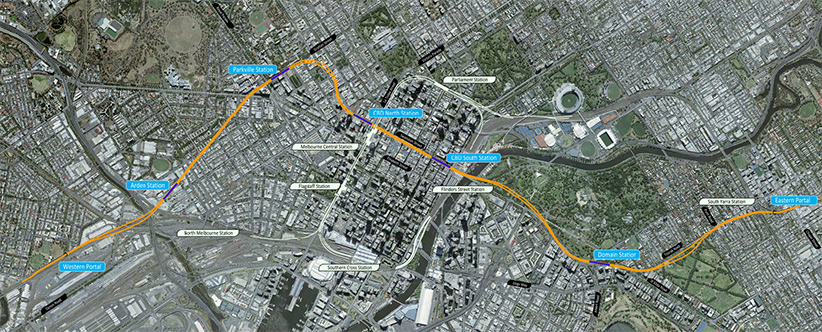 Download a map showing the current indicative alignment (PDF, 2.0 MB).
(Due to the size of this file, for best results download this file and then open with your PDF reading application.)
If you have any questions about this indicative alignment, please contact us.
Property acquisition along the alignment
We have worked to minimise the number of property acquisitions and to reduce the level of disruption during construction of the Metro Tunnel.
We directly engaged with property owners and tenants whose properties were required for construction of the project. Each owner and tenant was assigned a case manager who worked closely, sensitively and respectfully with them throughout the acquisition process.
All eligible landowners and tenants whose properties were acquired have been compensated under the Land Acquisition & Compensation Act 1986.
We have actively engaged with property owners who may be eligible for compensation due to the divestment of underground land for the tunnels and stations. We have also engaged with people whose properties were not required for the project but have been, or continue to be, affected by its construction.
We have implemented resident and business support guidelines to mitigate the impacts of construction.