EES assessment of geology and ground conditions
With the majority of the Metro Tunnel infrastructure to be built underground, a range of specialist studies have been completed to provide a detailed understanding of ground conditions beneath the city, including potential for ground movement and contamination.
Geological formations along the Metro Tunnel alignment include formations ranging in age from Melbourne Formation siltstone and sandstone laid down approximately 430 million years ago to Coode Island Silt deposited within the last 10,000 years.
Different geological conditions along the alignment contribute to groundwater quality and levels, the possible presence of heavy metals and gases, and the potential for acid sulfate soil and acid sulfate rock.
Hundreds of site investigations and studies have been performed to understand the ground conditions along the proposed Metro Tunnel alignment. This includes a substantial program of geotechnical drilling.
From this information, a geological model of the ground conditions has been developed. This model has been used to determine appropriate construction techniques.
Ground movement
During or after excavation of an underground tunnel, there is the potential for ground movement or settlement as temperature and soil moisture changes.
Construction of the Metro Tunnel also has the potential to cause ground movement through the removal of soil and rock and the construction of tunnels and other underground infrastructure.
The ground movement and land stability impact assessment shows that with appropriate construction techniques and monitoring, the Metro Tunnel can be built and operated with minimal ground movement and no undue effects to buildings or the natural environment.
Detailed condition surveys of nearby buildings and other structures will be completed before and during construction, and any ground movement will be monitored. Condition surveys are routinely offered on major infrastructure projects to give property owners peace of mind before construction gets underway. These surveys will document current conditions and identify if other mitigation measures will be needed to reduce potential impacts. A monitoring program will allow construction methods to be adjusted where necessary and enable the works to be managed appropriately.
Survey monitoring points will be set up on existing buildings, including heritage properties, structures, pavements and roads across the Metro Tunnel alignment to provide baseline data for those structures.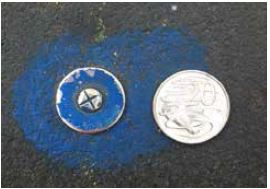 Example of a survey monitoring point
Contaminated land
Land contamination is a common environmental issue in Australian cities. Melbourne's industrial and manufacturing heritage, combined with poor environmental management and waste disposal practices in the past, has left many thousands of potentially contaminated sites across the city.
Most of the rock and soil removed during construction of the Metro Tunnel will be what is known as "clean fill" – material that can potentially be reused or recycled. However, the urban and industrial history of some parts of the alignment increase the likelihood of encountering hazardous materials. These materials could potentially include acid sulfate soils, gases and vapours, contaminated groundwater and asbestos.
Managing excavated material
Construction of the Metro Tunnel will generate an estimated two million cubic metres of excavated rock and soil.
During construction, there will be limited opportunities to re-use excavated clean fill as part of the project. As such, it will need to be removed from construction work sites and could be potentially re-used at other locations.
Materials that cannot be re-used due to contamination will be disposed of in line with Environment Protection Authority (EPA) Victoria and WorkSafe Victoria guidelines at appropriately licenced facilities.
In most cases, rock and soil excavated during construction will be removed from construction sites as quickly as possible. However short-term stockpile areas will be created at TBM launch sites and other major excavation sites in order to temporarily store materials that cannot be removed immediately. These stockpile areas will be carefully managed in line with EPA Victoria guidelines.
| Precinct | Approximate volume of excavated material (m3) |
| --- | --- |
| Western and Eastern Tunnel Entrances | 100,000 |
| Stations | 1,300,000 |
| Tunnels | 600,000 |
| Total volume of excavated material | 2,000,000 |
Managing impacts
A number of mitigation measures were identified in the project's Environment Effects Statement (EES) to avoid, reduce or offset environmental impacts. These measures form the basis of the recommended Environmental Performance Requirements for the Metro Tunnel and have been recommended by specialists through the EES process.
Some of the recommended Environmental Performance Requirements to manage ground movement include:
Assessing potential movement effects from excavation based on detailed design and identifying trigger levels for additional mitigation measures.
Designing the tunnels and underground structures to limit ground movement during construction and operation.
Developing and implementing a ground movement plan for the project.
Conducting surveys before and after construction, where required, to identify if any damage has been caused as a result of the Metro Tunnel.
Some of the recommended Environmental Performance Requirements to manage contamination include:
Preparing plans for managing contamination encountered during construction, including acid sulfate soil and rock and industrial waste.
Prior to construction, assessing options for remediation of contaminated land.
Preparing a health and safety plan considering the risks associated with hazardous substances to workers and the public.
Adopting strict measures to reduce the risk to human health and the environment from hazardous materials.
The excavation, storage and management of these materials to be undertaken in accordance with EPA Victoria and WorkSafe Victoria guidelines.
Well-tested construction techniques and management processes to be used to mitigate and avoid the potential impacts of encountering contaminated land and groundwater during construction.
Stockpiles to be located and managed to minimise run-off and dust generation from stockpiles into watercourses, the drainage system and public spaces.
Terminology
Potential acid sulfate soils and rock
Some soil or rock contains naturally occurring materials that when exposed to oxygen produce sulphuric acid. These soils have generally formed under waterlogged conditions – such as near waterways.
Gases and vapours
Underground gas and vapours can be naturally occurring such as methane or hydrogen sulphide. They may also be found as a result of previous industrial land uses or landfill activities.
Contaminated groundwater
Naturally occurring groundwater along some parts of the alignment has been contaminated as a result of industrial activities undertaken on the land above.
Asbestos
Soil contaminated with asbestos from previous land uses or landfill could be encountered during construction of the Metro Tunnel.