New underground stations
The Metro Tunnel Project will deliver five new underground stations.
New underground stations at North Melbourne, Parkville, State Library at the northern end of Swanston Street, Town Hall at the southern end of Swanston Street and Anzac on St Kilda Road will transform the way people move around Melbourne and improve access to key landmarks and destinations.
The two stations under Swanston Street will be directly connected to the City Loop at Melbourne Central and Flinders Street Station.
The new station names were announced on 29 November. (Some references to the working names may still be found in older maps and materials as we progressively update the website).
North Melbourne
The new North Melbourne Station will be situated near the corner of Arden Street and Laurens Street. It will trigger significant urban renewal in the Arden-Macaulay precinct, an area rich in industrial history.
Parkville
Parkville Station is located under Grattan Street near Royal Parade, on the doorstep of Victoria's world-renowned education, health and research precinct. It will provide access to facilities such as the University of Melbourne, the Royal Melbourne Hospital and the Victorian Comprehensive Cancer Centre.
State Library
State Library Station at the northern end of the CBD will be located under Swanston Street, between La Trobe Street and Franklin Street. It will provide easy access to RMIT, the State Library and the City Baths, and include an underground pedestrian connection to Melbourne Central Station.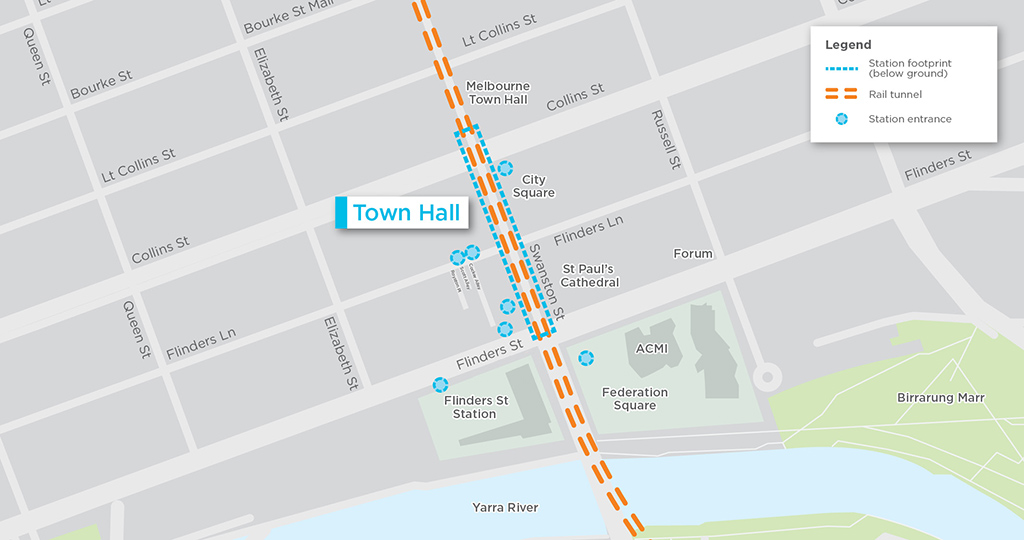 Town Hall
Town Hall Station at the southern end of the CBD will be located under Swanston Street, between Flinders Street and Collins Street. It will improve access to some of Melbourne's most iconic and important tourist destinations including St Paul's Cathedral, the Arts Centre and Southbank. The station will have entrances at City Square and Federation Square and a connection with Flinders Street Station.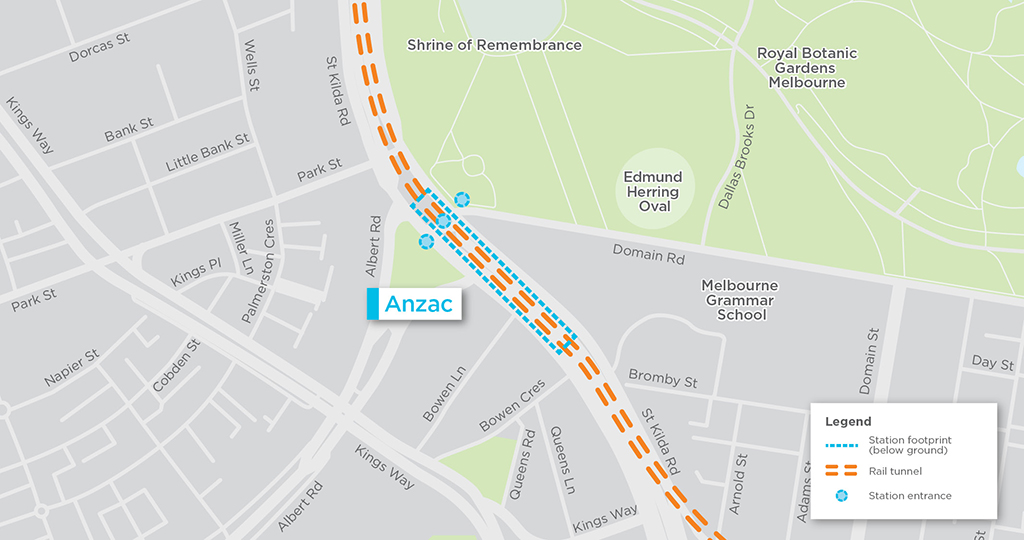 Anzac
Anzac Station will be located under St Kilda Road near the intersection of Albert Road and Domain Road. The new station will improve access to the St Kilda Road employment and residential precinct and make it easier to visit some of Melbourne's most treasured public spaces, such as the Royal Botanic Gardens, Albert Park and the Shrine of Remembrance.